Sausage Meatloaf Muffins
Sausage meatloaf muffins – easy to make, because the seasoning is right in your meat! They freeze and reheat beautifully, and taste good cold as a terrific packed lunch. Perfect for meal planning.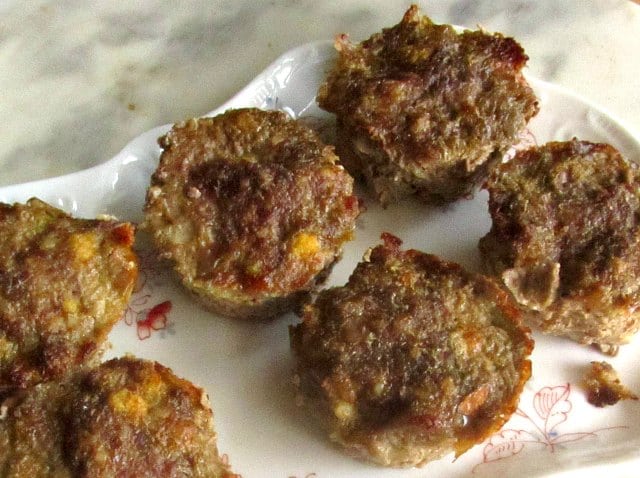 It's really nearly three years since I posted my Quinoa Meatloaf recipe? And I haven't written up any meatloaf since? Well – high time I add to my recipes for this classic food!
Meatloaf is a lifesaver… It does take a little time to make (though one reason I like the muffins is that that approach cuts the oven time nearly in half!) but then you have enough for several meals. It's good cold, it reheats beautifully (and again – the muffins heat very easily – they go straight from freezer to microwave to plate!)  And this recipe is as simple as they get.
True story – one of the first dinners I made when we moved here was the quinoa meatloaf (which I already knew the parents liked) in muffins. And I froze most of it. And that is how I gave the parents a good dinner several days later when the movers arrived hours late (in horrible weather conditions!) They had to bring in our possessions all evening. I just had to step away from the door long enough to pop the meatloaf muffins in the microwave, add some frozen vegetables, get out some bread…  and run it out to the sunroom where the parents (and the cats) were staying safely out of the way!
I don't plan to do that again – but meatloaf muffins are useful…  Usually I just pack them as lunch, or heat them if I'm in a rush or not feeling well…
Most often I make the quinoa meatloaf – it really has become our favorite! But I like some variety.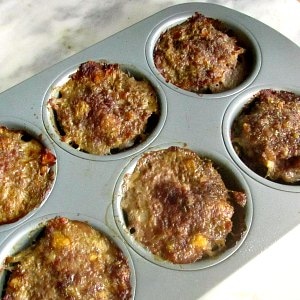 Now, the great thing about sausage meatloaf is that you can get variety just by changing your sausage.  Make no mistake – the flavor here is all about the sausage you use. I used Country Sausage here (more commonly called Breakfast Sausage in New York, or sometimes Sage Sausage, though it doesn't always include sage…)  Any bulk sausage will work, though. I've been delighted to find here that I can get both Italian sausage and Chorizo in bulk – I used to sometimes cut the casings to get Italian sausage out to use it in a recipe!
So use a pound of your favorite sausage. And then – well, I decided to make this last week when both country sausage and ground beef were on sale, so we bought both, and depending on my sausage I have used ground beef before. But sausage has enough fat in it that ground chicken or turkey work quite well without being dry… and indeed, if your preferred sausage is fairly high in fat, they may work better. (And – much as I like my meatloaf muffins, if your sausage is particularly high in fat you may prefer to bake a loaf on a rack and let the fat drain… though I've done well with doing mine in a pan.)
And yes, this is another one of my corn muffin for breading recipes. Well, the first time I made it I was using breakfast sausage, and I'd been about to make my pot of quinoa when I realized I had a single (slightly stale) corn muffin kicking around the fridge.  See – I make them. Rich says "Ooh! Muffins!" and eats one. Only one. Now I have an odd number of muffins, and since he only eats them fresh out of the oven (they're a Treat, not breakfast)  I continue to have an odd number until I make a second batch and he eats one of them. If I don't get around to making another batch soon…
Anyway, I had this muffin, and decided the flavor would work very well with breakfast sausage (I eat muffins and sausage for breakfast, after all!) so I used it, and it was good. Don't need to add any seasoning at all – sausage always has enough salt, and whatever herbs and spices are in the mix.
And – shortcut – I use half a cup of my frozen mirepoix. If you don't have any on hand (or any frozen sauteed celery on its own – I do that, too) just chop and saute a small onion.  (Or – I have not seen it, but a friend tells me her store sells a fresh mirepoix blend – all the chopping done for you, just saute! If you can get that, saute a heaping half cup of it – it will cook down.)
Directions
Preheat your oven to 350°.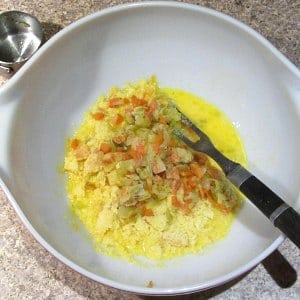 Beat three eggs in a bowl. Crumble a corn muffin and add it. (Gluten free muffin, of course, if you need the recipe to be – if not, whatever you have. And stale is just fine…) Add half a cup of mirepoix. (Break it up if frozen. If you just sauteed it, cool it a bit first, and crumble the corn muffin into it to cool – you don't want the heat of the vegetables to cook the egg.) Mix this all together.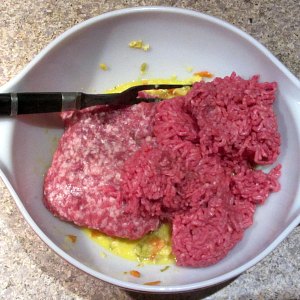 Add a pound of bulk sausage, and a pound of ground meat. I used country sausage and ground chuck, here, but both can be varied to your own taste. Mix it all very well – I like to use a two tined cooking fork because it doesn't mush it, but keeps the mixture light.
Now spoon it all into your muffin tin. I used two 6 cup tins  and got a dozen muffins – I do know that some 12 cup tins have smaller cups, so you may have to mound the meat slightly to make it fit.
Bake at 350° for half an hour.
Take it out and let it rest five minutes before removing from the pan. The muffins contract slightly, firm up and become less crumbly and easier to remove. (And I find they stay nice and moist but leave some fat in the bottom of the pan. So do not turn the pan upside down to remove them  – it will get messy!)
Now, Rich and I usually eat two sausage meatloaf muffins each, but the parents' appetites can vary.  If I have four left, that will be fine, here. We sometimes need a meal for me if they really want pizza or Chinese takeout or something else I can't eat. And we will need easy things I can prep for them to heat up for themselves if we go out for an evening (which we definitely intend to do!) It's all good – and indeed – it is good.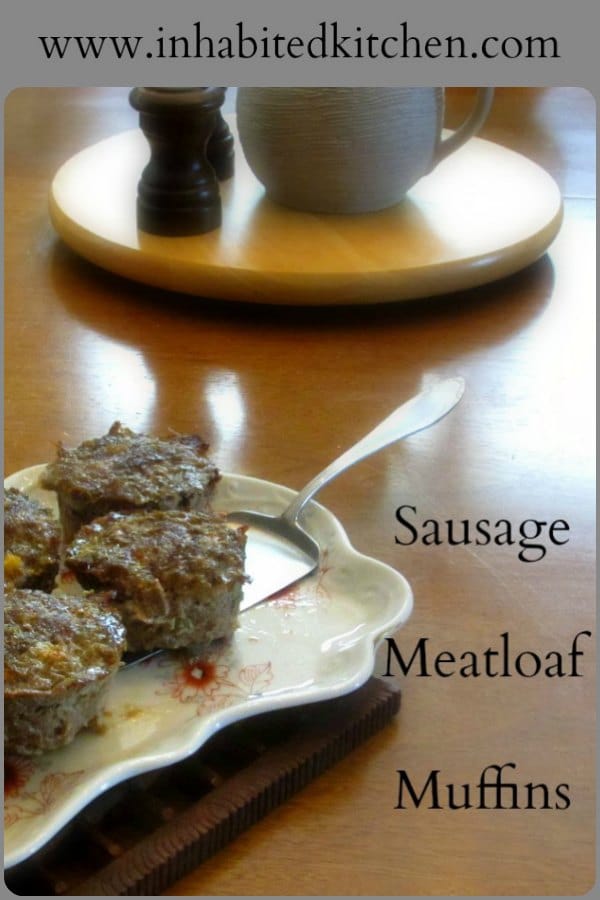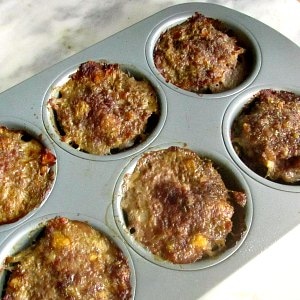 Sausage Meatloaf Muffins
Sausage meatloaf muffins - easy to make, because the seasoning is right in your meat! They freeze and reheat beautifully, and taste good cold as a terrific packed lunch. Perfect for meal planning.
Ingredients
3

eggs

1

gluten free corn muffin

1/2

c

mirepoix

1

lb.

bulk country sausage meat

1

lb.

ground beef
Instructions
Preheat oven to 350.

Beat eggs in a bowl. Crumble muffin into egg mixture, and add mirepoix. Mix well.

Add both kinds of meat. Mix well with each other and the egg mixture.

Spoon into muffin tins.

Bake at 350 for 30 minutes.

Let cool five minutes in pans before removing.
Notes
These freeze and reheat well.
If you prefer a traditional loaf, bake for 50 minutes.
---
---