Radish Leaf Condiment
Don't toss those radish greens! You can make this Radish Leaf Condiment to add a shot of flavor to plain rice, meat, or beans, or any simple meal!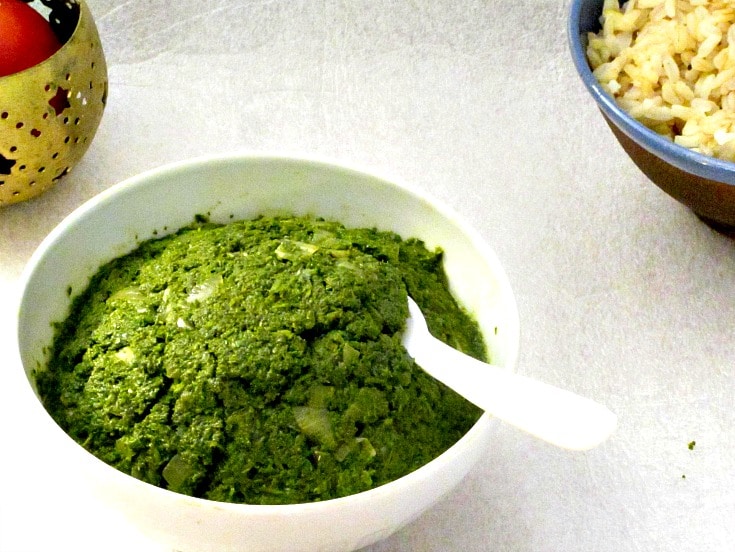 Well, I wasn't quite sure what to call this… Relish or Pesto implies uncooked, Sauce would be more liquid, I don't really suggest Spreading it on anything, and…  Maybe Chutney, but since I'm very vaguely inspired by Indian flavors I'd be afraid that someone might think that it's an actual Indian dish. (It might be like one, for all I know, but… I made this one up as I went along, and don't want to imply otherwise.)
A couple of years ago I wrote about the astonishing discovery (for me, at any rate) that radish leaves are edible. Since radishes grow very quickly, they're one of the first crops we see in Spring, one of the last we see in Fall, and a staple throughout the summer. I love them in all those salads I eat, so, between the CSA (farmshare) and the farmer's market, I'll have a bunch of them almost every week for the next six months. The discovery that they are, like beets, essentially two vegetables in one was terrific!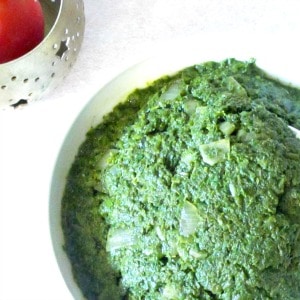 Not surprisingly, though, they have a very sharp flavor, and some can even be a little bitter. I understand that Indian cooks use them regularly, but usually in combination with other greens, or mixed into a recipe that mitigates the sharp flavor and makes it a welcome accent. And most of the summer, when I have a small bunch of radish greens and several large ones of kale or chard, that works just fine. But now? I have more radish than anything else! (And sometimes in summer I put it aside, and then realize I've done that for several weeks and…)
At the same time, some (not all) radish leaves are a bit – bristly? Prickly? They have a funny texture… So that gave me the idea of chopping them in a food processor, and then cooking that. Chopping them finely condenses them, though – you really wouldn't want half a cup of this on your plate by itself as the vegetable…  it's just too intense.
I constantly look for condiments to add flavor to bland food. Sometimes we just want a little something to stir into plain rice or unseasoned beans, or dab onto a leftover pork chop…  This turned out to be very good for that. I usually freeze it in ice cube trays, so I can easily thaw a cube to serve – or even drop it right into a pot of rice! I season the radish leaves with onion and curry powder, and I find the flavors balance beautifully.
Directions
Take a couple of bunches of radish leaves… I can't really give precise amounts, as the size of bunches vary widely. In the pictures, I used three bunches, but one was as large as the other two put together…  So, say, two to three bunches. Wash the leaves and pick out any woody stems or wilted leaves, and let them drain. (They do not need to be completely dry.)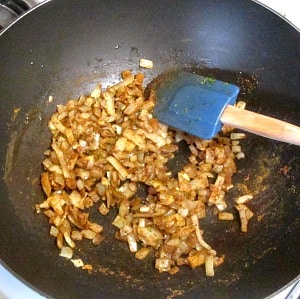 While the leaves drain, chop an onion, heat oil in a saute pan, and saute lightly. Add curry powder and stir it in to heat.
Then process the leaves, probably in two batches or so. You'll need to stir down periodically, Once they are finely chopped, add them to the pan with the onion, and stir well. Raise the heat slightly – and you'll see that, even if the leaves were completely dry, some liquid will cook out of them. (So no, you needn't add any.) Lower the heat again to a slow simmer, and cook, stirring periodically, for twenty minutes.
Taste and see if you want to add any more curry powder – that will vary by both your taste and the strength of the curry powder you use. If you do add any, cook another minute or so, while stirring it through.
And there you have it. A balance of sharpness (sometimes with a slightly bitter flavor – radish leaves vary) and heat… A surprisingly refreshing shot of flavor to serve with a simple meal.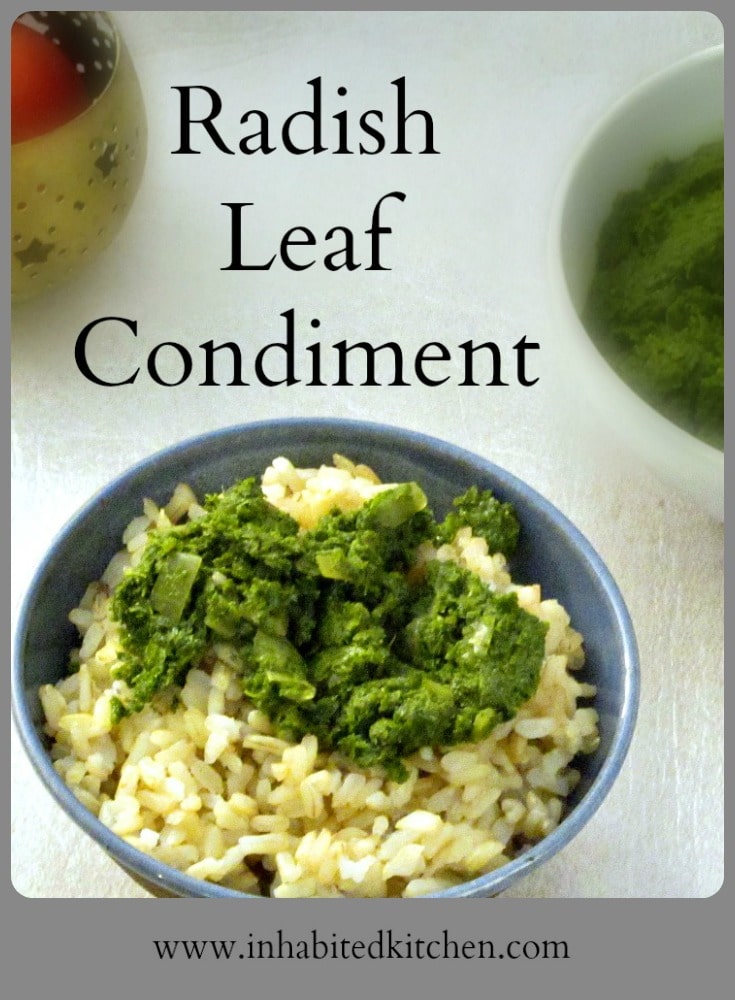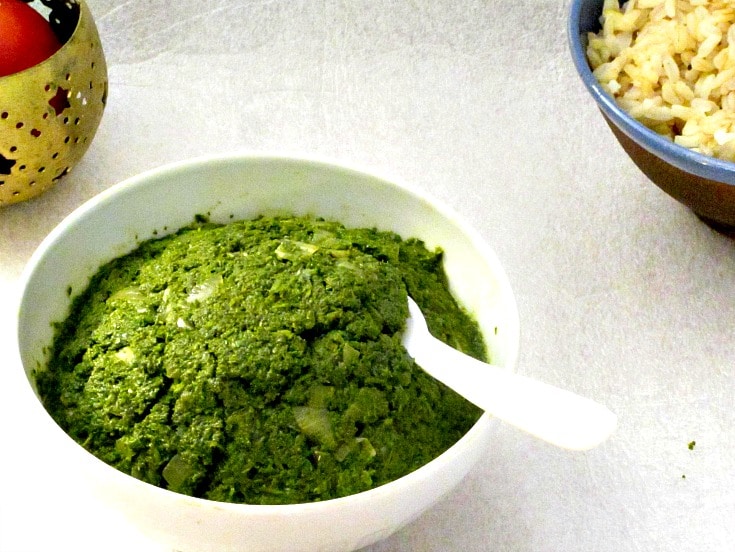 Radish Leaf Condiment
Don't toss those radish greens! You can make this Radish Leaf Condiment to add a shot of flavor to plain rice, meat, or beans, or any simple meal!
Ingredients
The leaves from 2-3 bunches of radishes

oil for pan

1

onion

2

t

curry powder

or to taste
Instructions
Wash and drain the radish leaves.

Heat oil in a pan. Chop the onion and saute it in the pan until it starts to soften. Stir in curry powder, and heat for a minute.

Chop the radish leaves, stirring down periodically, in a food processor until finely ground. (You probably need to do this in two batches) Add the chopped leaves to the pan, and stir over medium heat until it begins to cook. It will probably exude liquid - let that start to simmer.

Lower the heat and cook, stirring periodically, for 20 minutes.

Taste for seasoning. If you add more curry powder, stir it in and heat another minute or two before removing pan from heat.

Serve at once, or refrigerate or freeze for later.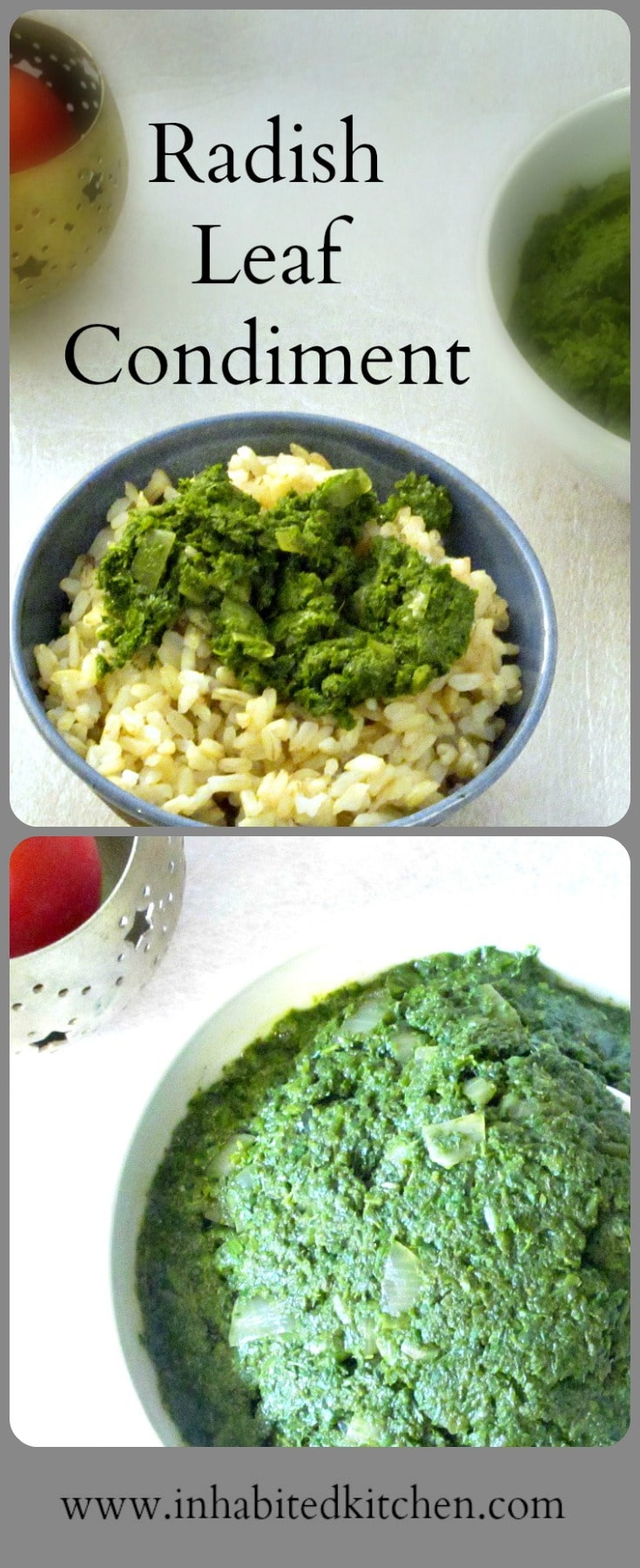 Save
---
---