Pepper Parmesan Salad Dressing
Pepper Parmesan Salad Dressing adds a punch of flavor to a simple green salad. It's easy to make, with ingredients you may already have on hand.
Apparently I'm on a salad kick.
Well, can you blame me? I finally have local lettuce, the tender and delicate first leaves, along with spicy arugula. We've had an unseasonably cool spring (with bursts of equally unseasonable heat!) so it still feels like April – a salad lunch helps convince me that the warm weather will come. And, well – one reason I eat salad all summer is that, once I set up the salad bar it's easy to maintain, and I fix lunch without fuss or effort.
But I'm also facing the same challenge I do every year at this time. There aren't really many salad vegetables available, yet, so I want my salad dressing to add an extra layer of flavor. But I also don't yet have the fresh herbs I'll use later in oil and vinegar dressing. (Surely they will arrive soon!) Every year, in May or June, I play around with options for a flavorful dressing – something interesting, but not too complicated, that I can make with ingredients in my kitchen.
This year, I decided to make Pepper Parmesan. I had a chunk of cheese I'd somehow allowed to dry out a bit,  and buttermilk left over from another recipe, and I always have peppercorns…
Edited to add – unflavored kefir can be substituted for the buttermilk.
First, I did what I'd planned to do anyway, and ran the cheese through the mini processor to "grate" it. That is not a step in the recipe as such… really, skip the "let the cheese dry out" step, and you'll be just fine. I'm just being transparent, as they say. So then I set it aside, since there was more than I needed for the recipe. You can grate your own fresh, or use some commercially grated – whatever works.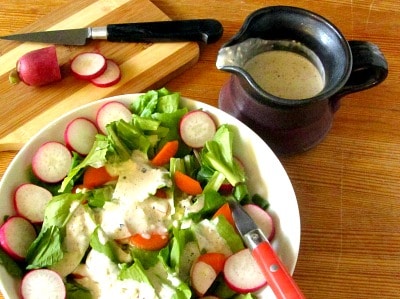 Then I ground a teaspoon and a half  of peppercorns with a mortar and pestle. You may want to either use a peppermill and grind it onto a piece of wax paper, or put a teaspoon and a half into a spice mill. If you use commercially preground pepper – which I really don't advise for anything, it loses flavor quickly – you may need to use more.
Enough prep… The actual recipe. I already had the mini processor out for the cheese, so it made the most sense to use it. You can just start with all your ingredients already ground finely enough, and whisk it all together – but I like the processor, or a blender,  for texture. I used a teaspoon and a half of freshly ground pepper, a quarter cup of grated parmesan, and a small clove of minced garlic (or a quarter teaspoon of minced garlic from a jar, which is what I had and used) and ground them all together in the processor. I deliberately used pepper at the low end – you can always add, but not remove – but don't add until the dressing has rested a day, as the flavor does get stronger.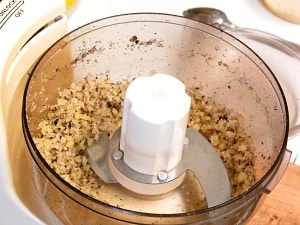 Then pour three quarters of a cup of buttermilk into a glass measuring cup, and add mayonnaise until you have a full cup – the easiest way to measure this! This was creamy but not particularly thick. You can change the proportions to half a cup of each, if you prefer a really thick dressing. Pour that into the mini processor and blend away until it is more or less smooth.
And there you are. Refrigerate – it does thicken slightly, and the flavors meld, and it will be better a few hours later or even the next day. It will keep about a week, if you haven't used it all before then…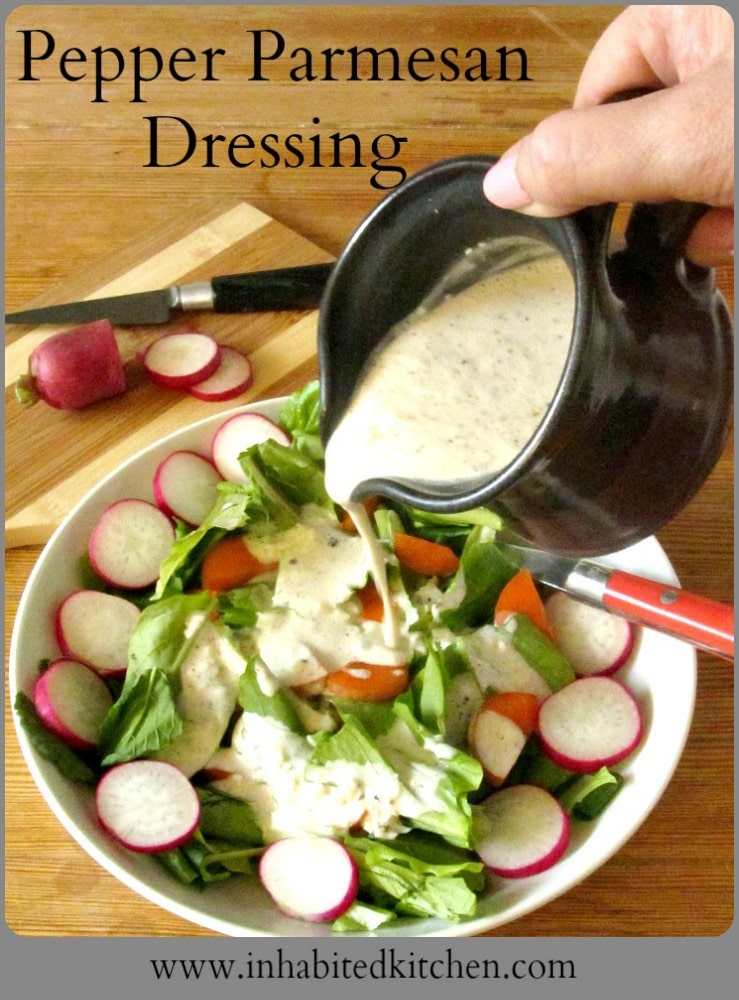 Pepper Parmesan Salad Dressing
Pepper Parmesan Salad Dressing adds a punch of flavor to a simple green salad. It's easy to make, with ingredients you may already have on hand.
Ingredients
1 1/2

t

peppercorns

ground

1/4

c

grated parmesan cheese

1

clove

garlic

minced

3/4

c

buttermilk

1/4

c

mayonnaise
Instructions
Place the ground pepper, grated cheese, and minced garlic in a blender or mini food processor. Blend them together.

Add buttermilk and mayonnaise. Blend until smooth.
Notes
You can serve at once, but flavor will improve after a rest in the refrigerator.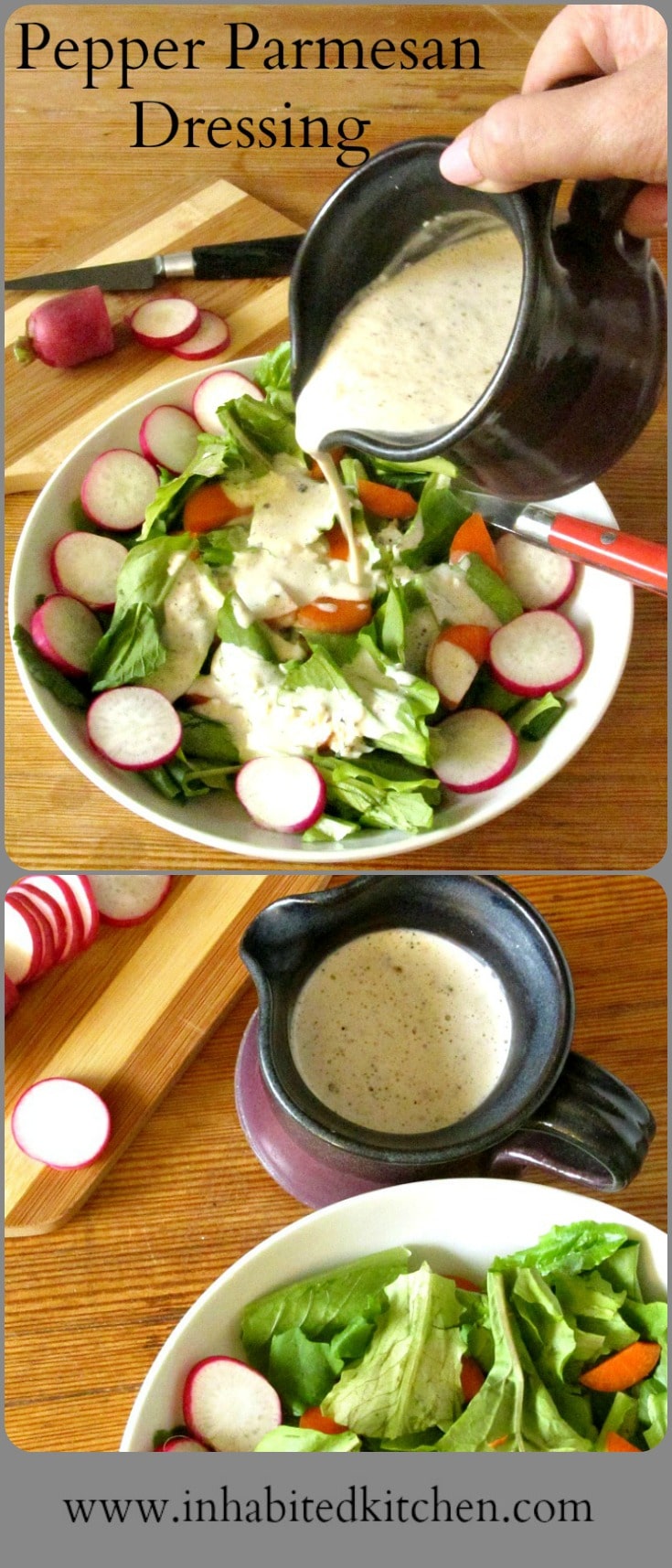 ---
---