Leeks with Chicken
Around here, the first Spring vegetables are those (if any) that survived the winter. In a warm year, a  few greens – broccoli rabe, chard, kale – and leeks. (In a cold year? Nothing until May, at the earliest…) And sometimes radishes, which grow so quickly.
I wasn't sure how that would work, this year. Most of the winter was very warm – the kind of year when we do have stalls full of greens in March – but there was that one spell of bitter cold, which I was afraid would be just enough to freeze anything the farmers were cossetting along. Apparently, though, some plants were able to survive.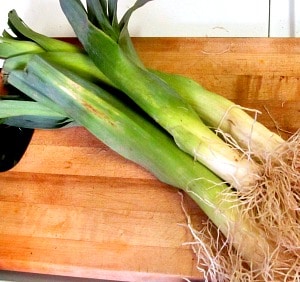 Well – at Greenmarket the other day  I wasn't desperate enough for fresh greens to buy a bunch of four leaves of chard for five dollars… but that was the exception. I did get a decent bunch of mizuna, I admired radishes but didn't get any (and came home to find a recipe for roasted radishes. Next time!) I bought the usual winter fare of apples and turnips.
But I also bought leeks! These aren't the slender, tender leeks I'll happily grill in a few months – these are tough old veggies that have survived the winter buried in their sandy trenches. The farmer has chopped off the dried, frost bitten leaves, and trimmed off the wilting outer layer – but oh, my, these are sweet… Wonderful flavor!
When I wrote about Creamy Corn and Leek Soup, I discussed cleaning leeks – and that I routinely clean and saute the whole bunch at once. One of these is usually more than I want to use to feed just two of us, and as long as I'm fussing with bowls of water I may as well deal with it all – and it is so convenient to be able to pop some already cooked leeks into a pan to start a meal! And in fact, this recipe could be made with either the fresh leeks, as I did here, or with precooked ones – in which case you could cook the whole thing in about ten minutes.
You see, we also bought a family pack of chicken breasts a few days earlier. And again, each breast is more than I need to use in one meal. Sometimes I just hack off a piece and return the rest to the fridge for later, but sometimes I go ahead and cut the whole thing up in bite sized pieces, and freeze them in a zip freezer bag. Or I slice it, and layer the slices, with waxed paper separating them, in a freezer container. I don't precook white meat chicken – it cooks fast enough, and can dry out easily. It's all about preparation…
I actually sliced and cooked three leeks, then reserved about two thirds of them… I used enough leek here for it to really be a vegetables, not just an aromatic. So I'm writing the recipe as if you are starting with one leek and half a pound of chicken breast in one chunk, because in fact you might be – but remember you have the other option.
Trim the roots and the coarse leaves off a leek. (I reserve the leaves for later use in broth, or as a flavoring with meat – too fibrous to eat, but the flavor is there. Just toss the roots, though.) Cut the leek lengthwise, then slice across – this is the easiest and most efficient way to get rid of any sand that may be buried in the layers. Place the pieces in a sink or large bowl of water, and run them around to separate them, and let the sand settle. (If they are very sandy, I may give them a second rinse – I don't want any grit in my dinner!) Then drain.
Heat a little olive oil in a large pan, add the leeks, and stir. Saute over medium heat until soft, and beginning to brown. While they cook, cut the chicken into bite sized pieces (assuming you aren't taking handy bite sized pieces out of a freezer bag…)
Once the leeks are soft and starting to brown, add the chicken to the pan. Let sit a moment to start browning, then stir, so they brown lightly on all sides. Then add a quarter of a cup of water or broth (I just used water, but the other is a nice touch,) a pinch of salt, and a quarter teaspoon of crushed dried tarragon. Stir well, to mix the seasoning into the liquid, bring to a low simmer, and simmer five minutes or until the chicken is fully cooked (longer if your bite sized pieces are larger than mine – I do tend to cut small.)
And there you are. I served over rice, with a side vegetable, and it was a lovely dinner.
Now remember – if you get home and it is dinner time, but you are prepared… Set your pan over heat, and take the leeks and the chicken out of the freezer, and rice out of the fridge. (Or if you have a lovely rice cooker like mine, maybe you set it up with the timer and you have fresh rice?) Heat a little oil, drop in some of the frozen leeks and stir around. Take out enough chicken for your family, let it thaw a little on the cutting board while the leeks heat up, then separate the pieces of meat, drop them in the pan, and proceed from there. Microwave the rice, and maybe a frozen vegetable? Dinner in the time it takes the rest of the family to put away coats and set the table… and a rather nice dinner, at that.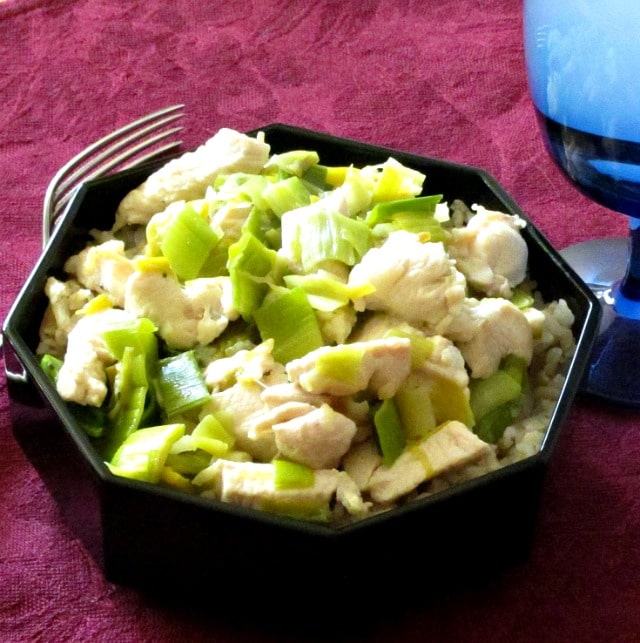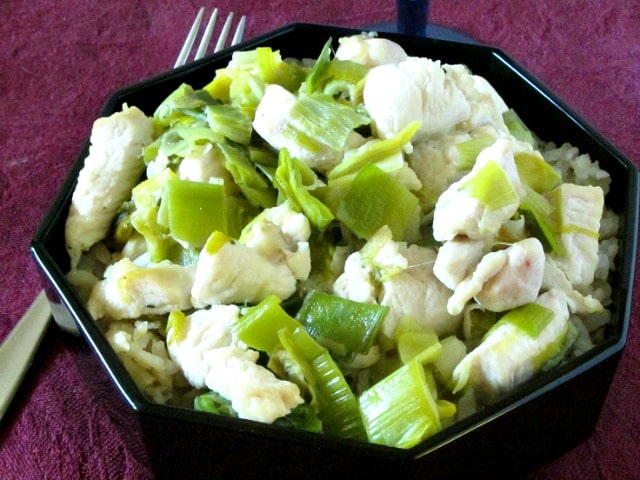 Leeks with Chicken
Over wintered leeks with chicken - some of the first fresh vegetables of Spring, served with mild white chicken for a quick and delightful dinner!
Ingredients
1

small to medium leek

oil for pan

8

oz.

chicken breast

1/4

c

water or chicken broth

pinch

salt

1/4

t

dried tarragon
Instructions
Trim, cut up, and wash the leek. Drain.

Heat oil in a saute pan, and add the leeks. Saute until soft and beginning to brown. While the vegetables cook, cut the chicken breast into bite sized pieces.

Add the meat to the pan, Saute until slightly browned, then add 1/4 water or broth, and seasoning, Bring to a simmer, cook until chicken if fully cooked, about 5 - 8 minutes.
Save
---
---