Cheesy Potato Puffs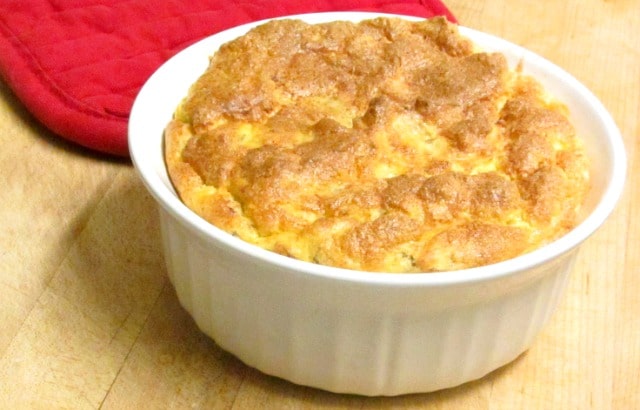 I feel that the recipes here have been rather heavily Meaty lately – by my standards, at least – so I wanted to get a vegetarian recipe into the mix, again. What would be a good recipe? Well, Spring vegetables are starting to come in around the country, and a recipe incorporating them would be lovely – or, conversely, one setting them off. Sometimes when you get the first asparagus, or broccoli rabe, you just want to feast on the vegetable prepared as simply as possible, but then you still need the rest of the meal. And I think these cheesy potato puffs are a perfect foil for a bright green, fresh, perfect vegetable.
I'm calling them puffs, though they are almost souffles… A classic souffle is the sauce holding its breath – but this isn't actually a sauce. It's a little sturdier, a little heartier, a bit more… rustic always seems to be the word used for recipes like this, though I usually see them served in urban settings, not the country! Funny, sometimes, the words we choose… If you've never made a classic souffle, this might be a good place to start – it doesn't rise as high, and isn't as fragile (though it does settle a little as it cools) but uses some of the same technique.
Take two large potatoes and cut them into very small pieces. I choose not to peel, and I actually like the texture of the skin (that "rustic" appeal, again!) but I didn't want big chunks of it… just small bits. Cover the potatoes with water, bring to a boil, then cook until soft.
While the potato cooks, separate four eggs, putting the yolks into a bowl large enough to mix everything together, and the whites into a bowl in which you can whip them. Also grate four ounces of cheddar cheese, measure out a quarter of a cup of buttermilk, and start preheating the oven to 375°.
When the potatoes are soft, drain them completely, and start mashing them at once, right in the saucepan. Add the cheese, so it melts into the hot potato, and mash them together until smooth. Then add the buttermilk, which will start to cool it, and beat until light, fluffy, and wetter than you would normally make mashed potatoes to serve on their own. You can use regular milk instead of buttermilk – I just like the tangy flavor. Set the potato mixture aside to cool more, beat the egg yolks until lemony. You don't want to combine them until the potatoes have cooled a little, but the cheese and buttermilk have started the process.
Beat the egg whites. You can use an electric mixer, of course, or an old fashioned eggbeater, or a whisk – whatever you have and prefer. (I usually just use an eggbeater for this amount, instead of pulling out the mixer and attachments…) I don't want you to think that you need a fancy mixer to make this – a whisk is enough. If you have cream of tartar, add a pinch – it's supposed to make the eggs whip more easily, but I've done it with and without (and I'm not convinced I see a difference…) I used it here, but again, if you have everything else but not that, don't feel you can't make the recipe. I got a nice picture at the Soft Peak stage – you want to beat it a little beyond this, to the Stiff Peak stage, where that lovely little curl at the top stands up more like a mountain. (That picture didn't come out… sorry.)
At this point, take a silicone spatula, ideally, or a spoon, and mix the potato mixture into the egg yolks. Add a sprinkle of salt, and, if you want, a dash of Tabasco – just enough to give it a bit of sparkle, not really heat. (Unless of course, you'd rather have it hotter – season to your taste!) Then carefully stir a spoonful or so of the beaten eggwhites into the potatoes and mix well, to lighten it.
Take your spatula and fold the beaten egg white in carefully. The idea is to avoid deflating them, so you use a sort of cutting in and folding over motion. I know, I didn't get pictures of the parts of the process you want to see because my hands were occupied – if I ever do venture into video, I'll have to start with this recipe! But the end result is a bit streaky – the whites are mostly folded in, but not homogeneous.
Carefully spoon the mixture into your baking dish. I was making this as a dinner for two, instead of a side dish for four (which is also an option) and my original bright idea was for individual dishes – and two three cup baking dishes would have worked beautifully, but in fact I had two cup dishes. So I used three of them… we each got one and split the other. Oh, well. I baked them then at 375° for thirty minutes.
Another option would be to put it all into a two to three quart souffle dish, put it into the oven at 375°, but then lower the heat to 350°, and bake for forty to forty five minutes. (The initial burst of heat helps the rise.) Either way, you cook it until a knife comes out clean.
As I said, it does not rise as well, and is not as fragile as a real souffle, but it will still settle a little as it cools – do get it to the table quickly. I just photographed it in the kitchen, as I didn't want to take the time to set up at the table and then have to clear it for us to eat, or to move the puffs several times – but I think it still gives you the idea!
I tend to have the ingredients on hand, so it's an easy thing to decide to throw together one night. It looks as if it were more fuss than it really is, and sometimes that's nice, too!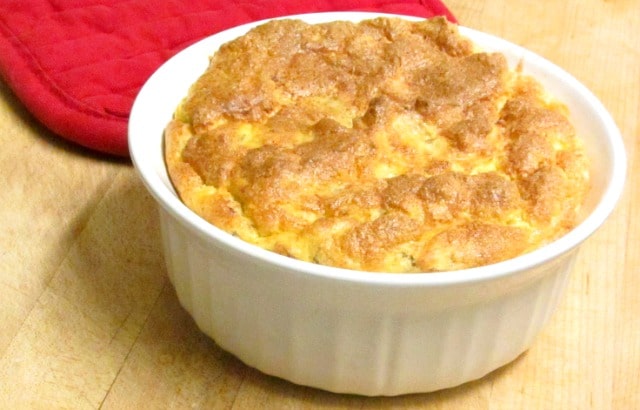 Cheesy Potato Puffs
Cheesy Potato Puff - essentially a simplified souffle - is made with pantry staples. A perfect foil for fresh Spring vegetables.
Ingredients
2

large potatoes

4

eggs

4

oz.

cheddar cheese

1/4

c

buttermilk

dash salt

dash Tabasco of other hot sauce

pinch

cream of tartar

opt.
Instructions
Preheat oven to 375.

Scrub potatoes and cut them into small pieces, place in saucepan, cover with water, and cook until soft. Drain.

Separate eggs and set aside. Grate cheese.

Mash potatoes, adding cheese and beating it into the hot potato so it melts. Beat in buttermilk, so the potatoes are light and fluffy, and a bit wet.

Beat egg yolk, then add potato mixture, and salt and Tabasco. Beat until fluffy.

Add cream of tartar to egg whites, beat until they hold a stiff peak.

Stir a spoonful or so of egg white into the potato mixture to lighten it up. Then carefully fold the rest of the egg white into the mixture. Spoon this into three 2 cup baking pans.

Bake at 375 for 30 minutes, until a knife inserted in the center comes out clean.
Save
Save
---
---