Curried Chicken Salad
Our elderly parents enjoy this spicy sweet curried chicken salad –  moist and easy to eat, with flavors they can taste, and crunch!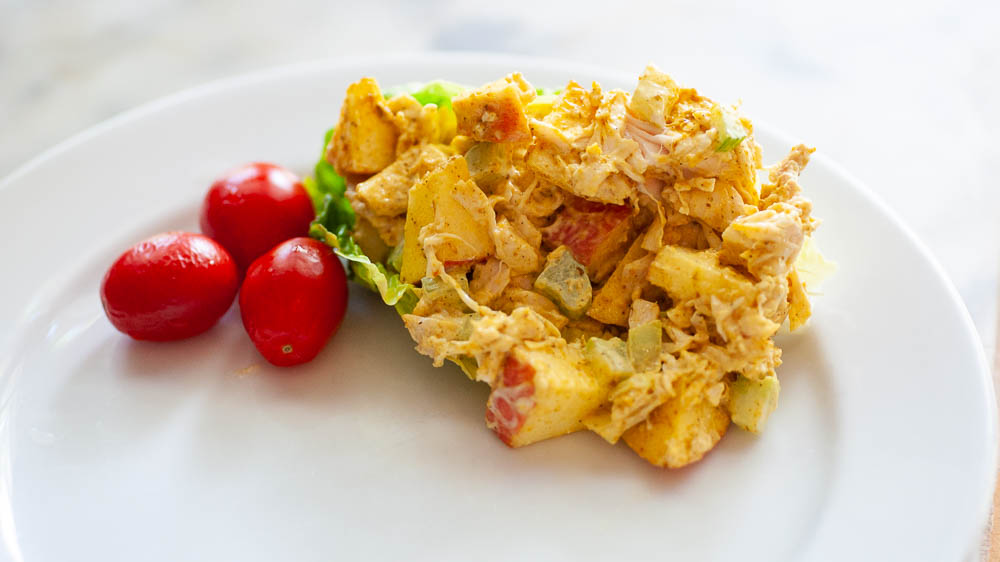 Before we moved here to help them, Dad figured out several ways to put food on the table. (Mom had stopped cooking – and while he'd made salad and heated soup, his skills didn't go much further.) 
One choice was the much beloved rotisserie chicken… When we visited for her 90th birthday and I left them cooked food for later, I didn't really cook any chicken because they already had that option. They could buy one, eat some for dinner that night – and have cold chicken later. And when they hired an aide, Mom taught her to make their favorite chicken salad… and they could make another dinner of that. 
When I came south to this hot and humid climate, I was glad to find that some cold dinners were acceptable… but I wanted a little variation. And I found Mom was eating less and less of the chicken salad – though it was her own recipe, it was falling victim to her loss of taste. She just wasn't tasting the herbs any more, and complained that it was flavorless… with Dad crying in distress "But it's your own recipe!" But we had found that she could taste, and enjoy, spicy food, and  I had occasionally made a curried chicken salad in the past. I decided to see if that would appeal – and it did!
All right – chicken, curry powder, mayonnaise… Her recipe had included grapes and nuts. I've never used (or been particularly fond of) fruit  or nuts in a salad like that, but she needed to enjoy this. And fruit would add both moisture and sweetness. I've seen apples in several English curried recipes – we always have apples in the house – they would work for both the sweet and the crunch.
A note about crunch… Mom is sort of on the edge of what is called a Soft Mechanical Diet – which means you need some equipment to process her food so she can eat it. (Cutting small pieces with  a knife counts.) She has some trouble swallowing, so she needs small pieces of moist food that will be easy for her to chew enough for her to swallow – much more chewing than most of us normally do.
However – the problem with some of this terminology – many of the guidelines for this diet are planned for people with trouble chewing, not swallowing, often because of oral issues she does not have. So they sternly tell you to avoid the raw fruit and vegetables she enjoys (as long as they are cut…) or the chips, crackers and nuts she loves (and eats without issue.) For someone else I might stick with the grapes – but the finely diced apples give her a more appealing texture. Everything in this process must be individualized…
Because she and Dad enjoy it, I also often add a little celery – that may go away with time… I'll drop it before I drop the apple.
Directions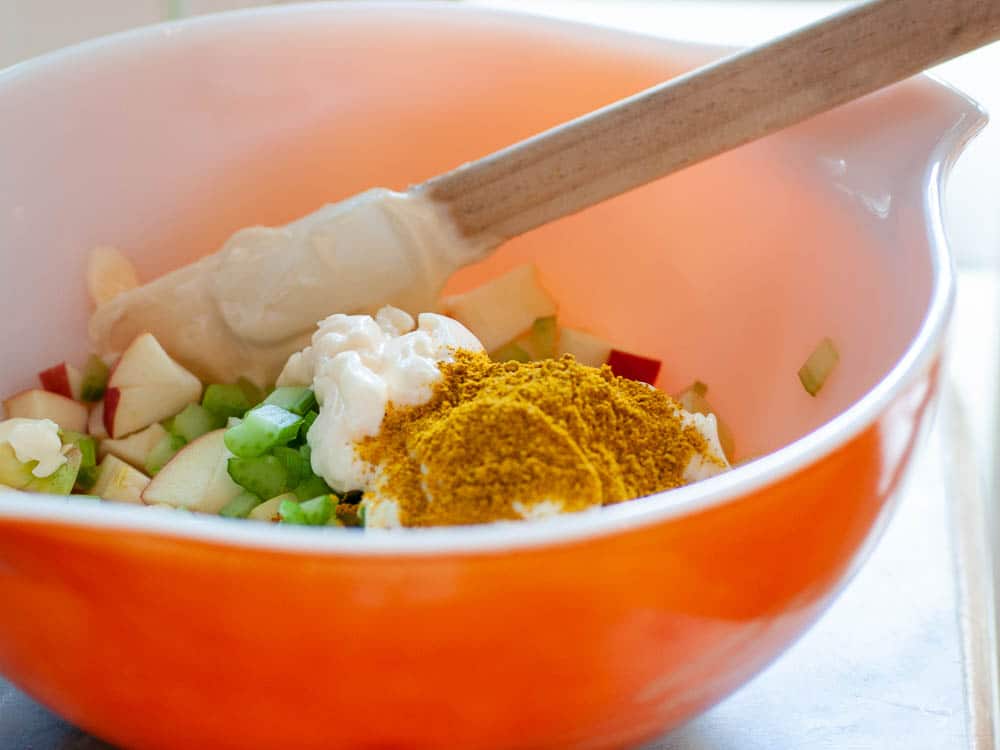 There isn't really a lot of Process to this one – put everything in a bowl and mix it… 
That said – it's a variable recipe. You may want more or less of any ingredient, such as a large or small apple. I don't peel the apple – no one in the family has trouble eating the peel, and it's pretty. You might need to peel it. I would start with that amount of mayonnaise, if nothing else changes, but you might want more to make it moister – or you might want less if your chicken is poached instead of roasted, so the meat is already moist. Curry powder will vary to taste, and depends on your particular blend. I used the breast meat from a rotisserie chicken. In cooler weather I might roast the chicken myself, and at any time I might use thighs cooked in the slow cooker – use whatever cooked chicken is easiest for you. 

Make this salad your own… And enjoy it!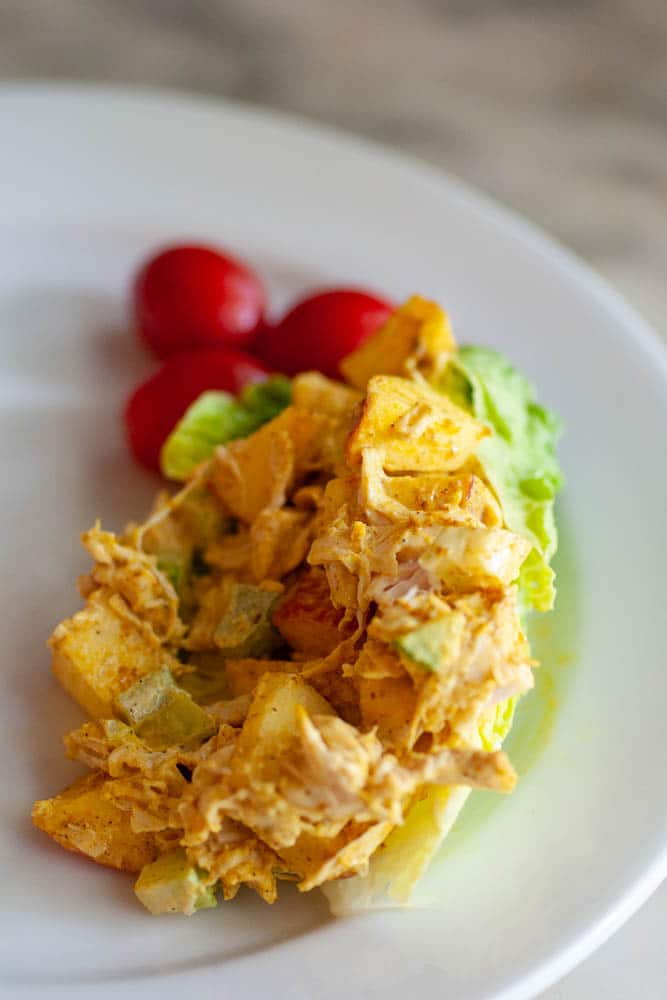 Curried Chicken Salad
Our elderly parents enjoy this spicy sweet chicken salad -  moist and easy to eat, with flavors they can taste, and crunch!
Ingredients
2

small apples

1

rib celery

1/2

c

mayonnaise

2

t

curry powder

or to taste

3

c

diced cooked chicken
Instructions
Core the apples. Dice them and the celery small.

Put all ingredients in a large bowl. Mix well.

Taste for seasoning. Either serve at once, or chill and serve later - remembering that the curry will become more intense over time.
---
---