Mostly Mindless Slow Cooker Pasta Sauce
The easiest way I've ever cooked pasta sauce in a crockpot turns out to be the most flavorful. Our elderly parents love it, and eat it with no problem!
Jump to Recipe
For years, my favorite quick "cheat" pasta sauce recipe was just Italian sausage and tomatoes. See, the seasoning is already there in the sausage, so I'd just throw it together in a skillet, perhaps adding onion, in the time it took the pasta to cook. So easy!
Now, though, last minute skillet meals don't work for me as well as they did when it was just the two of us. Rich's parents need more and more of our hands-on care – right down to assistance walking to the table at dinner. And, well, sometimes one thing leads to another, and it's 20 minutes or more from the time we call them until we have both actually seated – and we may be with one or both during that time. And things will only get more complicated.
You're going to see more meals that can sit there in the slow cooker or pressure cooker keeping warm for an indeterminate time…
So one day I had plenty of Italian sausage, wanted to make a slow cooker pasta sauce, but was rushed in the morning as well. So I just thought "Whatever!" and threw everything into the slow cooker as it was – no browning the meat, no sauteing the onion, no added garlic or other seasoning, five minutes start to finish – and rushed out on my errands. And it was the best sauce I'd made since I last had time and energy to really fuss… The seasoning really cooked into the sauce beautifully, with much more intense flavor than I'd ever gotten from the skillet method!
Now, I did pull the sausage out at the end and cut it in bite sized pieces. That step is optional, but Mom has trouble with big chunks of meat, even if they're soft enough – she doesn't always cut them herself. But the texture was very tender, the casing almost vanished, if you wanted to put it in a hero or something it would be so easy to eat…
I've made it several times since. It's spicy enough for Mom to really taste it, the slices of sausage feel hearty enough for Dad to enjoy (he's getting a little tired of all the chopped, ground or shredded meat I fix for her, though to be honest it's easier for him to eat, too.) And when Mom, who often must be urged to eat, helps herself to seconds, you know I'm making that again!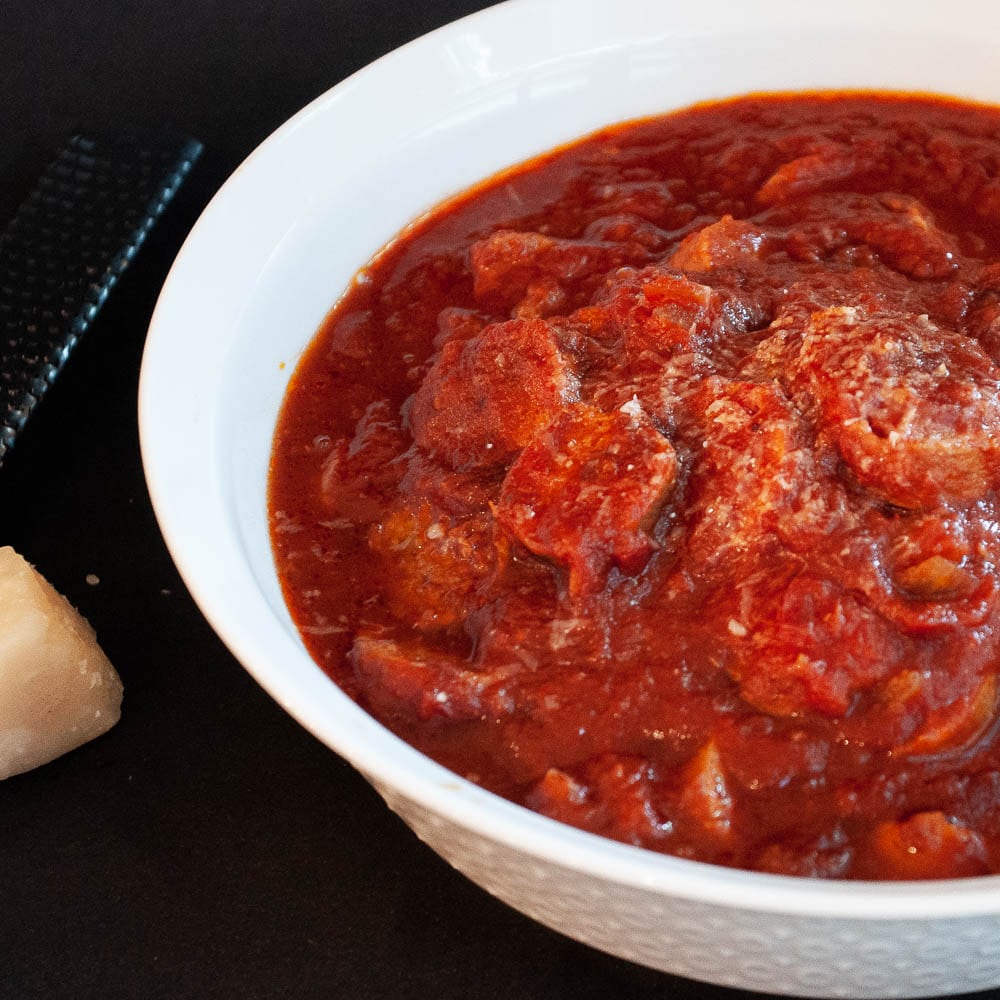 I generally use hot sausage partly becasue I've always preferred it, partly for the heat, which they can taste more easily. I have doubled – even tripled – the recipe, because it freezes beautifully, and then I sometime mix in some sweet sausage. She did love fennel, the predominant flavor in most sweet sausage, and though I'm not sure how much she still tastes it, I want to give her some chance… The whole recipe does, of course, depend on sausage you enjoy, so use your (or their) favorite.
I would usually call this a meal for four average adults – one sausage link each. For the parents, and with the meat cut up, we do get leftovers… If you make this to freeze for an individual you may get five or even six servings from it, depending on appetite. Go ahead and make the whole batch – it freezes and reheats wonderfully!
(Oh, and since pasta has the same timing issues, I just use premade polenta – homemade if I've had time, commercial more often. Slice, zap when they get to the table, we're done. And, again, it's easier to eat… It's even whole grain! Luckily they enjoy it.)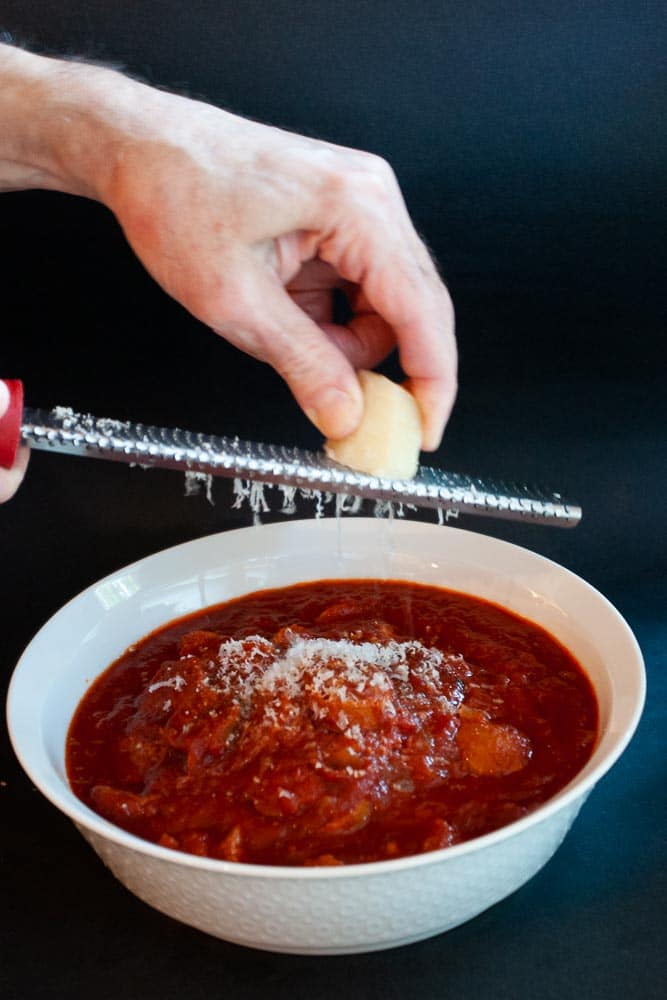 Mostly Mindless Slow Cooker Pasta Sauce
Ingredients
1

lb

Italian Sausage

1

small

onion

1

28 oz can

crushed tomatoes
Instructions
Put sausage links in the bottom of the slow cooker. Prick the casing with a sharp knife. at the Chop onion, and add. Pour crushed tomatoes over all.

Cover slow cooker, and set to 7-8 hours on Low.

Optional step – remove sausage links, let cool briefly, slice, and return to the pot. In some cases, this will make it easier to eat.
Nutrition
Calories:
360
kcal
Carbohydrates:
18
g
Protein:
20
g
Fat:
22
g
Saturated Fat:
6
g
Cholesterol:
65
mg
Sodium:
1057
mg
Fiber:
5
g
Sugar:
9
g
Vitamin A:
920
IU
Vitamin C:
11
mg
Calcium:
24
mg
Iron:
3
mg
---
---