Ham in Mustard Sauce
Ham in Mustard Sauce – an easy and quick way to prepare cooked ham. With the spicy sauce and the bite sized pieces it's appealing to our aging parents.
I had a difficult day, between caregiving and my own migraine, so I started dinner late, and with no energy. Well, all right – there is fully cooked ham in the freezer… It's always on sale around Easter and Christmas, and I try to keep some on hand all the time, as it is so versatile. Took some out, threw a meal together, sat down…
And Mom ate every single bite (she'd had a poor appetite all week) and Dad actually said he liked it. and the next thing I knew, Rich was urging me to make it again and write it up!
So here it is.
As I've said, it's easier for Mom to eat things with a sauce – the moisture helps her swallow. And she tastes very little – but I have found she can taste, and likes, spicy food. I've really been concentrating on different kinds of pepper – she has eaten curries from all over Asia (or more accurately, my version of food inspired by the same – most of it is not particularly authentic, for a variety of reasons) and an assortment of Mexican American food.
But Europe has its own hot seasoning, forgotten too often… Mustard is not just a spread for hot dogs and sandwiches! (Don't forget horseradish, either… I really should use it as well.) They do like a dollop of mustard on the side with pork, but that doesn't give Mom the sauce she needs. But a simple mustard sauce – white sauce with mustard added – is classic, and indeed the basis of many casseroles. I could simply make it and pour it over slices of ham, but since I'm also now cutting some of her food up, to make it easier for her, it just made sense to cook it all together.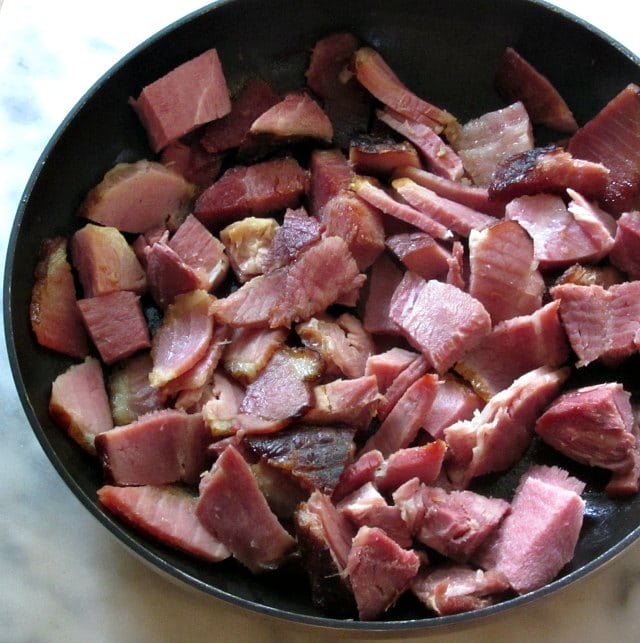 Take out your leftover ham – frozen or not. This was spiral cut, and because of the cut I could chop use a heavy knife to chop it up fairly small. Toss it in a skillet, and stir around – to thaw it if needed, and to brown it just a little.
Then add a cup of milk, and bring to a simmer. Add a roux cube and stir to dissolve, then continue stirring until the sauce thickens. (If you don't have roux cubes, make a cup of white sauce and add it – but really, the cubes are so easy to use… and you can make either wheat or gluten free, whatever you need.)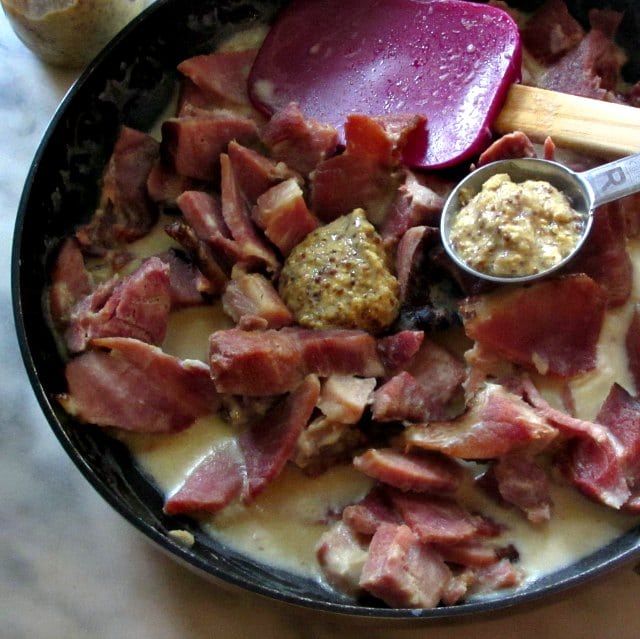 After the sauce has thickened, and that does matter, add prepared mustard. And yes, this is one of those annoying To Taste recipes… because not only does your taste vary, but so does mustard… On the whole, though, I'm going to assume that if you like your mustard hot, that's what you have, and if you prefer mild you have mild, and… I'd suggest you start with two tablespoons of your favorite and add if needed. (If you and your family really don't like any heat, start with less – but in that case you probably won't get much flavor from it, either.) I used a nice grainy, moderately hot mustard, and did end up with close to three tablespoons (but we enjoy the heat.)
Anyhow – do make sure you add it after the sauce has thickened – otherwise the vinegar in prepared mustard may curdle the sauce.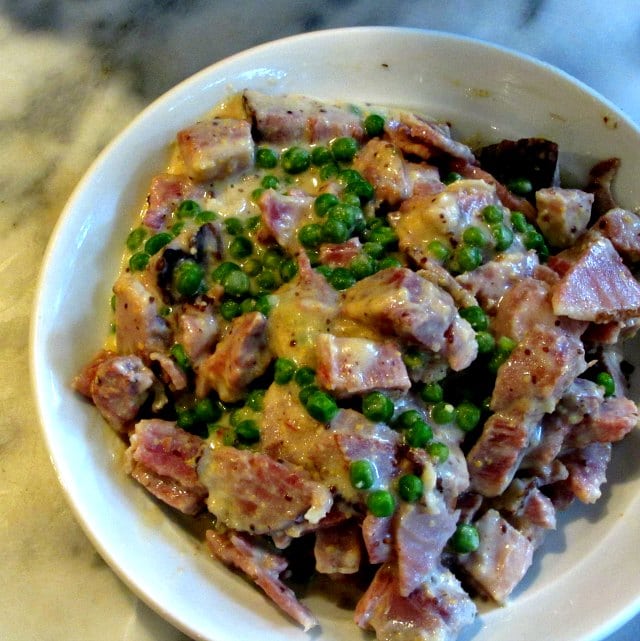 And there it was. Lots of flavor, a nice sauce, bite sized pieces – and we all enjoyed it! (And it was so fast and easy…)
Now you can go ahead and serve it as is – I served it with kasha, it would be great with potatoes, biscuits may be less traditional but delicious… But another option, if you are as pressed for time and energy as I was, would be to stir in some frozen vegetables. I added a cup of peas, which were enough because we also had tossed salad on the side, and it worked very well. (I did also then add a little milk to extend the sauce… this amount is right for the ham, but not quite enough for added vegetables.)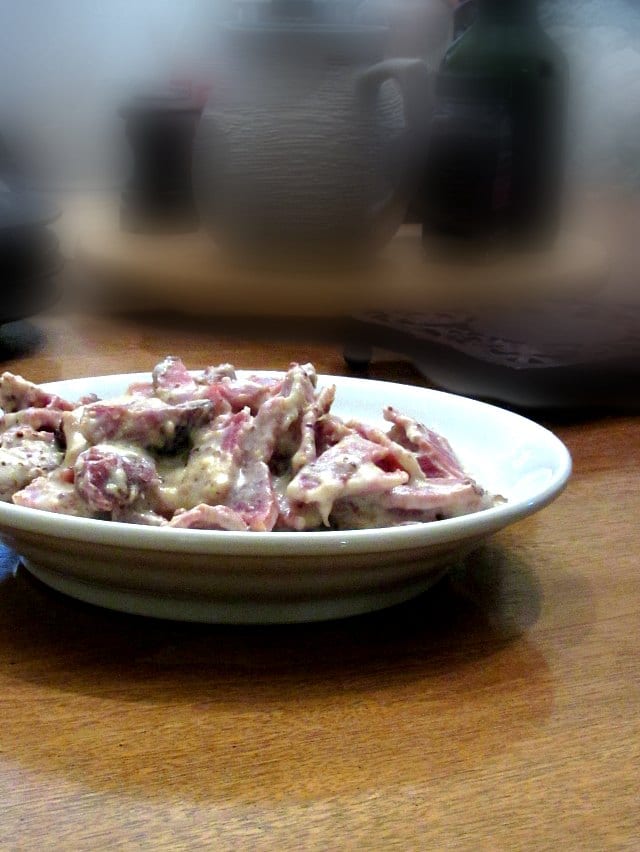 Ham in Mustard Sauce
Ham in Mustard Sauce - an easy and quick way to prepare cooked ham. With the spicy sauce and the bite sized pieces it's appealing to our aging parents!
Ingredients
1

lb.

cooked ham

1

c

milk

more later, if needed.

1

roux cube

gluten free or wheat.

2

T

prepared mustard

or to taste

1

c

frozen peas

opt.
Instructions
Cut ham into bite sized pieces. Put in heated skillet to brown slightly.

Add one cup of milk, Start heating. Add one roux cube. Stir while the cube dissolves, and thickens the sauce.

Once the sauce has thickened, add prepared mustard. Stir well. Simmer a minute or two to heat everything through.

If desired, add frozen peas. Stir and heat through. (You may want to add a little milk, to increase the sauce with the vegetables.)
Notes
Good with or without the optional peas, but they make it more a meal!
---
---