Braised Pork Chops
I was chatting with a friend a while ago, and he told me about a wonderful meal he had in a restaurant, which included a pork chop that surprised him by being very tender. He usually grills his, so he's used to chops that, while they taste good, are on the chewy side. I told him that this was probably braised – simmered with a little liquid.
I was raised to believe that one should always braise pork chops. I have grilled them since, myself – it is a bit faster – but braising gives chops that are more tender and have more flavor, from the braising liquid.
This time, I had boneless loin chops, but the same method works with any. And I used ones I'd frozen, that were still frozen – though obviously you can do this with fresh or thawed ones, too. It is useful, though, to know you can cook frozen meat…
I heated a frying pan over medium-high heat, and added just a bit of olive oil. Put the chops in, heated them for about 2 minutes to brown them. (They were rigid, because they were still frozen – normally they'd have browned more evenly.) Then I flipped them to the other side, to brown it, for about 1 minute.
Once they were brown, I added a 15 oz can of diced tomatoes. As big a fan as I am of fresh vegetables, canned tomatoes are a life saver in winter. They add lots of flavor and nutrition, and are a vast improvement over the pink plastic globes you get in supermarkets in the Northeast, hauled cross country. Now, if you live somewhere you can get good, really fresh tomatoes all year, by all means enjoy them. I cannot get them. 
Anyhow – I added the tomatoes, brought them to simmering, lowered the heat to Low, and let them simmer. After 20 minutes I turned the pork chops over, and let them cook another 15 minutes. (If the meat had not been frozen, it would have been 15 minutes a side.) And they were done.
I had the ratatouille I froze last September – the stuff that needed more tomatoes? So, when the chops were cooked, I removed them from the pan, added the ratatouille and heated it through. Normally, I would have either served it as is, with a green vegetable on the side, or possibly added some frozen or leftover vegetables to the tomatoes. Also, I knew the ratatouille was seasoned, so I didn't add any seasoning to the pork and tomatoes – usually I would have added basil and oregano, at least.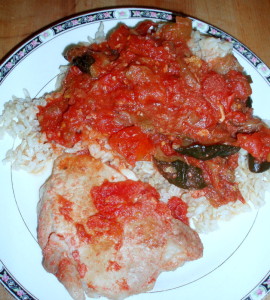 I'm going to write the recipe without the ratatouille… since that's not usually an option, and was just added at the very end. It didn't affect the actual cooking at all. I'm also going to write it for fresh, not frozen, meat – but you know you have the option.
Now – this basic brown and braise method can be used with other liquid. A little broth – either beef or chicken – is my usual. Or water with dried mushrooms – that is wonderful with pork. A splash of apple cider – by itself or added to broth – goes very well – I'd serve that with red cabbage and potatoes… This time, with the ratatouille, I served the tomatoes over rice, but otherwise I might well put it over pasta.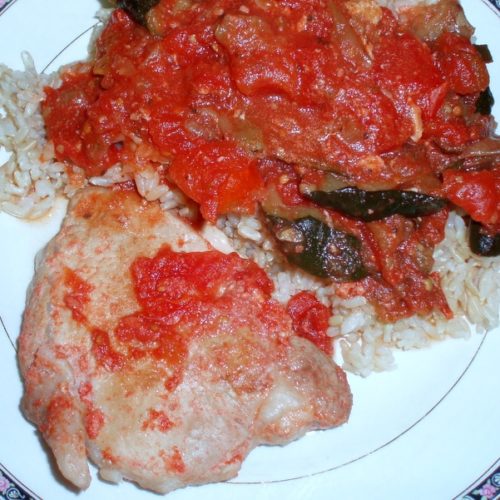 Braised Pork Chops
Ingredients
2

boneless loin pork chops

about 4 oz each

olive oil for pan

1 15

oz

can diced tomatoes in puree
Instructions
Heat the oil in a frying pan over medium high heat. Add pork chops, turn after 2 minutes, to brown both sides.

After 1 minute on the second side, add the tomatoes. Bring heat to low, let simmer 15 minutes.

Turn chop over, Let simmer another 15 minutes on the second side.
Save
---
---