Herbed Slow Cooker Chicken with Sauce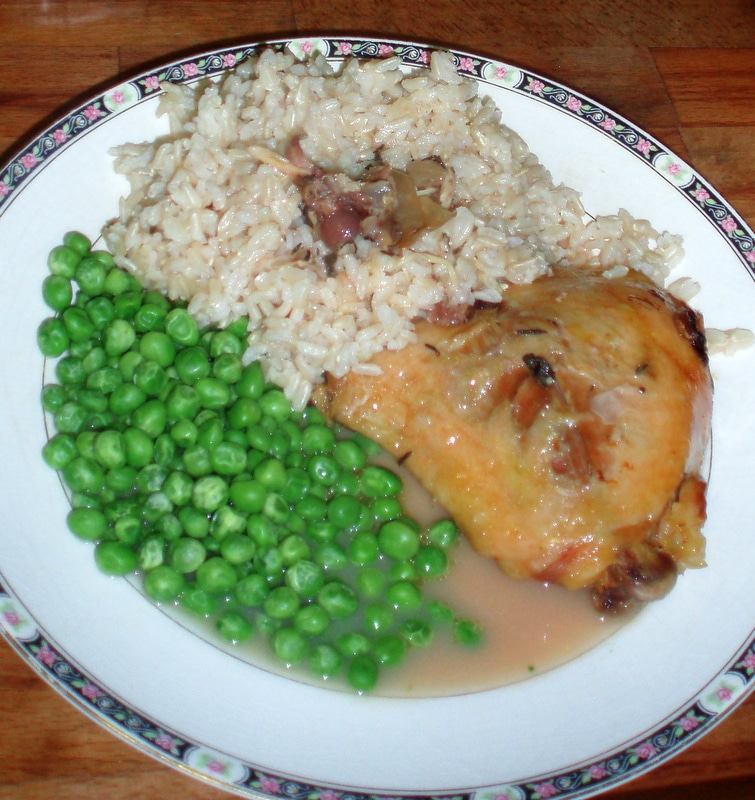 What a week!
So, first, this seemed a good time (for various reasons) to do a Major Household reorganization. The kind where we finally fixed the broken leg on one piece of furniture, and moved it, and moved something else to make room for it, and moved…
Then, just when we'd gotten ourselves firmly into "We can't stop now, with the dresser drawers on the bed and all the bulky stuff in the middle of the living room" the Polar Vortex  hit. It was COLD – but that didn't matter so much for us – we didn't really have to go out much (not at all, the really bitter days. This is the slow season for our work – one reason we'd started the project…) The problem was the incredibly abrupt change in weather, and sudden 50 degree drop in temperature – weather changes are a major trigger for my migraines. So we periodically had to move the dresser drawers back off the bed so I could lie down… and similar really helpful pauses in the moving phase.
It wasn't  a good week for blogging. I did eat Wednesday, but I didn't post what I had eaten on any day… and this post is going up later than usual. I'm sorry about that.
It was, however, a very good week for the easiest slow cooker chicken ever. You sling a chicken into a slow cooker…
Well… You can do this with a whole chicken, but this time, I used a  pack of thighs and legs. (Which is actually even easier – fewer bones…) It also isn't strictly the Easiest Ever, since I got fancy and added herbs, and even an onion. They are optional.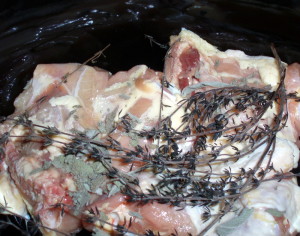 I put the first layer of chicken in the slow cooker, skin side down. You can do this with just legs, as I did, or you can do it with a whole chicken, or a quartered chicken. You can do it with boneless thighs. I do not, however, suggest doing it with just chicken breasts – when I've tried, they've been a bit dry. You can if you want – but I'm more likely to grill, saute, or roast them.
Anyhow, I put the first layer of chicken in the pot. I had some herbs from my CSA last summer – whole dried sage, and sprigs of thyme I'd put in a bag in the freezer. I spread them over the meat. You can, of course, also use just regular dried sage and thyme, and sprinkle it over – this was what I had. Then I arranged the rest of the chicken – skin side up this time, in a top layer, and salted it lightly. I sliced an onion, and spread it over the top. (The onion and herbs are entirely optional – I usually don't use them…) Put the slow cooker on low. Cook for 7-8 hours.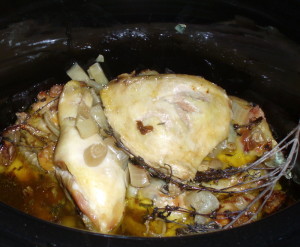 In 8 hours, the meat is falling off the bone. At just 7 hours, you are more likely to be able to lift out whole pieces. In this case (around 7 1/2 hours) the pieces on top were thoroughly cooked but still whole, and the ones on the bottom, which had now been simmering in the liquid you get from the chicken, were falling apart. As you see, I set up one plate each way – one whole thigh, and one pile of meat with a bone there, somewhere…
Then I made a sauce. When you cook chicken this way, you get a significant amount of extremely flavorful liquid – juices and fat from the meat. I ladled some out – this time into a Pyrex measuring cup so you can see it, but I usually use a sauce boat. (Then I forgot to take a picture of just the liquid…) You can skim off some of the fat, if you wish, but don't remove all of it. I made the mistake of doing that, once – I refrigerated the liquid, and removed all the fat that congealed on top. And the resulting sauce had hardly any flavor.
If I had not cooked the meat with herbs, at this point I would have rubbed some dried herbs into my hand, and sprinkled them in. Sage and thyme are good, I've used parsley and mint, whatever combination sounds good. And, oddly, I find dried herbs work best at this stage. These just go right into the liquid in the sauce boat…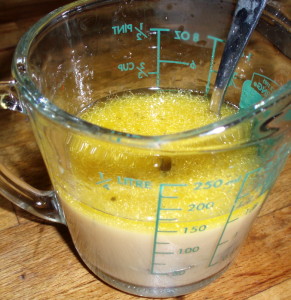 Then, the surprise ingredient. Vinegar. About 2 tablespoons for a cup of sauce. I try to use 7% acidity – which  puts you in the Gourmet Vinegar category – most supermarket vinegar has been diluted to 5% acidity, since that is the standard used in pickling. 7% is getting easier to find than it used to be, though – and a bottle can go a long way, adding flavor to many sauces and salad dressings. I used wine vinegar here, cider vinegar would also work. I haven't tried lemon juice – and should… I think that would be very good with a mint/parsley/garlic seasoning…
The sharper vinegar emulsifies the fat into the liquid. You suddenly get the creamy looking sauce you see in the picture. The 5% doesn't do that as well – you need a bit more vinegar, and you have to stir madly to keep it from separating, but you still get some feeling of a sauce. If, as in this picture, you've used the sharp vinegar and you still have some fat on the top, you can remove some of it if you wish – you do have enough for flavor… but it doesn't feel greasy.
I then simply poured the sauce over the chicken and rice, and served. (In this case, I also scooped out some of the cooked onion, and put it over the rice.)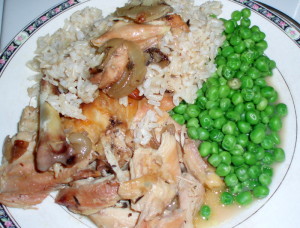 After dinner, I poured everything out of the pot through a strainer, and returned the liquid to the slow cooker. I let the chicken cool, then boned it, and returned the bones to the slow cooker too, with the bones from dinner, the cooked onion that was left, and water to cover.  I then set it up to cook overnight – and had a pot full of rich broth, to use for later soup. Couldn't be easier. I now have broth, and cooked chicken to use in other recipes, as a side effect of one night's dinner.
I have again joined Emily of A Mummy Too in her Recipe of the Week party. (My, those mushrooms look good…)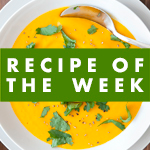 And to Javelin Warrior's Cookin w/ Luv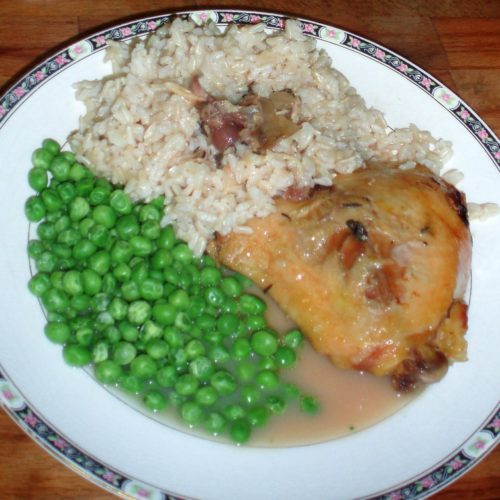 Slow Cooker Chicken with Herb Sauce
Ingredients
1 1/2

pounds

chicken thighs and drumsticks

2

sprigs Thyme

or use 1/2 t dried

Sage Leaves

dried (or 1/2 t dried rubbed sage)

1

small onion

sliced

1/2

t

salt

2

T

wine vinegar

7% acidity preferred
Instructions
Place chicken in slow cooker, with herbs spread between layers. Place sliced onion between layers and over top. Salt lightly.

Cook on Low for 7-8 hours

Ladle out 1 c of the liquid from the bottom of the slow cooker into a sauce boat. Mix with vinegar.

Serve chicken with sauce. Liquid left over can be used as broth for other recipes.
---
---