Eggs Poached in Tomatoes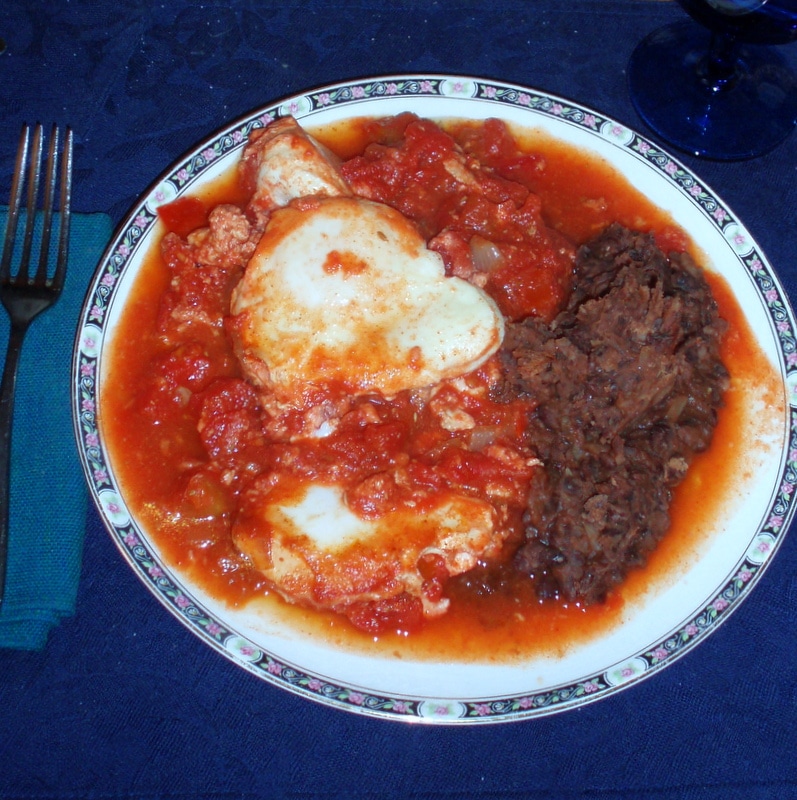 This is another meal pretty much thrown together from things that are always on hand…
Again, it had been a busy day with a bad migraine, and I was feeling pretty washed out. And, because this has been going on for a while, I have – shockingly! – run out of my pre-cooked dinner fallbacks – no meatloaf, we'd eaten the soup for lunch, there weren't enough leftovers for two…  but there were eggs.
Huevos Rancheros – Rancher Eggs – a Mexican dish (or at any rate, one sort of based on versions in various cookbooks sort of inspired by Huevos Rancheros…)  I can make a meal of a cheese omelet, or something else that is basically eggs, but Rich doesn't find that satisfying. I have found, though, that combining eggs with beans works well for both of us. So – eggs in tomatoes, with refried beans on the side.
I chopped an onion, and sauteed it in a little oil. Then I added chili powder and ground cumin.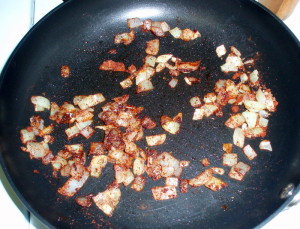 This is going to be one of those annoying posts where I give you guidelines, rather than specific amounts… and I'll start with the chili powder. You see, depending on where you are, and where you shop, and how you cook, that phrase can mean different things…
Commercial chili power, as sold in most American supermarkets, is a blend. It is made of ground dried chilies (or hot peppers) and other herbs and spices – usually cumin and oregano, sometimes others, in a proprietary recipe of varying proportion and variety, and level of heat. But it can also mean just the peppers. I have chipotle chili powder – just ground chipotle chilies, which are jalapenos that have been smoked. Hotter than a blend, less hot than some other types of chili, and with a smoky flavor. I just used a light sprinkle.  But if you'e using, say, McCormick Chili Powder, the chili is blended with spices and salt – you probably want a lot more of it, and you might not add cumin separately.
The flavors blend best if you add it at the beginning, in the hot pan – but it's hard to tell you to add it "to taste" if you do not yet have anything to taste. As you get to know the spices you are using, you get to know how much you are likely to want – but until then, start with a light sprinkle, now, and taste and adjust seasonings right before serving. And always remember the most fundamental rule of thumb for seasoning –  you can add, you cannot subtract. Start with less than you think you will need, add more later, if you want.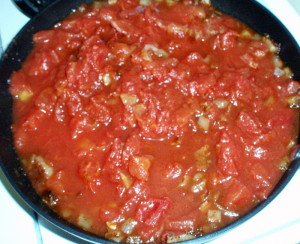 Anyhow – I mixed in the spices, stirred them around a bit in the hot pan, then put about half the onion in another, smaller fry pan, for the beans. And I poured a can of diced tomatoes into the larger pan, and started to heat it. Puree would work well, too – whole tomatoes, not as well – if that's what you have, break them up.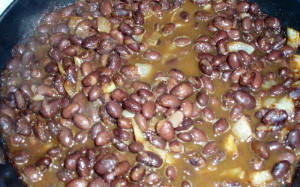 While the tomatoes heated, I got the beans.Kidney beans or pintos are most traditional, I used black beans – I don't really see any reason you couldn't use another kind, though they're not usually used with chili seasoning… Usually I do have dried beans that I have cooked on hand – but I'd made soup with all of that… If I did, I'd have just poured it, with the cooking liquid, into the pan. Since I didn't, but I did have a can of black beans, I rinsed the beans, put them in the pan, and then added water. I did want liquid, for the beans to come to a simmer. They're softer and mash better when hot.
Once the tomatoes were simmering, I carefully cracked the eggs and slid them in. This is essentially poaching eggs in tomatoes or tomato sauce – but a bit easier than regular poached eggs. You 're going to eat the poaching liquid, so you don't have to be as careful about getting your eggs in a pretty little round – you're not losing the white if it spreads. (It is prettier – I did take some care – but I'm not swirling the liquid to create a vortex, or anything like that… I don't care that much. You can, if you are using puree, and you want to… With the  diced tomatoes, the egg is all going to slide around in the vegetable, anyway.) Then, I covered the tomato- egg pan.
By this time, the beans were simmering. I took the spatula – a fork works well, too – and mashed them roughly. I don't really want a smooth paste, but a sort of textured mash. I then stirred it around, added a bit more water (the mashed beans absorb liquid, and I don't want it too dry) and lowered the heat.
We now have another variable. Check your eggs after about five minutes, to see how cooked they are. I prefer mine very firmly cooked – much harder than most people like them –  so I cooked them rather more than 10 minutes. If you like the yolks soft, or even a bit runny, you may want to serve them at 5 minutes – I think most people will want them at about 7-8 minutes. Basically, poke them gently with a sharp knife, and serve them when you think they are done. Oh,and this is the point to taste it and see if you want to add a bit more chili powder, or other seasoning. 
Even with the longer cooking of the eggs, the whole thing was ready in a little over 20 minutes – and I was able to sit down briefly during the  process, while things came to a simmer, or heated. (And, actually – Rich chopped the onion and opened the cans for me… non-cooking assistants can be helpful, and give the cook a rest.)  We ate it with some bread to soak up the tomato – but rice or any other grain would have worked fine – or we could have just mixed it in with the beans.
And it was all made with foods I always have on hand, in the fridge or cabinet. Everyone needs a few meals like that, for nights when the original plan doesn't work.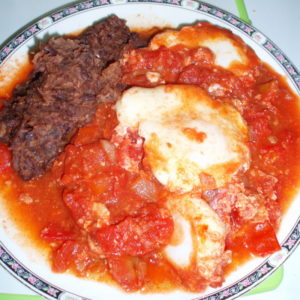 Joining in with Emily at A Mummy Too, and her Recipe of the Week.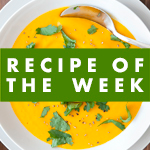 ---
---