One Dish Meal – Ham, Potato, Cabbage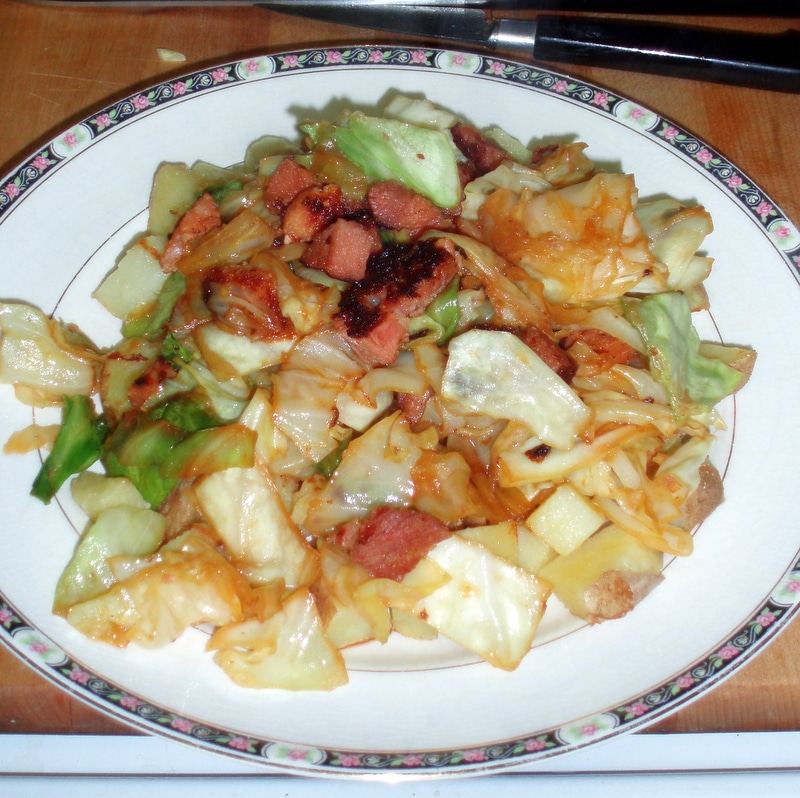 I hope everyone had a lovely Wednesday – whether it was Christmas or Wednesday…
From a food point of view, Christmas has more variety than Thanksgiving. There is no One Traditional Dish that Everyone Eats. (Yes, I know that not *everyone* in the  United States eats Turkey on Thanksgiving… but there is a cultural assumption.)
But meat on  Christmas can be a standing rib roast, or another turkey, or a ham, or a pork loin roast, or… anything you think feels festive and tastes good. (Though we do seem to run to roasts.) I even have a friend who always cooks a goose! (Which is not available at the typical supermarket, here.) And some families – especially if they actually do manage to get the entire extended family together – have a couple of the above. And the lasagna… mandatory for some, bewildering to others…
Ham is common, though. And we had ham, so I'm assuming… ham… which is the reason I did the ham and split pea soup last week, so people would be prepared! And now – leftover ham…
In fact – a version of hash. We have become so used to hash coming out of a can that we forget it's really a great way to use leftovers. You roast meat – you have odds and ends of roasted meat left over. And maybe you have an extra baked potato or two. So you cube the meat and potatoes, and you brown them in a pan to heat them… and you have hash. (Classic as a side dish with eggs… )
Or – you add some vegetables, maybe some seasoning, and have a full meal. I have some cabbage (I usually have some cabbage, in winter) and it adds in well.
I didn't have leftover baked potatoes, but they work better (and faster) in this dish if they are already at least partially cooked – so I microwaved 3 medium potatoes for 1 minute, turned them over, microwaved another 2 minutes, and left them for a while… then took them out to cool a little. (I'm going to say "cooked potatoes" in the recipe – but now you know how to get around that.)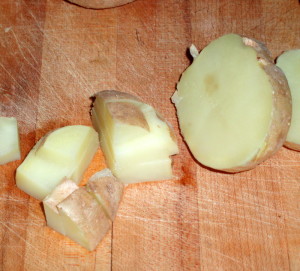 I used a sharp knife to dice the potatoes. Heated a little olive oil in a pan – got the pan good and hot – and dropped in the potato cubes. Let them sit a while, then stirred them around periodically to get brown and crispy.
In many ways, the logical thing to do would have been to start the ham now, in another pan – but I just wanted to use the one pan, tonight. Make it easy on everyone, you know? I diced the ham while the potatoes cooked, then put the potatoes on a plate. I put the ham in the hot pan, and cooked it until brown and starting to get crisp.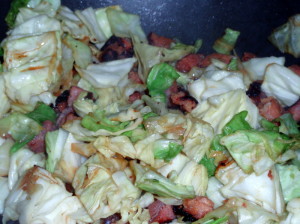 And while the ham was cooking, I chopped the cabbage… The ham released juices, which then caramelized in the pan to brown. When it was all browned and crisp, I added the cabbage, stirred it around – and then put some water in. The water released the browned bits (deglazed…) and I could stir them into the cabbage as it cooked, so I ended up with browned flavored cabbage. Once it was fully cooked, I divided the potato between the two plates, put the cabbage and ham mixture over it, and called it dinner.
Now – two pans would ideally have been better – the potatoes would still have been really hot. The cabbage did reheat it, but… On the other hand, there was only one pan to wash – sometimes you trade off… We wanted an easy evening, after the fuss of the holiday. It was still very good.
For a more traditional hash, I would have started the ham in the pan, and then added the cooked potato before all the liquid from the ham cooked off. Then it would be the potato that turned really brown and crispy along with the ham… You let it brown in a solid mass, and serve up the crunchy bottom whole. I wanted the one dish meal, though. I could have just added them all together, but I also wanted to keep the potatoes crisp, which wouldn't happen with the cabbage.
Fast, easy, one dish, one pan… you notice a theme, here? I've been running, the last couple of weeks, and he's coming down with a cold, and it's that time of year – time to stop and rest and relax. Make it easy on yourself – make hash.
One Dish Meal – Ham, Potato, Cabbage
Ingredients
3

medium

or 2 large potatoes, cooked

olive oil for pan

1/2

pound

cooked ham

cut in small cubes

1 1/2

cups

chopped cabbage
Instructions
Dice cooked potatoes. Heat olive oil in a frying pan over high heat. Add the potatoes, stir, lower heat to medium. Let brown 2 minutes, stir, cook another few minutes. (Repeat if you want - the goal is browned crisp cubes of potato.) Reserve to plate, keep warm.

Put cubed leftover ham in hot pan. Again, brown, stir, brown... Ham may release liquid. If so, let most of it cook off and the ham start to caramelize.

Add cabbage. Stir with the ham. Add 1/4 water, stir to deglaze the pan and bring the caramelized bits up and mix them in with the cabbage. Cook until cabbage is done to taste - 3-5 minutes.

Serve hand and cabbage mixture over potatoes.
---
---