15 Minute Dinner – Corn and Chicken
Sometimes I need a 15 minute dinner. I can still have a home cooked, from scratch, gluten free meal. I just have to Plan For Meals.
We're at the tail end of August, now. Around here this means school starts next week, we had some cool days but then it went into the 90s again, and we're coming into the peak of the vegetable harvest. Most of my life, I didn't know that last part. I assumed that the harvest started to wind down, now, at the end of summer. But no – we'll  get more vegetables every week until frost.
So when I have time and energy, I prepare and freeze my Convenient Foods. Herbs in cubes (and those cute little tablespoon sized apples.) Chopped hot peppers. Sauteed onion. Mirepoix.  This takes a little effort – not all that much, really – when I'm up to it, but means I get both the fresh flavor all winter and food as convenient as any can or package when I'm not up to cooking much.
Take the other night. I did start with three ears of fresh corn, but  you could use canned or frozen in this recipe (if it's not August… or you just didn't pick up corn in the last day or two.) I do not preserve corn, that does not make sense for me. If it does for you, go for it! And I used a fresh jalapeno. Those choices brought my time up to that 15 minutes – you could make this even faster, if everything comes from the freezer!
I also used already cooked chicken. In this case, I baked a whole tray of chicken legs (I needed the oven for something else, so, as long as it was on anyway…) and we ate some that night and kept the rest. Occasionally I roast a whole bird. More often, I cook chicken in the slow cooker, bone the meat, return the bones and scrap to the slow cooker for broth. One way or another, I usually have cooked chicken in the house – it is just so useful. The rotisserie chickens from the supermarket are a wonderful convenience, and for that matter, I have a few cans of chicken in the cabinet as a fallback. Which you use any given evening will depend on your own situation.
Directions
To start with, I trimmed the ears of corn and microwaved them two minutes. This creates just enough steam to soften the husk and silk, so they're easy to remove, and parcook the kernels just enough that I can cut them more easily, with less flying all over the kitchen. That step is purely optional – I  find it simplifies the process. While they were cooking, then cooling enough to handle, I trimmed and chopped the jalapeno, heated a little olive oil in my pan, and sauteed it lightly. Then I cut the corn off the cob.
And if you are starting with canned or frozen corn, and chopped and frozen pepper, you can skip that whole paragraph, and come in here. Just heat the oil in the pan, and drop a little frozen hot pepper into it.
I precook mirepoix, and freeze that. Now, I use the lovely fresh vegetables from the CSA, with tons of flavor, but when I run out midwinter, I go ahead and use supermarket vegetables if I need to. A bag of mirepoix in my freezer means I can start soup, stew, many other recipes well along in the process – it can save hours of my time, in 15 minute increments, once or twice a week, and seriously speeds up many meals. So I just scooped out half a cup of mirepoix and dropped it in the pan with the pepper, and stirred until fully thawed.
Then I added the cooked chicken, the corn, and a cup of chicken broth (which I had made in the slow cooker after cooking chicken, see above.) I did have some fresh sage, and could have added it, but I wanted to eat soon (and did need to sit a minute) so I dropped in a cube of frozen oregano, because it was easier. Stirred and covered.
Then I sat down, and asked Rich to set the table, microwave a container of rice, and serve. By the time he'd done that, I was able to take some quick pictures…
The whole meal was completely home cooked, from scratch, with fresh ingredients. It's just that I did not do all the cooking that night. I'd done it when I did have time and energy, and used the results that night, when I needed something fast and easy. And if I didn't have all the prepared home cooked ingredients? I've already mentioned options for the chicken, and the corn. If you don't have mirepoix, saute  an onion – a less complex flavor, but still a start. Use dried herbs and canned chicken broth. Heat a tube of polenta, or that packaged precooked brown rice. I have all these things in my house, to use if I need them – I'm not a purist. Do what you need to do to get food on the table.
At the same time, my home cooked food tastes much better than the packages, and it costs less. And I seriously decrease the risk of accidental gluten ingestion – did you know that many canned chicken broths contain gluten? And that companies change recipes, so you need to read the label every time? For those of us who need to avoid gluten, home cooked is far and away the safest way to go. Still, using gluten free canned broth is much safer than ordering out and crossing my fingers… And of course, there are other reasons to want to control the quality of your food.
With these methods of Planning For Meals, and using Convenient foods, you can control it, easily. With a little preparation in advance, you can make a home cooked 15 minute dinner. And we all need that, sometimes.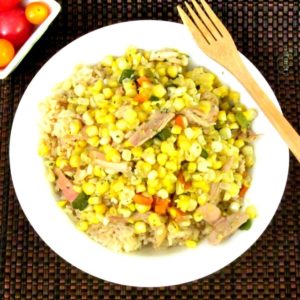 15 Minute Dinner – Corn and Chicken
Sometimes I need a 15 minute dinner. I can still have a home cooked, from scratch, gluten free meal.
Ingredients
3

ears corn

or 1 1/2 c canned or frozen corn

1

jalapeno

olive oil for the pan

1/2

c

mirepoix

8

oz

cooked chicken

1

c

chicken broth

1

T

minced fresh oregano
Instructions
If using fresh corn, microwave the ears for 2 minutes, then husk and cut the kernels from the cobs.

Trim and chop the jalapeno.

Heat oil in your pan. Add the chopped jalapeno, and saute briefly to soften.

Add the chicken, the broth, and the oregano, stirring after each addition. Bring to a simmer.

Add the corn.

Cover and let simmer 3-4 minutes to cook the corn and allow flavors to meld.
Notes
This recipe uses food that has been previously prepared. If you do not have prepared mirepoix, saute some chopped onion to start.
Save
Save
---
---