Late Summer Tomato Tart
Beautifully ripe tomatoes and perfectly fresh corn combine in a Late Summer Tomato Tart that celebrates the season! Gluten free and can easily be made dairy free.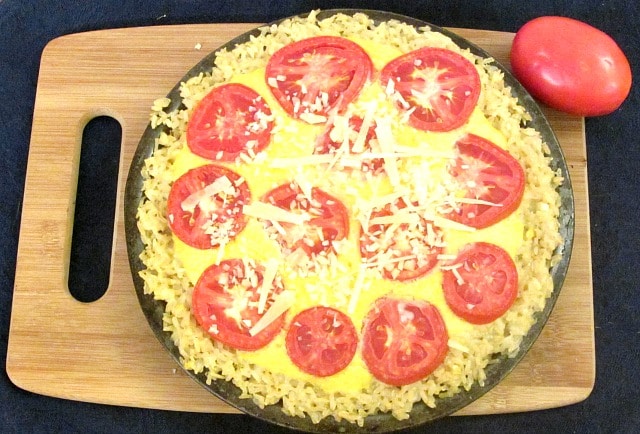 Years ago, a friend made something called a Chinese Quiche – knowing perfectly well it was neither Chinese nor a quiche. But it was easy and her family liked it, so… I don't know if the recipe came from a supermarket magazine or an index card from a friend.
I never made it – Canned "Chinese" vegetables! Soggy bean sprouts! – but I liked one idea. She made the crust from rice. I've had that idea floating in the back of my mind ever since, because I never did make good pie crust, and it has surfaced more insistently since I went gluten free. A good vegetable tart seemed the right use.
And well, we have tomatoes. And corn. And more corn and tomatoes. I put tomatoes in salad and eat corn on the cob, and saute corn and tomatoes, and put them in other dishes, and… the milkiness of the really fresh corn gave me an idea.
What if I pureed corn for the liquid to make a custard?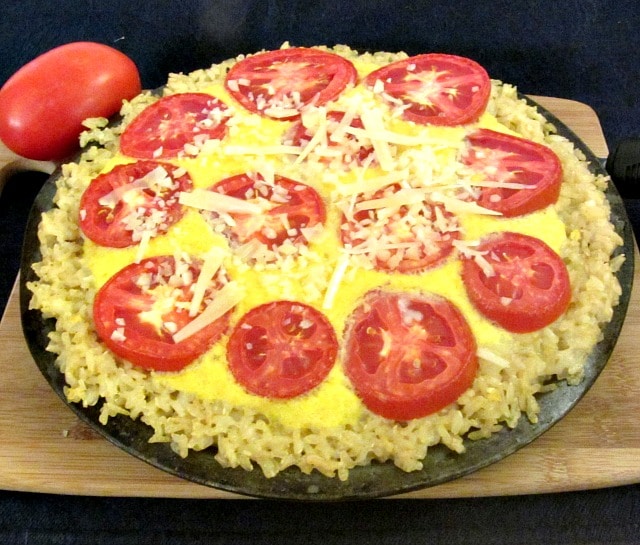 We've eaten several versions of this, over the last few weeks. They all tasted good, but most were a bit soggy, until I convinced myself that I really did not need to add any other liquid – the corn does provide enough! Now, this means that this is a recipe that will only work in summer, with really fresh raw corn. Canned and frozen have been cooked, and simply will not behave the same way. I suspect this will become one of the recipes I make once a year, every year, to celebrate a perfect combination of perfectly seasonal ingredients. Spinach and Strawberries, for instance, or Cranberry Stuffed Squash. This requires absolutely fresh raw corn on the cob, and plum tomatoes – slicing tomatoes are, again, too wet.
Speaking of the moisture – a note about pans. Some tart pans have removable bottoms. Some old fashioned pie tins have holes in the bottom to let the steam escape to keep a standard crust nice and flaky. If you use pans like that, the custard will seep through the rice crust, leak out the bottom and make a mess in the oven that Rich Someone will have to clean up… (Good thing he liked the tart!) Avoid leaky pans.
Directions
Pre-heat the oven to 350°F.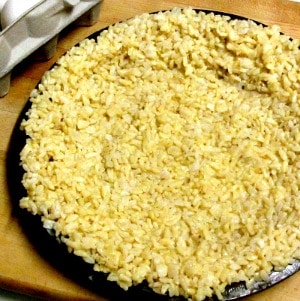 Take two cups of cooked brown rice. Beat an egg in a bowl and add the rice, stirring thoroughly. Grease a (leak-proof!) tart or pie pan (I did use butter, but if you want it to be dairy free, use your preferred oil or grease) and press the rice down in it, covering the pan. You may find that a silicone spatula is the easiest way to spread the rice. Set aside.
Cut the kernels off two ears of corn. Measure out a cup and a half. Sprinkle whatever amount remains in the pie pan. Put the cup and a half in a blender, and blend until it liquefies and turns creamy. You will need to stop and stir down a few times. Tempting though it is, do not add liquid at this stage.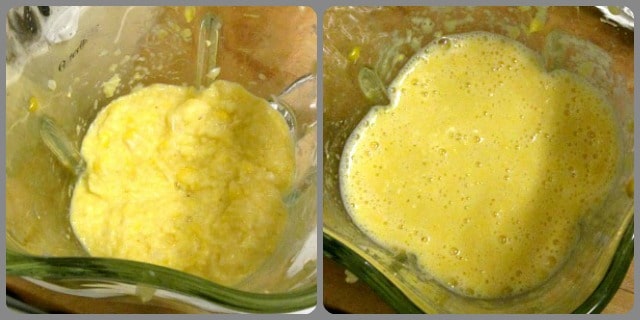 Once you have pureed the corn, add the remaining three eggs right into the blender. Add a pinch of salt. Blend another minute or so, until smooth. (Now it looks like a custard!)
Slice two large plum tomatoes about a quarter of an inch thick. Now, pour the custard into the prepared pie pan, and arrange the slices of tomato attractively in it. I used two large plum tomatoes, which fit nicely, but if your tomatoes are smaller or larger, feel free to use more or less, to cover the tart…
Also, I did make this once in a deep dish pan, and then I had room for four large tomatoes – a layer of corn, a layer of tomato slices, the rest of the corn, the rest of the tomatoes. The amounts of other ingredients did not have to change. I decided not to write up that version for several reasons, but if you have a deep dish pie pan and enough tomatoes, go for it!
Bake in a 350 degree oven for 35 to 40 minutes, or until a knife inserted in the middle comes out clean. Let rest for five minutes to set before serving.
If you want, sprinkle one ounce of grated or shredded Parmesan cheese over the top as soon as you remove it from the oven.
It serves four nicely as a side dish. The two of us ate it as most of our dinner, but always needed a little something else – it's not quite enough for a meal. I have not tried it cold, or reheated, and I'm not sure how well the rice crust would do under those circumstances.
I think we'll eat this every year, sometime around Labor Day, when both the corn and tomatoes are at their peak and should be celebrated!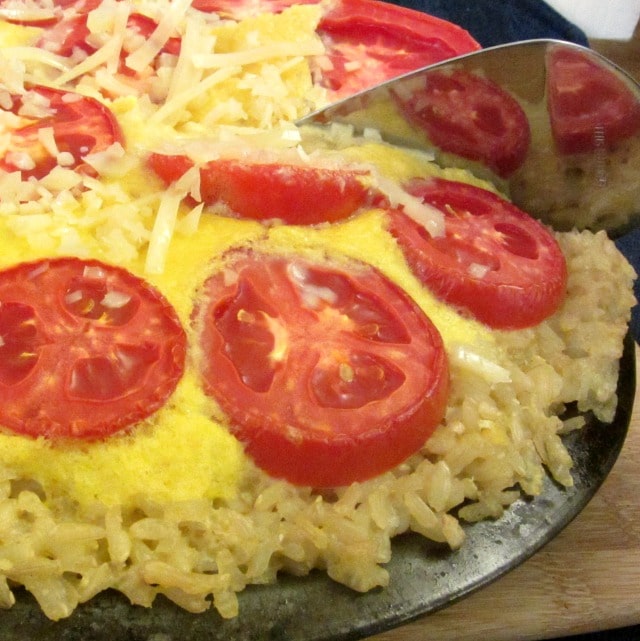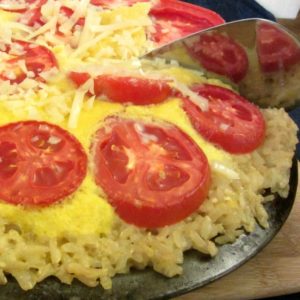 Late Summer Tomato Tart
Beautifully ripe tomatoes and perfectly fresh corn combine in a Late Summer Tomato Tart that celebrates the season! Gluten free and easily dairy free.
Ingredients
4

eggs

divided

2

cups

cooked brown rice

Butter or oil for pan

2

ears corn

pinch

salt

2

large plum tomatoes

1

oz.

grated Parmesan cheese

opt.
Instructions
Preheat oven to 350 F.

Beat one egg in a bowl. Add the rice, and mix well. Pat down into greased pie pan to form a crust.

Cut the kernels off the corn. Measure out 1 1/2 cups of corn, distribute the rest in the rice crust.

Put the 1 1/2 c corn in a blender, and blend until liquefied, stopping and stirring down as needed.

Add the other 3 eggs and the salt to the blender, and blend another minute or two until smooth.

Slice the tomatoes about 1/4" thick.

Pour the corn mixture into the rice crust. Arrange the tomato slices on top of the corn custard.

Bake at 350 for 35 to 40 min, until done

Sprinkle cheese over top, if desired.

Let rest five minutes to set before serving.
---
---