WIAW 94 – Mid-December

And we're getting closer to Christmas, and I'm on a gingerbread kick, and… just to get us into the Christmas Spirit, we've had record breaking warm weather here in New York. (Much of the rest of the country, too, I understand.) Lovely warm evenings for a stroll to look at the lights… which does feel odd.
I own a mug with holly sprigs on it, and I have no idea what I did with it… so I keep using hearts, for now. I realize, though, that I have a variety of mugs (don't we all) and, given the number I've culled over the years, the ones I still have are all ones I particularly like for one reason or another. I tend to just grab the one in front of the cabinet (morning, you know) so I may try rotating them, so that every month or so I use a different one, and get to enjoy them. (And maybe I'll find the one with the holly…) So breakfast was coffee (in the mug in the front of the cabinet) and a protein shake of kefir, spiced cider, and protein powder.
I drank that while my porridge cooked – I added a sprinkle of Gingerbread Spice Blend to my porridge mixture and thought it was all very nice indeed. (It does occur to me that adding spice would help with the issue of bland cereal even without the teff – I may try that sometime, too.) But a gingerbread tasting hot cereal was the perfect way to get my brain in Winter Mode.
Lunch? Not so much winter… Yes, that's a salad, and it nearly finishes the last lettuce from the CSA… And that is the last tomato, and the last bell pepper. In December. With all the windows open because it in the high 60s with the low winter sun absolutely pouring in so it's warm in here. I feel as if I should be revving up to Halloween, not Christmas…  With the last of the summer salad vegetables we ate some slow cooked pork, and some cheese. (And on the side, some crackers I make that were an utter failure, which may be the reason I didn't remember to take a picture even for this… I mean, they were edible, just not even close to what I was aiming at. Ugly, too…)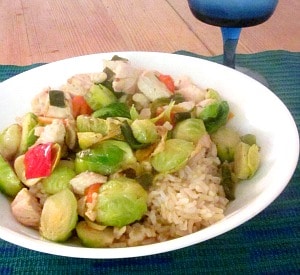 Dinner made at least some sense for December… Sauteed chicken breast and Brussels sprouts. The peppers in this dish had previously been sauteed and frozen, and ranged from sweet to hot. Cooked everything together a bit, added broth and simmered until done, served over brown rice – our usual meal concept. It's a simple recipe that really relies on the quality of the food for its flavor – highlights the wonderful fresh vegetables we eat most of the time.
And there we are. I think I know what went wrong with the crackers (a gluten free adaptation of a recipe I've made for decades – switching flour changes more variables than we may realize. It's not just about the gluten itself, it's also about the amount and the kind of starch.)
In other notes, a lovely lady in her late 90s used to live a few doors down. She was sunny and cheerful, and very friendly and outgoing, with many close friends of all ages. But in just the last year she faded abruptly, and died a few weeks ago… We'll miss her, but we've missed her for a while – she wasn't really there any more. We're just glad that stage was relatively short.
But this also means that an apartment that has been occupied for decades is going on the market – which in the current market means they are stripping everything out of it and renovating extensively, so that they can more than double the rent. (From what I have seen, everything will be fancier, more trendy, and less durable or functional.) So I've woken every morning this week to the sound of buzz saw and drills… and variations of this will continue for weeks. I may get cranky…
Meanwhile, though, I have (appropriately, I guess)  my neighbor's madeleine pan… and a cookbook that is falling apart, with notes scribbled all over, of recipes from the restaurant she owned.  They'll last longer than the construction noise… It is the right time of year to pause for a warm memory of those we have lost…  And I just know that she's catering the Christmas party! She wouldn't have it any other way.
But speaking of parties – Jenn's WIAW party has floated to Arman (the floating blogger… he's moving again?) Take a look!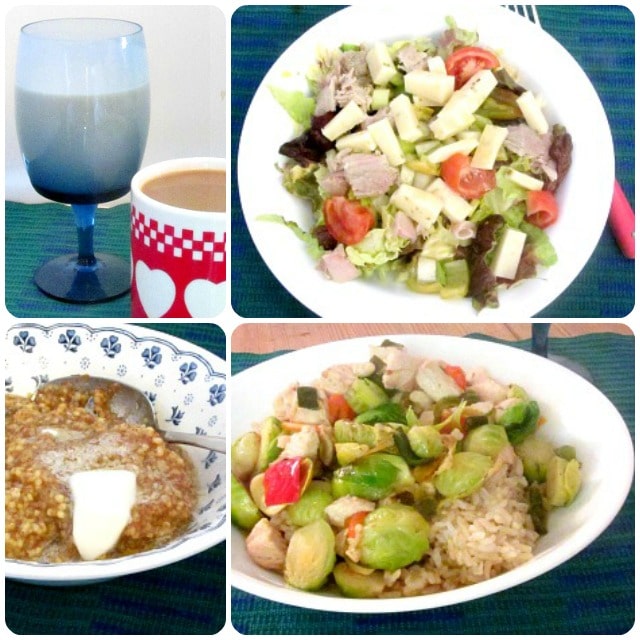 ---
---