WIAW 95 – Christmas Week!
So this one will be quick – I'm not the only one busy this week, I'm sure!

I've had a couple of weeks of All Gingerbread All the Time for breakfast… I will make another batch of the Gingerbread Waffles for my Christmas breakfast. I'm getting a new toaster for Christmas! Well – it's not a Christmas Present, exactly, but I've been making do with the countertop oven since I went off gluten. Which was fine when I was only eating muffins… but now that I eat bread and waffles, I'd rather be able to use a regular toaster. And Rich has decided that he'd rather eat my bread and waffles and muffins than go through all the hassle of eating gluten without cross contaminating my spaces – so now we have a gluten free kitchen. It now actually makes sense to have a new toaster we can both use, and get rid of the old one. (It does help that eating my waffles and muffins is not a hardship…)
But this Sunday, I just made my fallback corn muffins (because they're easy to throw together with the mix) and used the Gingerbread Spice Blend in my protein shake. Sort of a Gingerbread Salt Lassi, which was really cool – without the sweetness of the juice, you notice the spiciness of ginger. (Yes, that's a Santa Claus placemat. It was a gift. It spends most of the year as padding around my ornaments… and gets used as a placemat this week. Silly but fun.)
The weekend, astonishingly, was cool, even chilly. Because it's not as if mid-December in New York might be cold… (We have not yet gone below freezing in New York City this year. That's just weird.) So I made soup for lunch! Did a quick mushroom broth with dried mushrooms (my favorite fallback if I don't have homemade stock.) Saturday I'd gone to Greenmarket at Union Square (which is much larger than the closer one I sometimes shop at) and got a variety of root vegetables – we are entering parsnip and turnip season – so there's parsnip and carrot in the soup, and cooked chicken. It didn't take long. And I had rice cakes (I need to bake bread – I've been concentrating on other stuff lately) and some cheese.
Then dinner was more previously cooked chicken, with a little of the broth that had still been in the slow cooker at lunch time, and some onion and curry powder for flavor, and frozen green beans. Served over rice. Very much a thrown together, need dinner on the table quickly kind of meal. Still quite tasty. All about Planning For Meals… it wasn't what I'd intended to cook that night, but it is what happened. Because sometimes I need to do that, and when I do, I can.
And whether I make soup from scratch or throw dinner together in ten minutes, it's all good.
And – to everyone celebrating Christmas in whatever way (I'm fascinated by discussions of Christmas Cakes in Japan – thanks to Maki Itoh of Just Hungry)  enjoy it – whether this means a Blessed Holy Day, a fun day with Santa under the tree, or takeout and a movie… (or some combination of the above.) And to the rest of the world, we'll all regain our sanity soon… see you on the flip side. (Well, there's still New Year's to get through.)
And… Jenn's party is sort of hiding this week…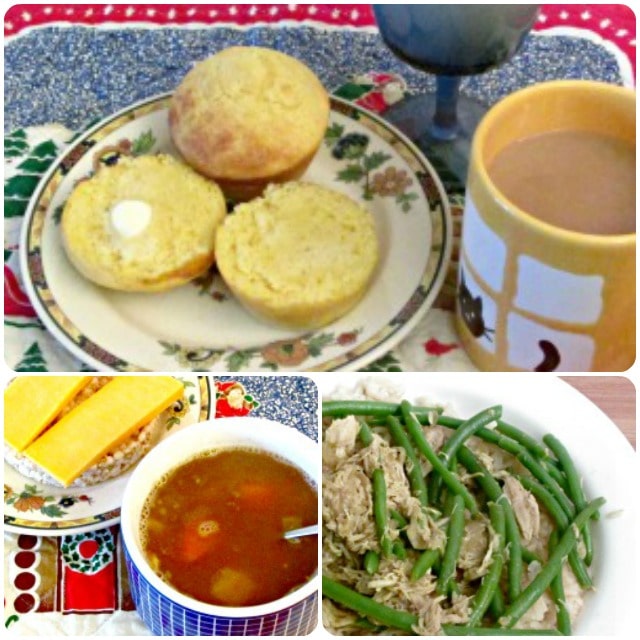 ---
---