WIAW 91
What a week! Everything has combined to pull me away from both kitchen and computer… right when everyone else I know is cooking madly.
Well, first (and best) Friday was my birthday. Our celebration was fairly quiet, but Rich took me to a showcase presentation of A Little Night Music. I've always loved the music, but had not seen the full show (I've seen the movie and it is dreadful – don't bother…)  I had wanted to see it when it ran on Broadway a few years ago, but wasn't able to get to it. So that was lovely…
Less happily… well… I have spoken of the fact that I have chronic migraine. It is, indeed, part of the concept behind this blog – I share with you the techniques that I figured out over several years to allow me to eat good homecooked food despite chronic illness, since I think they carry over to other situations. And, though I still have daily migraine, I can usually function reasonably well, now, as they have become milder (much better than I did five years ago…) But every so often – weather changes are a factor, but there are others – I'm hit with a few bad days. And this was a bad week. (At least I didn't get one during the show! That's always a concern…) Also – I don't write about these for a surge of sympathy. This is just Life as I Know It, right now – and I know people with chronic illness that is much more disabling.
So I remembered my pictures yesterday… For breakfast I made my porridge (I'm so glad to finally have a mixture I'm happy with!) and Pumpkin Pie Shake. I mixed a big spoonful of pumpkin puree, some cider, and pumpkin pie spice in with kefir and protein powder – it's really a delicious combination! (Yes, I took the picture with the cereal still in the pot… I did transfer it to a bowl to eat!)
For lunch… well… See, we recently acquired a good contact grill with interchangeable plates. And a friend gave me waffle plates for my birthday! (Knowing that I wanted them…) I'd had a tiny (cheap knockoff) gadget before – it did the job, didn't take much space (always an issue for us…) didn't cost much (ditto) but didn't really get quite hot enough… I could and did make waffles, but they took forever, and didn't always brown well. And I could make paninis, but…  And we also had a contact grill (with permanent plates) for chops and vegetables and the like, but it was a pain to clean (Rich hated it, though it had been his in the first place…) So – getting rid of two gadgets, keeping one which works better and is easier to work with – that's a win…
So, anyhow, I'd pulled it out to make sure the waffle plates were the right ones and fit (and they do. Waffles are handy for gluten free cooking – you'll be seeing them more this winter.) As long as I had it on the counter, I replaced the grill plates, and decided to try – well, it's sort of a cross between grilled cheese and panini… You can't tell by looking, but there is a thin slice of roast pork in there, as well as cheese, and it browned so nicely, and really was delicious.
Yes, that is gluten free bread. My last two loaves have been a step backwards in terms of texture… oh, well, that gives me information. Knowing what does not work can be as important as knowing what does… Sorry the process is so slow, but we never did eat much bread, so I don't bake all that often. (And even the duds are more to my taste than the commercial breads I've tried!)
But anyhow, after that happy burst of energy, I had the worst migraine I've had all week. None of them have actually been individually horrible, but the series of worse than average have wiped me out – so I went to bed for, pretty much, the rest of the day…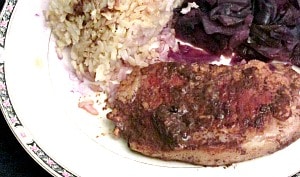 So one advantage of writing a food blog is that, when that happens, and I can sit up and talk again, but not do much more, I have a reference. I can, and did, say to Rich "There are pork chops. There is cider. There's a recipe… I'm going back to bed." And I dozed another hour, and got up to this. Spiced pork chops in cider, red cabbage I'd cooked (also in cider, as it happens) and frozen, and brown rice (rice cookers are awesome.) Rich is really not a cook, by preference – left to himself he alternated take out and canned soup, with occasional spaghetti. A college housemate, though, tells me that even when he was 20 he was willing and able to follow a clear recipe and produce good food when it was needed. Dinner was good, and exactly what I needed – a real meal of nutritious and delicious food when I was at a physical low point. He took the picture, too (with an unfamiliar camera.)
So anyway, Thanksgiving is tomorrow – and I'm still a bit wiped. (Astonishing how tiring lying in bed can be!) Our potential guest has, in fact, been able to schedule a trip Home, so it is just the two of us… I had not gotten around to asking other possibles, which is just as well. It's all going to be pretty stripped down… May still do the turkey – may put the whole thing off to Friday (why not?) may just get turkey parts, do the stuffing as dressing (baked in a dish, not the bird, on the side) and keep everything simple… (I was muttering last night, and Rich teased me that I should write a post about the Hypothetical and the Real dinners…)
After all, the day isn't about eating fifteen side dishes (though it is about being thankful for enough food.) We'll have enough. We'll have each other. Not wiping Anne out is a good choice. And I can be thankful I have that choice…
And I'll probably be fine next week, once this nasty front is through (series of fronts, really – that's the problem) and my body settles down! Winter is usually my good time of year…
So I'm joining Jenn's WIAW party as it floats madly by…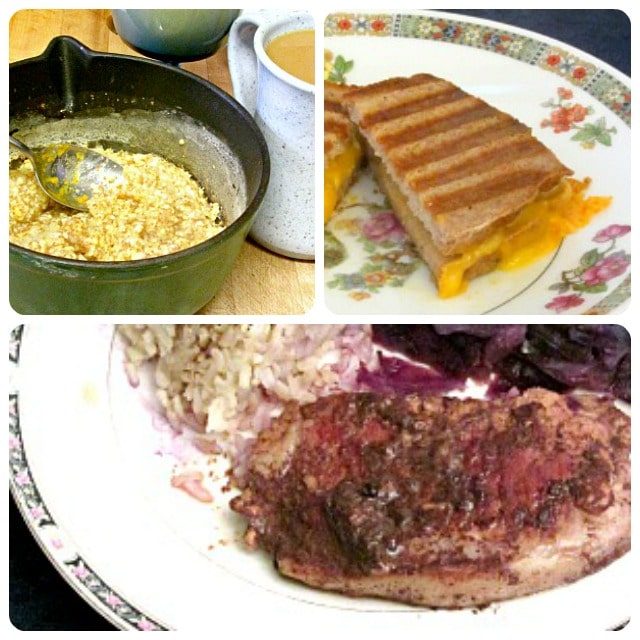 ---
---