WIAW 90 – Mid November
Oh, look, Thanksgiving is in a week – maybe I should start to plan it?

OK, I'm usually a bit more organized than that… but we're going to be pretty low key again, and we're not sure yet if we'll have any guests (We tell a couple of younger single friends to come to us if they don't have "better offers." A holiday Dinner with the Girlfriend trumped us easily, as does Going Home, and that's fine.) I'm definitely using the Cornbread Stuffing we liked so much last year.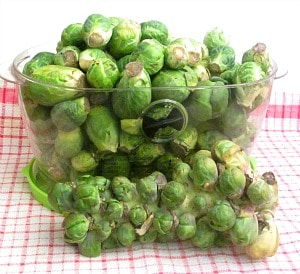 And we have Brussels Sprouts… yes, we certainly do. I usually try to get some of them for Thanksgiving, as they are at their peak at this time of year in our area, but this seems to have been a particularly good year for them (on our CSA farm, at least!) I may just pan roast them, as I wrote about last year – or I may try one of the other lovely recipes I've seen from other bloggers. I probably will make last year's Cranberry Sauce, since it came out particularly well… Maybe something with sweet potatoes? Maybe something with winter squash? (We have several…)
Oh, look, the meal is already partly planned… Turkey with cornbread stuffing (including plenty of sage. We got armfuls of fresh sage!) and giblet gravy. (Grandma's pan gravy planned – roux cubes at the ready just in case.) Some kind of Brussels sprouts. Sweet potatoes. Cranberry sauce. Maybe squash soup for starters (with pumpkin pie spice, of course, not curry, for this meal.)
Dessert is still a question – I don't yet have an oat free version of my favorite apple cranberry crisp. Or anything else I'm as happy with. There may be some experimenting in the next few days… And then launch into precooking – a major goal is to have almost everything (other than the turkey, of course) either cooked or at least prepped ahead of time, so that Thanksgiving Day itself is relaxed.
Meanwhile – we eat.
For breakfast I've been alternating between the bean tacos and porridge with  a protein shake. I may be about to go through a pancake phase again… I was just involved in a discussion of them in one of the gluten free forums, and realized I'd never quite settled on a recipe. And I realized I miss the sausage I used to make (and I have sage!) But right now… I cooked this batch of refried beans with shredded pork shoulder, so didn't then need eggs or cheese, and it is delicious. And really, really easy and fast  in the morning…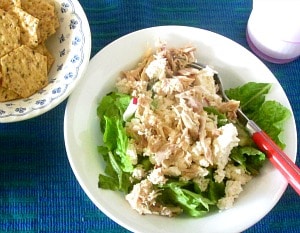 Lunch was salad again. Yes, it is November. Yes, it was cold out. Yes, I have four heads of lettuce in the fridge… (Oh, yeah, we'll have a tossed salad for Thanksgiving dinner, too…) I don't know if the farm got a hard frost yet this year. I know the Hudson Valley touched freezing, but they're pretty sheltered – and then it warmed right back up, and everything still in the fields seems to have started growing again! So, mixed greens, and radishes, celery, and peppers (one result of the warm weather has been an absolutely astonishing number of bell peppers.) Cooked chicken, and kefir cheese, and oil and vinegar dressing. I drank a glass of kefir with it, and ate seeded rice crackers.
Yes, that is pasta! Corn fusilli, to be precise. (Aldi's, if you are curious, which is possible though not particularly easy for us to get to.) Gluten free pasta has been an issue for me. Back ten years ago when I switched to all whole grain, people strongly recommended brown rice pasta as "so much better" than whole wheat – but we thought it was terribly mushy. (We're in New York City. We've eaten durum wheat pasta imported from Italy all our lives – that was the cheap stuff for years. Our definition of Al Dente appears to be significantly chewier than that of most of the US…) So we'd been eating whole wheat (which was a bit chewy even  for us, but easier to adjust to) and now…
Now, some forms should be softer than others. Egg noodles (which are not Italian…) are softer. I tried whole wheat tortellini  and ravioli, really I did, and they were too hard. I have pasta rollers, and one of these days I will venture into that world… but that's what I'll make. Ravioli. Lasagna noodles. For that matter, dumpling wrappers… But all of them are supposed to be softer than fusilli, rigatoni, penne, and, for that matter, classic Italian spaghetti, which all have a serious bite to them, and are, in Italy, just lightly seasoned with sauce, rather than drowned in it. We do eat it American style, as a meal rather than just one course, but still prefer the firm texture. We had tried corn pasta, found we preferred it, and had the local store promptly stop carrying it… so we were glad to find this. It's enough of a nuisance to get that we won't eat it often – but it is nice to have the option.
Well – as I said, we have a lot of peppers, both sweet and mildly hot cooking peppers. So I cut up a pepper or two, and sauteed that with onion and garlic. There may be peppers but we have now passed tomato season, so I opened the first can of diced tomatoes since early July… Added cubes of basil and oregano, and shredded cooked chicken. Tossed it all with the fusilli, added some parmesan cheese, and called it dinner.
Three pretty fast and easy meals… and the beginning of planning for a more complicated one. Yes, that's November…
Jenn's WIAW party has floated over to Meghan's this week. Come on over and enjoy!
---
---