WIAW 85 – Days Like This!
Mama said there'll be days like this…

Well, I didn't actually plan a day like this – but here you are. I planned a day in which I'd up my game on WIAW photography. I've managed to work out a little mini photo studio on the sideboard, had it set up for the chia pudding, decided to do these pictures in it, too, instead of hurried snaps in the kitchen (or even at my desk when I grab lunch there!) And I was going to go and Be Productive about many other things, too. But then…
Well, if I'm going to write about planning for days like this, you should know that I have them, too…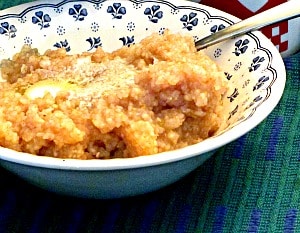 Morning started out fine. As it starts to get chilly, I start to yearn for porridge… This is cream of buckwheat. A very nice smooth, mild, creamy substitute for cream of wheat. Which would, on the whole, work better for me if I liked cream of wheat… I mean, I don't actively dislike it, but it's not my preference. Add to my long list of experimental cooking – I need a grain or combo of grains I'll like for hot cereal. (More chew, more flavor… anyone have ideas?)
For the protein half of my breakfast, I have found another unsweetened protein powder (the one I'd used most recently vanished from local shelves) so I've wandered back to protein shakes. Pumpkin pie, in this case – a few spoons of canned pumpkin (left over from my pudding experiments,) a little apple cider, a sprinkle of pumpkin pie spice, and kefir. I'm trying to vary breakfast more – I don't really think it's a great idea to eat the same thing all the time, though I often do because I'm walking in my sleep in the morning… so we'll see how this goes.
So far so good. But I got caught up in something and was running late at lunch, and was not feeling well (one reason the earlier task took longer than anticipated) and… I wanted something that was fast, easy, and – well – comfort food. New England clam chowder has always been a favorite of mine, and it really is comfort food for me  – one of the few canned foods I keep on hand. I'd been delighted to find that the Progresso I can most easily find is gluten free! It doesn't have enough clam for a full meal, though. Sometimes I handle this by eating something else with protein, but in the last few years I've taken to keeping cans of clams on hand. They have an appalling amount of clam juice in them, really… but in soup, it works, as it ups the flavor. Yes, I can also use them to just make clam chowder – if I feel up to it – but the whole point of this was that I didn't… So I grabbed 2 cans of chowder, one of clams, added a splash of milk and a can of corn. (We are now firmly out of fresh corn season… and we really do like corn in this!) Heated all that, filled a bowl with crackers, poured water – and it was lunch. (OK – in theory I should make a nice big pot of soup or chili to freeze for days like this… and I will, down the road – but right now the freezer is crammed with vegetables, and a cut-up pork loin. When I have room, I'll make something to freeze.)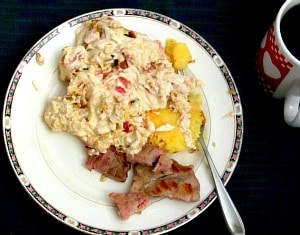 Dinner – tasted better than it looks. I had one bone-in pork chop which I intended to split between us – but the meal needed a bit more. And I still didn't have much energy or imagination. Or time. I'd made polenta the day before, and had some left, and also some ricotta. So I grilled the pork chop, then cut it up for us (in bits, so we both got the good parts!) And I sauteed onion and peppers and tomato, stirred in ricotta, and served over pan fried polenta. Plenty of flavor, even if the cheese did drown out the rest of the color…  And tea. Again, with the cool weather I've taken the teapots out… I like to sit here sipping tea and listening to music while I write!
And then – there was this chia pudding… One of the day's multiple projects had been photographing it, and working on that post. So now we ate it! (We'd had a few earlier batches already – knew we liked it.) And finishing a somewhat harried feeling day with a cup of tea and pumpkin pie pudding felt so civilized and relaxing…
Jenn's floating WIAW party is now visiting Laura at Sprint 2 the Table. Come on over!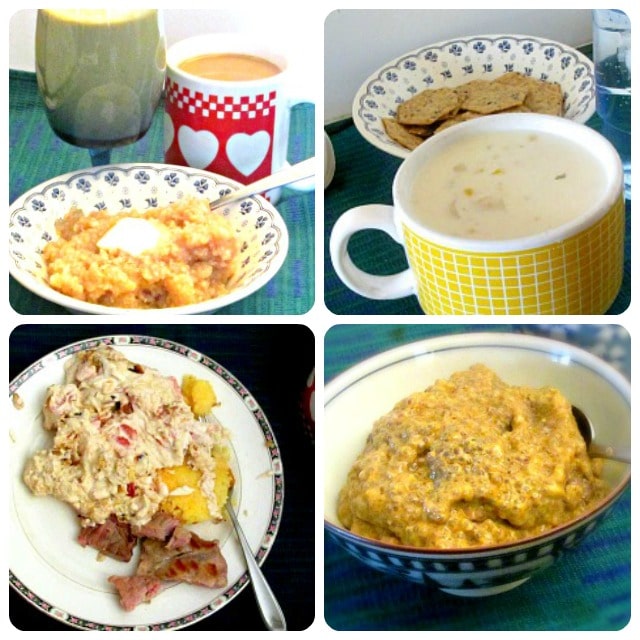 ---
---