WIAW 86 – Play Ball!
It's October, which means pumpkin and soup and – Post Season Baseball! I would totally root for the Cubs to win their first pennant since 1945 if they were playing anyone other than my Mets! But, well – of course I want the Mets to go to – and win – the World Series! And they could win the pennant tonight! (But, well – they're the Mets… I'm not holding my breath. Winning in Four would be so out of character…)
Oh – I'm supposed to be talking about food? Baseball fans don't have the whole Game Day Snack Thing football fans do… we don't have one big Superbowl (conveniently on a weekend) following a short season of largely weekend games. So we don't all gather at someone's house to stop everything and watch – and eat cute little baseball shaped Cake Pops or popcorn balls we found on Pinterest –  the Game just keeps on going as we keep living our lives… You never know which will be the deciding game, let alone the No-Hitter you'll remember forever. Kind of like life…
Yeah, Anne, OK – food, now?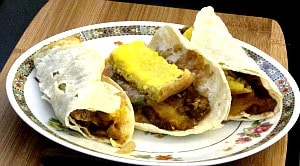 I am still eating bean tacos for breakfast, though I also do (finally) change it up a bit. (And the variety in breakfast means I occasionally serve them for lunch… LOL) I also, finally,  have it down to a method. I make a big batch of "refritos" – actually seasoned and mashed beans – and spoon some of that onto my tortillas. And I make a large omelet and cut it into strips. You can see the strip of egg  clearly in the picture. I microwave the tortilla and bean a minute, add a little cheese and strips of egg, give that another minute, and I have breakfast. (I may have told you this before?) So breakfast is fast, easy, and tasty.
It's warming up again, now – October is like that – but it was cold on Saturday… and we were glad to have an easy soup. I'd made (and written up) the Hearty Vegetable Soup, and we'd eaten most of it, but I had a pint left. So I put it in a pan, added broth, and cut strips of some leftover pork roast from the freezer. It worked beautifully. Then I had a little peanut butter on homemade (gluten free) bread to round out the meal. Quick and easy, and delicious.
Dinner was a boneless loin pork chop which I just pan fried, as I was in a rush. (Between games, you know… 😉 )Tasted good, but was, indeed, tough – the brown and braise method I wrote about yesterday really would have been better. And we had fresh broccoli, so I cut the florets (I'll make soup from the stems.) Pre-cooked rice and beet greens finished the meal. (I'm sure it is possible to take an attractive picture of beet greens, but I certainly haven't figured it out. Tasted good, though!)
So there we are – a day in October.
Jenn's WIAW party has wandered over to Arman's – come play!
Go, Mets!
---
---