WIAW 84 – Projects!
And – it's October. Which has always been my high energy, busy time of year.

I've been busy in the kitchen with projects that don't lead to recipes… in fact, with the precooking I wrote about in Planning For Meals. Now, you don't have to do it all at one time – most of you won't want to – but that's a feature of the CSA, as it is of having your own garden, and as it certainly can be if you shop farmer's markets or otherwise buy seasonally – I have a refrigerator full of food I want to process for later. (I also have carrots and cabbage and – finally – winter squash that do not need immediate attention.) This also doesn't actually take a lot of time any one day – usually just one extra task a day. I have another project I'll tell you about later.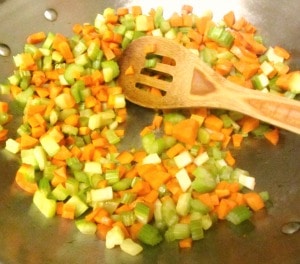 I sauteed leeks, and celery, and more celery with carrots for mirepoix. (I'll add onion as I go along – good onions are available all winter, so I won't waste limited storage space on them, just go ahead with the system of sauteing two or three at a time to have extra on hand.) I sauteed a big mix of sweet and cooking peppers, and another of hot peppers. We got a couple of big bunches of spinach – and I pureed it, and froze some in an ice cube tray, and some in one cup containers. I may use it in saag panir, or some other green sauce, I'll probably make at least one batch of the spinach humus, I may venture into the world of green smoothies…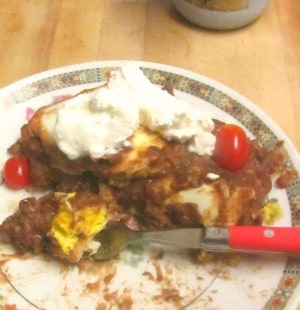 But the food I actually ate – Monday. I'm jumping back and forth, now, between protein shakes with muffins or toast, and the beans and eggs with tortilla I had been eating. This was an egg and bean day… I ate half of it before I remembered that I wanted to take pictures, so brought it back in the kitchen – and noticed the thickened kefir (remarkably like sour cream) and cherry tomatoes I wanted to eat with it… So I added them, and took the pictures.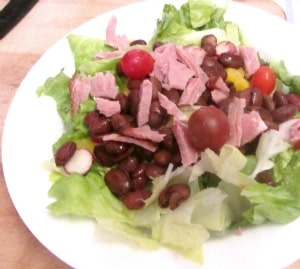 Lunch was salad. As I'm freezing vegetables, I'm rotating out the food I've had in the freezer, and I do still have some ham. We're moving out of salad – and salad vegetable – season, but we got three heads of lettuce last week! (None this week, so now I'm glad to have it – I suspect it was a mad scramble to harvest before the first cold night.) Some peppers and radishes, too. And I had toast with just a little peanut butter.
Toast. Home baked gluten free bread. This is not the recipe I wrote about two weeks ago – that was a good place to start, better than others I've seen out there, but I still thought I could improve it. This is the first version of my recipe – and I think I'm on the right track…
This is going to take a while – I won't share the recipe until I'm really sure I have something better, and since we don't really eat that much bread, I'll only bake once a week or so. But that – not just the baking (which is surprisingly easy) but the research behind it, is the other project taking my time and attention. Why do we use which flour, and why the obsession with a stand mixer and how do I get good bread without one, and why does gf bread notoriously stale easily and how do I prevent that, and do you really need all those egg whites (no) and why does it fall apart (this doesn't) and…
So you're going to see teasers, which I don't always mean as teasers, but if I'm baking the bread I'm going to eat it…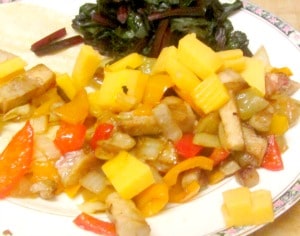 Anyway… this was Monday. And I worked on my post about the GF & AF Expo, and I pureed spinach, and – True Confession time – I didn't take a picture of dinner, and I have no idea at all what we ate… Something, I know… So I'm going to cheat and give you a picture of dinner on Saturday, when I made Fakin' Fajitas – I'd been doing the Pepper Saute I referred to above. I took them out of the pan and put them aside to cool (and packaged and froze most of them) but as long as I had them… I used the same pan, sauteed some onion, and strips of pork loin. Then I added some of the peppers back, heated it all (though not at all as hot as real fajitas!) and served it with corn tortillas and some of the big batch of beet greens I was also cooking for the freezer. (If the other people in our CSA don't appreciate them, we certainly do!)
Jenn's WIAW Party is over at Meghan's Clean Eats, Fast Feets. Come on over!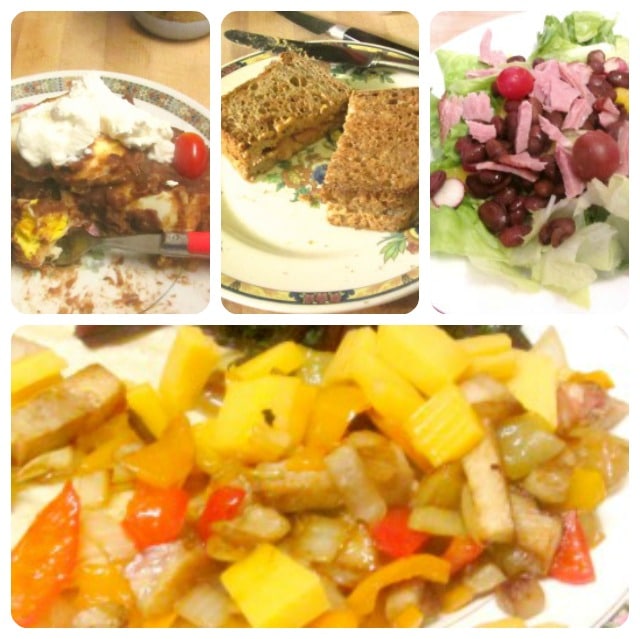 ---
---