WIAW 80 – Summer's Last Hurrah
80? How did I get to 80?
Anyhow – because I have written about it being September, and the concept of cool weather coming, yesterday it hit 97° in New York City – a record for the day, I understand…
School actually started today, so only teachers and staff were sweltering in the un-air-conditioned heavy stone school buildings… but the rest of us had thought we were through, ourselves (and had expected it to hit 90°, but not really higher…)
And I've been busy, so this is both quick and late.
Breakfast was my usual beans and tortillas – but presented a little differently. I'd made a batch of very soupy beans… and after struggling with it for a couple of days, decided to finish it, go with it, skip the eggs, let it be soupy… There are corn tortillas under there, though you can't see them, and cheese sprinkled on top, and those are almost the last of the jalapenos and carrots I pickled last year. So – close to nachos, really, but for breakfast.
Lunch was thrown together kind of quickly. At this stage, I have several heads of different kinds of lettuce, and I use all of them – you can see some of the red leaf in there… And that's a purple pepper in front, not a red onion! The outside is purple, the inside white. I'd somehow not planned protein, so I tossed on some canned chick peas with the vegetables and homemade oil and vinegar dressing. That's a corn muffin in the background…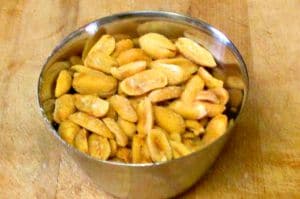 You may have noticed that I very rarely snack – I do best with three good solid meals a day. Usually I only snack if meal timing will be off – I'll have something like cheese and crackers in the late afternoon if I know dinner will be delayed, for example. This wasn't strictly a snack, though it felt a bit like it, but a continuation of lunch… which had been light, and short on protein. So I grabbed a cup full of peanuts, and continued nibbling on them at my desk after lunch.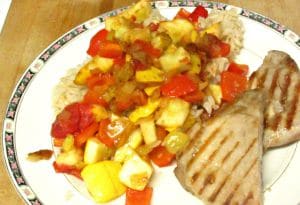 Then Rich went out in the heat (this  is when we realized how hot it was!) and picked up the CSA… I started a couple of pork chops on a stovetop grill, and then sauteed vegetables – the last from the week before, and a few as they came in. Onion and cooking peppers, a tomatillo that had hidden in the crisper, some little patty pans… and a tomato or two. I didn't need to add seasoning with vegetables this good!
(He brought home three pounds of slicing tomatoes. As well as cherry tomatoes, as well as heirloom… I think we will have some tomato recipes…)
Jenn's WIAW party is over at Arman's so come join us!
---
---