WIAW 79
It's September – so of course it is in the 90s! But this is likely to be the last of that… We haven't had any extreme heat, but on the whole it's been a little warmer than usual, and much dryer. (Though looking at the West Coast, we're not complaining!)
September is peak harvest season around here. We still have plenty of all the summer produce – stone fruits, tomatoes, eggplant, peppers – and we start in the next few weeks to get autumn produce – apples, winter squash, broccoli…  So our meals are still strongly seasonally driven.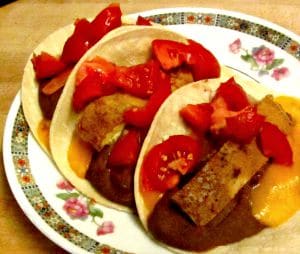 For breakfast, I'm still on the taco streak. I'm starting to prepare components ahead of time – you see strips of precooked egg on the dollop or precooked beans. I made a sort of large omelet, and cut it in strips – Breakfast is so much faster! (Of course, once I have it down to a science I'll probably get bored and start to eat something else…) Oh, and tomato! Plenty of tomato! How could I not eat tomatoes?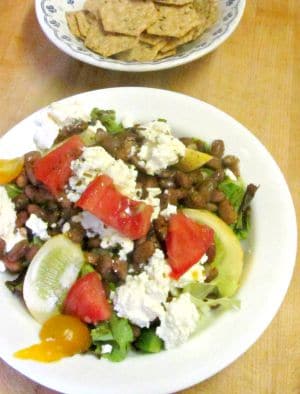 Lunch continues to be salad – if anything, as it starts to cool off, we'll probably get even more lettuce until the first frost… And there are scallions and tomatoes (of course) and those fascinating lemon cucumbers! It's a good thing I've made the kefir cheese – our favorite cheese store is moving, and the new location has not yet opened. Usually we can get a reliable, inexpensive but very good Bulgarian sheep's milk feta – which is a summer salad staple for me. I would have missed it much more if I did not have a replacement.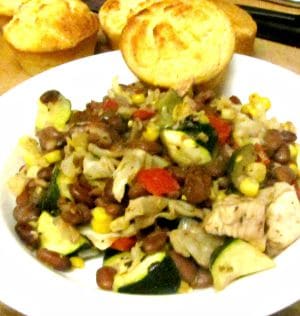 For dinner (my, that's a poor picture… I'm experimenting with camera settings, and… sometimes I just don't get it right at all. Sorry…)  Anyhow – beans and pork loin, with chilies, tomatoes, squash, cabbage and corn. I added oregano from the freezer, and decided to bake corn muffins to go with the chili-like flavor.
I haven't minded baking half a dozen muffins, or a small casserole, because I now have a counter top oven. But with the cooler weather that surely is coming, I'll be willing to light the regular oven… it's time for me to go a little further into gluten free baking! I've reached the point where I really do want some sort of bread – but everything I've seen (or – shudder – tasted) seems to be copying wonder bread, which I never did like… I have also now reached the point where I think I'm starting to understand the various kinds of flour, and how to work with them… so… wish me luck! (Black bread. Sour bread. Real, chewy bagels. Am I dreaming? If I can do it, I will… even if everyone else does keep talking about soft fluffy bread!)
Jenn's party has floated over to Laura's – Sprint 2 the Table. Come on over!
---
---