WIAW 74 – Late July
Late July in New York City. We've had some rain, so grass is green, again. The temperature has hit 90, but not too often, and not too much higher. It is, of course, humid. There are outdoor activities all over the city, but honestly – I have stayed home in the coolness, most of the time…  I still get out to Greenmarket and my CSA pickup. (Usually. Sometimes Rich goes alone…)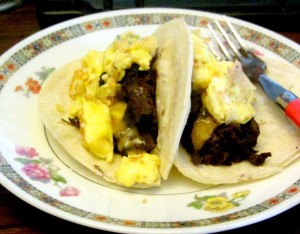 So, what did I eat – Saturday? For breakfast I fixed my refried beans, precooked eggs, and corn tortillas, all in the microwave. Fast and easy – I will do this. I'm starting, though, to look at cereal options – now that I have berries and peaches, I want an easy way to get them into my breakfast…  You'll see what happens with that concept.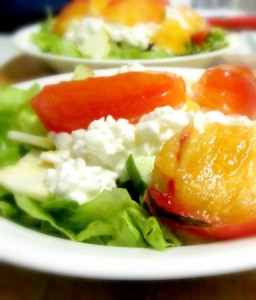 Lunch – the first tomato! Well, OK, one of the first tomatoes… In our CSA pickup last week, we got a few plum tomatoes and a beautiful large heirloom. I cooked the plum tomatoes with corn (and wrote about that) but featured the heirloom with cottage cheese for lunch. It looks almost like an apricot! But tossed greens, other salad vegetables, a large scoop of cottage cheese – and slices of this beautiful fully ripe tomato. What a wonderful lunch! (This was the second half of the tomato, actually… we ate the first half entirely alone, a day or two earlier.) I had rice cakes as well…
I spent the late afternoon pureeing herbs in oil for the freezer. We got much more oregano than any two people can use while it's still fresh – but that's fine, I'll be able to toss the frozen herbs into recipes all winter, for the fresh flavor! But then a migraine hit, and I was crashy…  I just slapped a grill pan over a burner, and instead of cutting chicken breast small for a stir fry, as planned, I sliced it in slabs. Then I did the same to a small cabbage (because, unlike anything else in the crisper, I didn't have to wash, dry, trim, or peel it… Just pull down the outer leaves and slice!) There was some oregano still in the mini processor, so I dribbled in a little more oil, and used a basting brush to brush herbs oil on the cabbage and chicken. Then I popped the "steaks" of cabbage and chicken on the grill pan, went and sat down… eventually turned them over…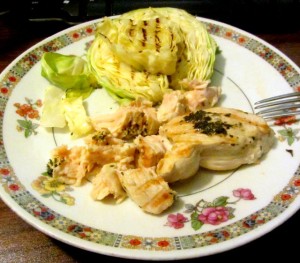 I'm sure I eventually pulled together rice or potatoes or leftover muffins or something – we'd both get hungry later if we didn't have something of the sort – but I didn't take a picture, and I'm not certain now what I did. My guess is – leftover corn muffins for me, I'd made them the day before for breakfast, and rye crackers for Rich… A friend kindly gave us the big round Ikea package, after a shopping trip, remembering that I like them, not yet knowing that I can't eat them any more – but since they keep forever, it gives us a really handy fallback for him!
It was funny – ten years ago, when I transitioned to eating only whole grains, various rye crackers were my go to. I had a little plastic container that held Rye Crisps in my purse, I ate them when visiting friends, or in restaurants, if I had no other whole grain option, and they were very handy. But somehow, I slid away from them – just as I slowly ate less of my own homemade whole wheat bread, though I still baked it and Rich ate it regularly. All Summer, bulgur wheat sat in my kitchen while I said "I should really make tabbouli!" – but did not. And I ate rice cakes, and corn muffins, and… Somehow, somewhere, I think my body was telling me something – though the oatmeal I was still eating masked the message. But when I did figure out what was going on, it made avoiding gluten that much easier – because I already did avoid most sources. Interesting…
I do believe we are partying alone again today. Jenn of Peas and Crayons is in the middle of moving – and honestly, I don't know if she'll pick it up again – though she hasn't said anything, one way or another. I know hosting had become a strain, because of all the people who didn't cooperate and post meals! If I go to a party, and the host sends guidelines for dress and activities, I do what I'm told – I don't turn up at a barbecue in my best dress and high heels, I don't go to a formal wedding in jeans and sneakers. Come on, people! Common courtesy! Anyway – food blogging is one of those things you just shouldn't do if it is Not Fun – so stripping out the parts that make it Not Fun is basic self preservation. If she does stop, I'll miss the party – but I understand.
Anyhow – we'll see what happens – and I'll keep on keeping on, because, as I have said, I really do think this is a useful weekly post. (And it is fun!) What do I eat, without gluten, without refined carbs? Well – come look! And, again – what are you eating? I don't care if you do or do not eat gluten, or meat, or sugar, or… anything, pretty much – I like to hear about variety!
---
---