WIAW #6
As I've written, things have been a bit hectic the last week or so. It's getting back to normal – if nothing else, the weather is, so I feel better. But I'm still running a bit, picking up things that were postponed.
I forgot to take a picture of breakfast, again… but, pretty much insert previous pictures… My breakfasts don't vary much. A yogurt/juice/protein shake, and a bowl of oatmeal. I haven't had the egg muffins, so have used a little more protein powder – I want to make up a batch of egg, though…
I'd gotten some yellow split peas, so I threw some stuff in a pot to make soup. Yellow peas are used more in Scandinavian cooking, and this is really the one remnant in my family of our (very slight) Norwegian heritage – my grandmother preferred yellow peas. The method is the same as green split pea soup – but I threw in a pork chop (a chunk of loin is common) instead of ham. (Remember, any meat is entirely optional in either recipe.) I also used cloves… As person commenting on the earlier post pointed out, they are a nice addition to any pea soup – but I use them most often with yellow peas. I used turnip and parsnip, which I had handy, and less carrot, since I had less… The soup is very similar, but there is enough of a difference in taste to give variety. I'd cooked a pot full of this the day before, and heated a bowl for lunch, with some whole wheat bread.
I'd put dinner in the slow cooker in the morning. A very easy chicken dish – and just served it with rice and frozen peas.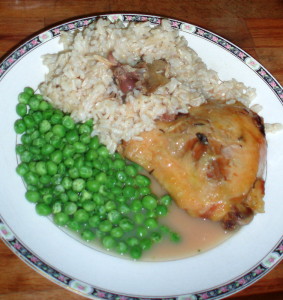 I'm going to have more chance to both shop and cook, this week…
And I'm joining the party at Peas and Crayons – I have fun seeing what everyone eats! (I've been seeing some oatmeal variations I'm going to have to try… I may want oatmeal every day, but it doesn't have to be the exact same oatmeal…)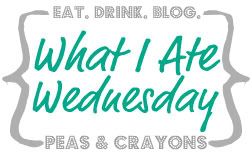 ---
---