WIAW #5 – Cozy Winter Foods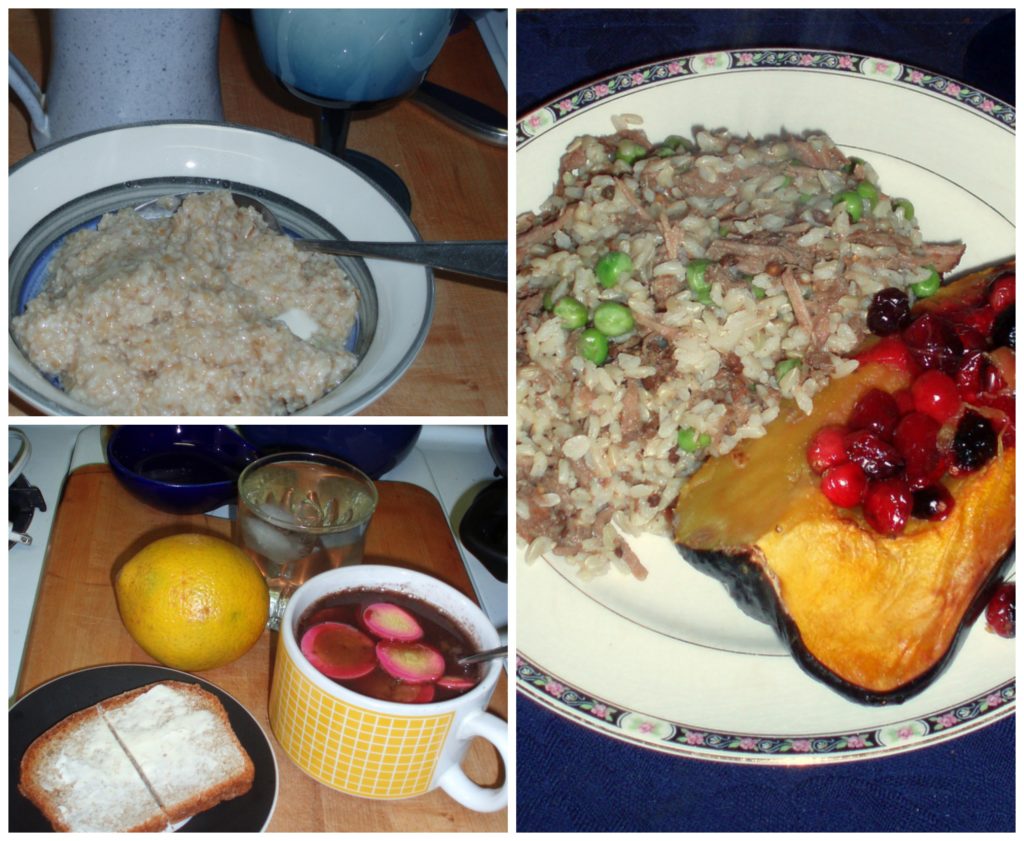 Again, I'm featuring a dinner made from precooked foods, using as few pans as possible. Rich is recovering from his cold, I flirted with one but didn't quite come down with it, and we're both taking it easy and recovering from the build up to Christmas. And I'm all about cooking so this is possible. Also, it is cold out – so I wanted warming winter foods.
You're not getting the pretty pictures of the stuffed mushrooms I made for Christmas – because the recipe didn't work. They were very pretty, they weren't bad, but they're not ready for prime time… I'll work on that, and, when I figure it out, you'll get it. 
OK, so breakfast is pretty much the same, almost always… protein shake and oatmeal. This shake is made with yogurt and orange juice. (And I'm reusing a picture… forgot to take one – but that is what I ate…)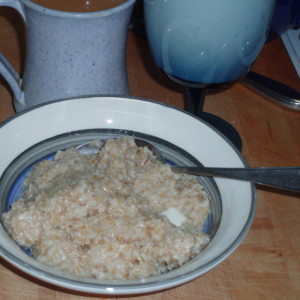 I know it seems backwards that I keep talking about whole, fresh foods and then use a protein powder for breakfast. But soy has phytoestrogens, my migraines are hormonal, and the only thing I have found to help them in the last five years is a very steady daily serving of soy. Using the powder has been, for me, the most reliable way of getting essentially the same amount regularly. I also know many people who otherwise eat whole foods but use similar shakes, with soy, whey, or vegetable protein powder, just because it is the most reliable way for them of getting breakfast every morning, while getting the kids up and making lunches and doing yoga and getting to work by 8… In the end, we all have to do what works for us.
Lunch was homemade black bean soup. I'll do some bean soup recipes soon, but it is similar to the Pea and Lentil soups already posted – the primary difference is that other beans need longer cooking. And that's a pickled egg. Yes it is pink…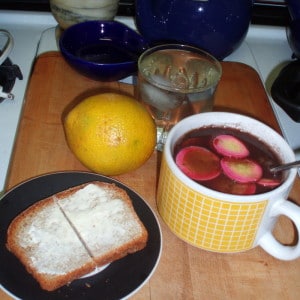 Pickling hard cooked eggs in the brine from pickled beets is very traditional. Putting hard cooked eggs in bean soups – especially black bean – is very traditional. The two are not typically combined… but I had the eggs, and thought they'd be good in the soup, and they were. (When I finished the Pickled Beets and Endive I just popped some hard cooked eggs in the jar with the liquid and let them sit a few days. Pretty and tasty.)
And I always make enough soup for several meals, so I don't have to cook something every day.
For dinner, I baked a large acorn squash exactly the same way I baked a pumpkin last fall. This time, though, when I turned it over I filled the hollows with cranberries, as the tart berries go very well with the sweet squash. It was a large squash, so we each ate only a quarter – I used the rest in another meal two days later.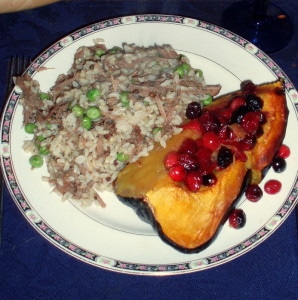 Then I sauteed an onion, added leftover pot roast, frozen peas, and cooked rice…
If I use something I have already cooked, and so need to just heat (or combine with something and heat) and also cook something that gives me precooked food for the next meal, I can serve several things at once, and keep it interesting, without needing to do too much on any one day. That's key, for me…
From my kitchen to yours, we wish you all a happy and healthy New Year, full of easy, tasty, and nutritious meals. Go eat some good food.
I am again joining Jenn of Peas and Crayons in What I Ate Wednesday. Go look – I always get ideas from the meals people post!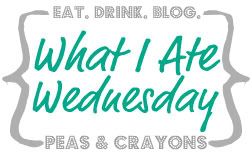 ---
---