WIAW 42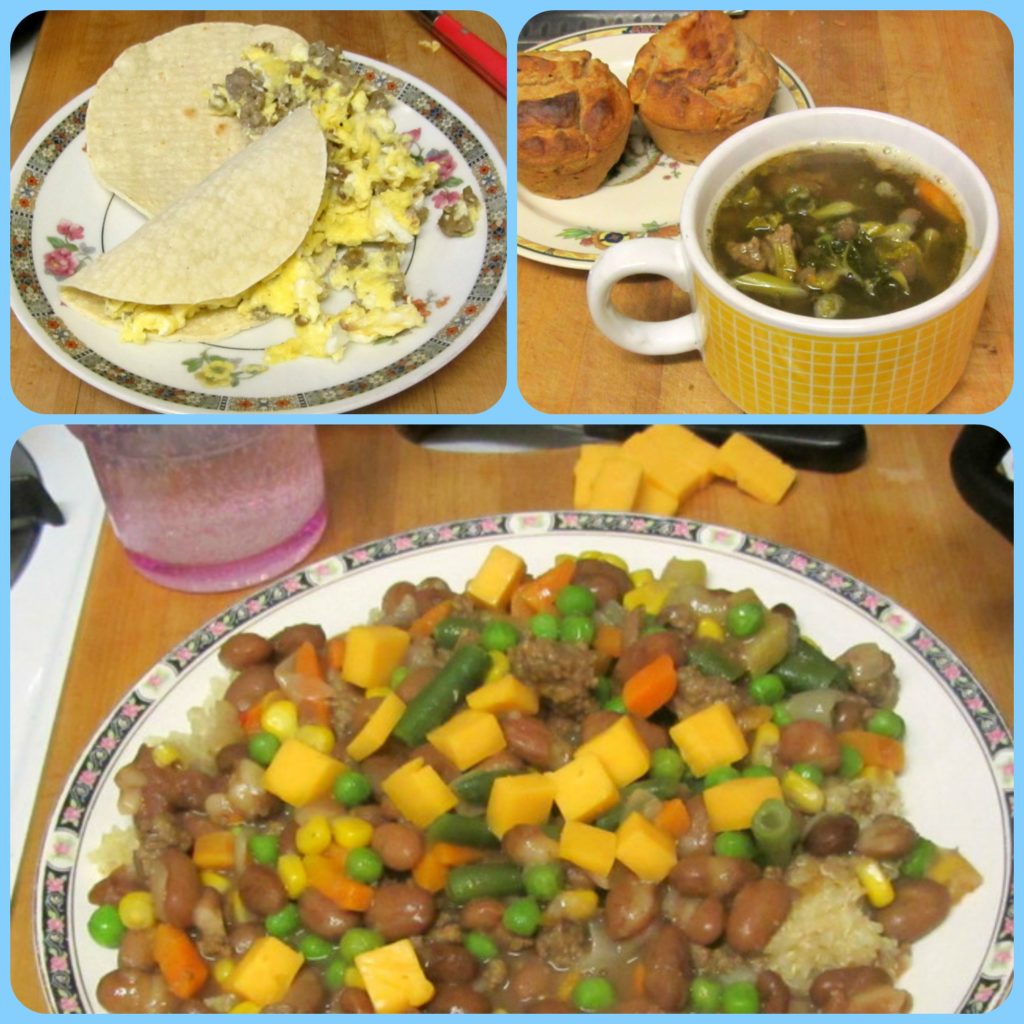 It's been a week…
Winter is icumen in, Lhude sing…. well, it's a poem by Ezra Pound, Ancient Music, and expresses the opinion of most of the USA the last few days… Winter came in very abruptly and very hard.
And weather changes like that are particularly hard on my migraine – I've been pretty out of it. So I'm showing you yesterday – because I was in migraine practically the whole day (though not particularly severe ones) but I still got food on the table.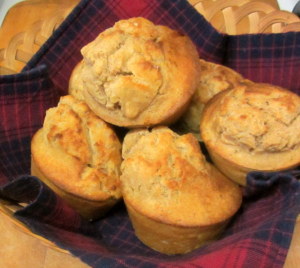 It's funny – because in my last WIAW post I talked about making muffins, I'd specifically intended to show a faster, easier breakfast. 20 minutes for muffins to bake is doable for me, because that puttering around is how I wake up – and I don't have to be in an office at 8 AM. Some of my work is done at home, and that which I go out to is usually in the afternoons, or even evenings. And I do know people who spend time over breakfast like that while the rest of the family showers and dresses, or because they also want to wake up before driving, or whatever…  but many people certainly cannot.
Now – relatively quick muffins on a weekend are still possible. Or baking them the day before, and just toasting them in the morning (or just tossing them in your bag, and eating them with your coffee at work, instead the over priced, nutritionally dubious ones in the coffee shop.) Or not using them for breakfast, but as a bread with lunch or dinner – I like them with soup, for example… You can still have homemade muffins whatever your schedule is – it's just that they work for me for breakfast. Usually.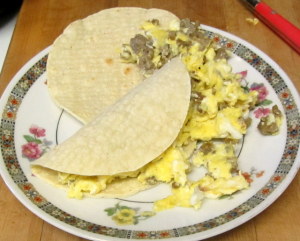 Or, then again… take a couple of corn tortillas. Heat your fry pan and give each tortilla a minute or so in the pan per side, to warm and soften it. Scramble a couple of eggs. (I tossed in some already cooked sausage crumbles… I might add cheese… I might just have eggs…)  Fold each tortilla around a bit of egg, taco style, and eat… Fastest breakfast I make.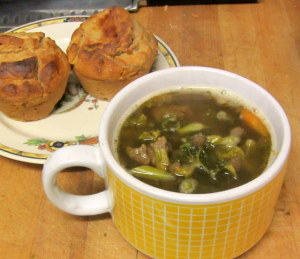 Lunch? Well – I had those muffins I'd made the day before…  (Oh, poor me, I'm working on improving a muffin recipe and eating all the failures… isn't that awful… Not.)  And I had lentil soup I'd made the day before. (Cooked lentils, cooked ground beef, cooked kale – chopped – frozen mirepoix… chicken broth. Oh, cumin.) Heated the soup, toasted the muffins, done.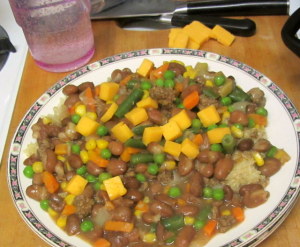 I hadn't really felt too terribly bad, then, but the afternoon was hard. Rich was out, and I was just pulling myself together a while before he came home (a bit later than usual) for dinner. So – quinoa because it cooks quickly. (No cooked rice! Oh, no! How will I manage? Well… ) Roman beans I'd cooked a couple of days earlier. (I always cook extra beans – I use them in cooking, I eat them for breakfast, I try to always have some cooked beans in the house.) A little of the cooked ground beef. Onion and celery from the freezer. And, yes, commercial frozen mixed vegetables – this is what I have them for… I wasn't up to dealing with washing and chopping kale, and I didn't even want to deal with cutting into the cabbage. A bit of cheese on top. Not wonderful, not bad, 15 minutes from when I put the quinoa on, and – dinner. And a glass of seltzer with lemon, instead of the water I drink more often…
Inserting pictures – I notice the cranberry sauce. I still have some. That would have been good with dinner – perked it up a bit. That would have required a brain – I didn't have one…
But we still ate.
Linking to Jenn at Peas and Crayons…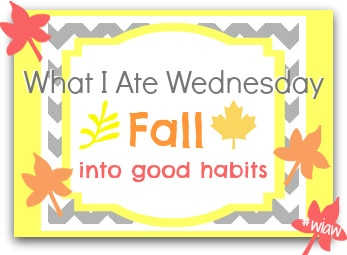 ---
---