WIAW 37
Vegetables!
We have vegetables… and I've been running… well, cooking.
I have chopped. I have sauteed. I have bagged and frozen. I have pickled and fermented (maybe next year, I'll write about that… This year, with everything else going on, I didn't have the energy to write as well as do it…) We have, to use in the colder weather, mirepoix, and sofrito, and individually sauteed hot peppers, bell peppers, onion and celery, and roasted eggplant, and herb cubes, and garlic chili sauce, and refrigerator pickled jalapenos, and cucumbers, and… All of these things will add a lot of life to our meals all winter – a kick of flavor.
And the weather is nuts. Since we got some nice October weather last August, now in October we're getting beautiful early September weather. I wore a light jacket a month ago, not this week. But since that's the reason we're still getting corn and tomatoes, I'm not complaining. (Well, and – it's really beautiful. Clear and bright and sunny!)
Food, I'm supposed to be writing about what we ate yesterday…
Breakfast. I'm back on my corn muffin kick… How can you go wrong with corn muffins? And, though I no longer have protein shakes regularly, I still do sometimes. I was remembering making a pumpkin shake the last few years – and decided to go with it. I usually used soymilk or regular milk, but I have buttermilk, which was even better, because it's tangy. Mixed that with canned pumpkin (I also use cooked winter squash of any kind – all good – though it is convenient that the canned pumpkin is pureed. I can use a manual shake container, it doesn't need a blender.) I also added a pumpkin pie spice mix. If you don't have that handy, cinnamon and nutmeg give the right idea, though the blend is more complex (and one of the handful of spice mixes I buy.)
Lunch was soup and salad – but I didn't get a picture of the salad… or the muffins I ate with that, too. Here's lentil soup, though. You're going to see a lot of lentil soup – it's a basic, in this house. I crumbled in a little sage breakfast sausage, this time, for a change.
Dinner – we had just picked up the new CSA (the picture above is last week's.)  I have more cute baby eggplants – this seems to have been a very good year for eggplant.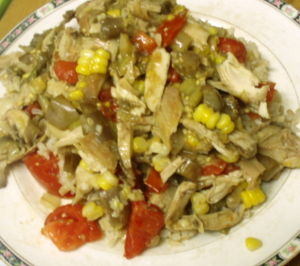 I had earlier been chopping and sauteing other vegetables, so I had celery, onion, and garlic in a pan, then browned the eggplant lightly, added chicken broth, and simmered it until the eggplant was meltingly soft. I'd roasted a chicken the other day, so stripped the carcase (which is in the slow cooker now, of course) and added chicken to the vegetable mixture. Then, at almost the last minute, corn and tomato. (Which at least weren't beige, unlike everything else in the pot by that time… )
Linking as always to Peas and Crayons…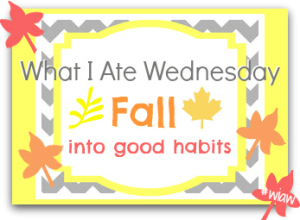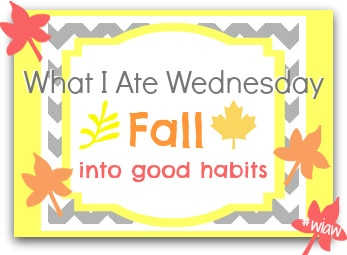 ---
---