WIAW 36
Back to a pretty typical day, for me…
It's cool in the mornings, now, and I can face cooked beans again. I basically heat them in the pan with their liquid (or some water) and sometimes seasoning, then mash with a fork. I poach a couple of eggs in them (how many eggs depends on how much cooked beans I have, and what mood I'm in, and how much I heated…)  I also had corn muffins I baked the day before.
Lunch… I didn't get a picture, but you know what my lunches look like… Salad, with lots of vegetables and  chicken, and rice cakes. I'm looking at ideas for making crackers, and plan to make more muffins, to replace the ubiquitous rice cakes…  I don't really want to be eating that many rice cakes. (Or, really, that much rice in general, given that I also eat it for dinner most of the time…) I like the crunch of rice cakes or crackers, especially with the soups and salads I usually eat for lunch, so I may start playing with this. Watch This Space!
I decided this time to specifically follow yesterday – which is our CSA pickup day. Tuesday dinner is always a bit of a juggling act, in season…  On the one hand, I may have something from the previous week that I want to finish up – on the other, I may get something I want to use at once, at its peak. And we get the vegetables home right when I want to start cooking… so there is very little planning. I have a vague idea of what I am likely to get, given the time of year… but that is never absolute. (We sometimes – not always – get an email the evening before, but it is always subject to change. And, since we do a small share, we sometimes have choices – often, but not always, between two similar vegetables.)
So – yesterday, I had a little cooked chicken, and cooked rice. I put pinto beans on to cook in a slow cooker. That would be my framework. I also still had a patty pan squash I could use (though it wasn't yet urgent) and I had onions…
I started by sauteing a small onion, then added chopped bell peppers – red, yellow, and green. (Half of each – the second half of each is in a container for salads.) I cut the ends off the husks of the ear of corn, microwaved it for 2 minutes, and let it sit to cool (and steam in its own moisture.)  I have learned that this cooks the husk and silk enough that it is easy to shuck, and the kernels just enough that they are easy to cut off the cob, without flying all over the kitchen. While the corn cooled enough to handle, I pulled out the pattypan, cut it up and added it to the onion/pepper mix. Then I covered the pan to steam slightly, while I cut the corn off the cob.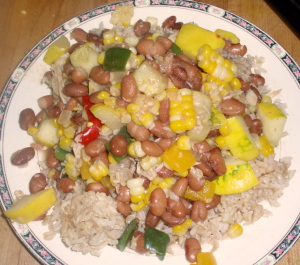 I uncovered the pan, added the chicken and the cooked beans and their liquid, and stirred everything around, then added the corn ( and the scrapings from the cob.) Covered it for another minute or two, while I heated the rice – and served. (I still have a little frozen basil in the freezer – I wish I'd thought to add that, it would have been even better!)
No process pictures, this time – this isn't a recipe write up, as much as How I Deal with this. Later in the week I'll do Interesting Things with the cheese pumpkin, for instance…  or anything else that takes a little planning of cooking time! But Tuesday Night, in our house, is all about rapid, simple meals featuring very fresh vegetables – and, really, it doesn't get better than that.
Linking up with Jenn at Peas and Crayons...
---
---