WIAW – 15
This is my fifteenth! Wow… (Nothing compared to some, but… it still feels like many.)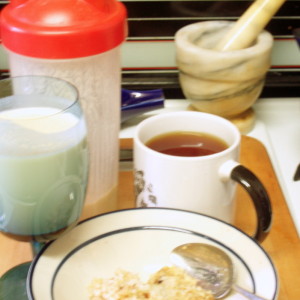 Start with breakfast. I am actually starting to shake up my breakfast – though you may or may not notice it in the picture. That, though, is a cup of tea, not coffee with half and half.
I've never actually been very sensitive to caffeine, though it does help the migraines. (But the less caffeine I drink normally, the more it does help the migraine…)  It doesn't get me going in the morning – the ritual of making and drinking it does. I've always skipped the coffee if I'm in a hurry. And Rich isn't really much of a coffee drinker – if I make it, he's happy to have a cup, but if I'm not here he doesn't bother.
For various reasons, right now, I have a lot of good tea… and, while tea keeps better than coffee does, this is getting to the Should Use While Fresh stage. I keep saying I'll drink it for lunch and dinner, or just have a cup in the afternoon – and then I just have water…  Then, one day, I didn't get to the store when I fully expected to, and we ran out of coffee. And I said "Why not?" So we've been drinking tea all week – and will probably continue to do so.
Otherwise, breakfast as usual – shake made with buttermilk and OJ and protein powder, oatmeal. More changes may be in the works…
Lunch and dinner were both rather thrown together – it was that kind of afternoon.  I had cooked chicken on hand – see the previous post – and cooked beans, and  frozen mixed vegetables.
For lunch, I mixed the chicken and beans, added vegetables, a little broth, mixed it with whole wheat  pasta and some commercial pesto.
For dinner, I sliced an onion very thin, sauteed it until it was melting, added curry powder, added the chicken and some broth,  and simmered it a while to let the flavors meld. Essentially a form of the quick chicken curry – but without precooked onion and with precooked meat. Then I added the same frozen mixed vegetables, and served it over rice.
Two meals with much the same ingredients, but which tasted and felt very different, because of different seasoning…
I'm joining Jenn – and Heather, now – on What I Ate Wednesday…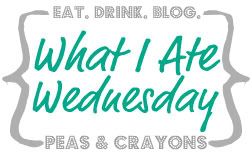 ---
---