WIAW – 14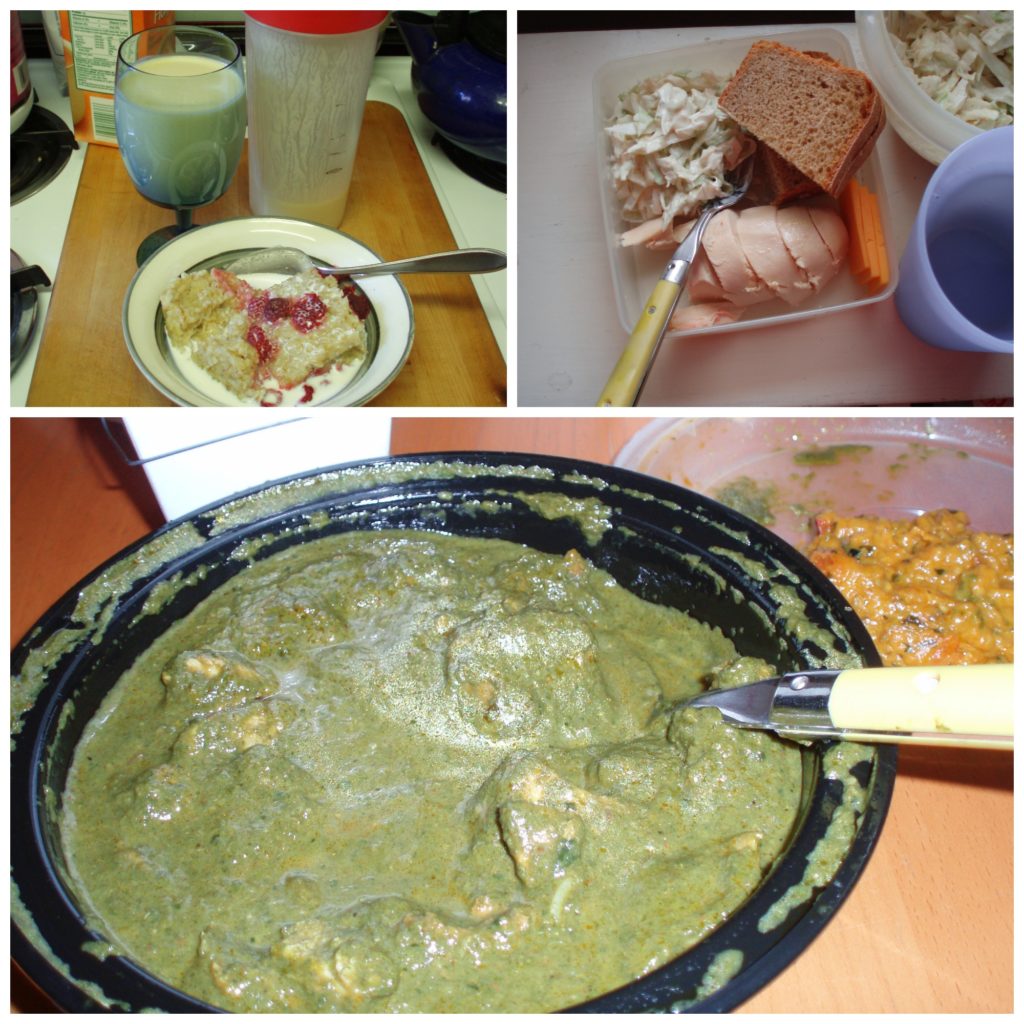 Well, Sunday turned out to be an atypical day…
I started with my usual breakfast. Protein shake, made with buttermilk and orange juice, oatmeal with frozen strawberries, and coffee…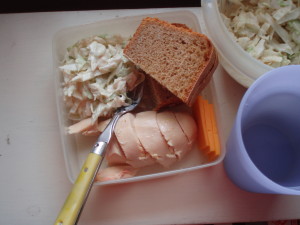 On Sunday afternoons, we often go over to the home of a close friend, where several of us gather to play games and hang out. I usually pack a lunch, and set up a dinner that I can fix quickly when we get home.  (We go some week nights, too… and then I pack a dinner.) I decided that this time I would share our packed lunch.
I had some cold chicken – I'd roasted a couple of chicken breasts, and used only part of the meat. So I put in several slices of chicken – and just a little cheese, as well. Neither of us is fond of sandwiches, so, though I make them sometimes, this time I just put the meat in chunks, and added buttered bread. I had also made some cole slaw, so brought a tupperware of it as well. (I didn't want it to make everything else soggy… if I'd just been packing one meal, I would have used a small separate container. We don't carry cold lunches often enough to have invested in the nifty divided lunchboxes.)
The evening then changed… One of the guys mentioned a project several of them want to work on – and suddenly they were bouncing ideas off each other. It was one of those moments of creativity – one idea would trigger another, and we were all brainstorming. But… dinner… I eventually pointed out that, while I hated to even pause the process, we did need to eat…  The next thing I knew, we were all ordering from the takeout menu of Malai Marke, a wonderful Indian restaurant in the area. (It's nice to live near Curry Row…) I had the Murgh Saag – chicken cooked in a rich spinach and ginger sauce, and it was wonderful…  Rich had the Lamb Dhansak, and we shared. One great thing in New York is that it is getting easier and easier to get brown rice in the Asian restaurants – even the highly authentic ones – so I was able to order it.
My… luxury…  I do love to cook, but it is still a treat not to, occasionally – and this was very good food.
I'm joining What I Ate Wednesday at Peas and Crayons – which started this for me…  I really do like the weekly look at A Day in the Food… hope you do, too.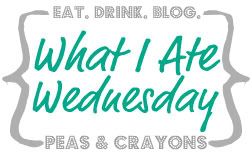 ---
---