WIAW 149 – Comfort Food
Seriously, it's been gray and raining (or snowing) for easily two weeks…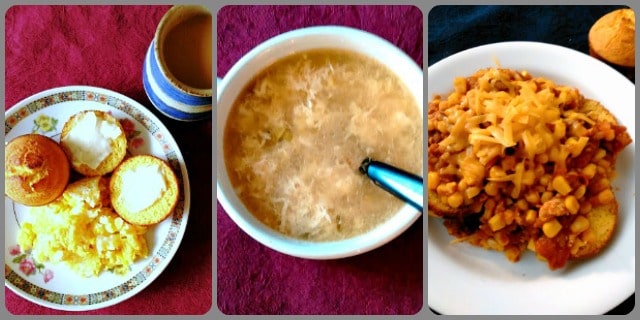 I can't really complain. I have a friend in Oregon who was snowed into her house for nearly a week – trees down across her driveway – and another iced in. This has just been dreary and depressing…  but we could get out when we needed to. But… (apparently I'm complaining anyway?) But today not only started out sunny, the sun is still beaming in through my window! Maybe it will get better now?
Soup weather. Never mind all those rice bowls and things, we are now truly into soup weather…  (And apparently all of us in the US need comfort food right now, which is all I'll say now about that.)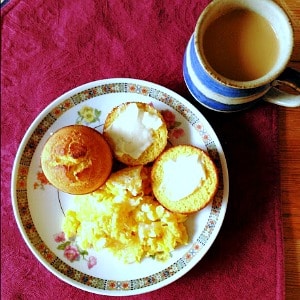 For a couple of months all my baking was experimental – gingerbread variations and the like.  But now that I finally made another batch of corn muffin mix, I'm making muffins and cornbread again. Though even this is somewhat experimental – I bought masa harina intended for tamales, instead of tortillas. Hadn't been able to figure out what the difference was…  Well, even in the relatively small proportion I use in this recipe, it changes the texture – the muffins are much less bready, more moist and cakelike. I have no idea why. I mean, I know why they want the difference, I don't know how they achieve it…  If any of you know enough about food chemistry and/or traditional Mexican cooking  to tell me, or at least point me to where I can start my research, I'd be obliged! Oh, look – a new rabbithole to go down, in my study of gluten free flours… (I bet this would make fabulous dumplings.)
So anyway… corn muffins and cheesy eggs. And another project – figure out how to set white balance accurately on my phone camera… I have pictures of that red placemat in a wide range of shades, none of which are correct, and none of which I seem to be able to completely correct in post processing without skewing the colors of the food. My life – new projects every day. Well, I can't say I'm bored…
And soup for lunch. Beautiful, warm, comforting soup… Chicken and rice, with vegetables, and an egg beaten in, avgolemono style. Total comfort food. Just happily slurped up a couple of bowls of that… mmmm… Doesn't soup make everything a little better?
And I'd cooked pintos – originally with something else in mind. But I decided to stick with the theme, and make a big pot of chili, so I'd also have some for the freezer (which is woefully understocked right now… ) I had a package of ground turkey, too, and while I really prefer at least some beef in a chili con carne, sometime you just go with what you have. So I browned meat and onion (and tossed in some tofu crumbles for good measure) and then simmered that with tomatoes, chipotle puree,  dried chilies, and oregano. And I added corn toward the end.
Then I decided to bake another batch of corn muffins (I only make 6 at a time, but now that Rich eats them regularly, too, I may need to rethink that!) And I cut the hot muffins and spooned the chili over them.  That was delicious – I need to do this more often. (And I had enough muffins for breakfast for the two of us the next morning, as well!)
So, as it happened, a day of comfort food.
So anyway, to lift our spirits, dancing over to Jenn's What I Ate Wednesday party at Laura's Sprint 2 the Table.  Come join us! Good food always makes us feel better, right?
---
---