WIAW 136 – More Vegetables!
So of course the flea market was rained out… No rain date, either, because of scheduling issues. Anyone wanna buy some Corningware? It's nice, we just have too much… and I'd like to get my dining table back.
But anyhow – I'm pretty busy right now. As I mentioned in my last post, some family stuff has come up that needs attention. I also have some other work, and every CSA pickup brings me more produce. Roasted beets, winter squash, and tomatoes both taste wonderful and take less room, so I can more easily freeze them, and I make my mirepoix, sauteed onion, chopped hot peppers, and other Convenient Food mixtures. All this means we're eating very simple meals, right now (since I don't do much other cooking.) With plenty of vegetables!
And, well, post season baseball. I always do enjoy it, but it's especially good if the Mets are still playing! (By the time some of you read this, you'll know whether or not they won the wild card game this evening…)
So I'm busy, but there is food in the freezer, and more is going in… There are a few large cabbages, and yes, this week we got more winter than summer squash. Our CSA runs until Thanksgiving, and then we eat from it much of the winter! So right now we need to make room for all the vegetables – eat down the meat in there now. Much of it is already cooked, so easy meals are coming up, right when I want them.
What I Ate
I hadn't had tacos for breakfast for a while, while I've played with muffins and porridge… But I had cooked beans, with some hot peppers and tomatoes. We'd eaten most of that, but I used the last of it in tacos, with strips of cooked egg (so I could do that again easily!) And I remembered to take pictures, half way through the meal…
Salad for lunch, of course! You can't really see, but cucumbers, peppers, celery, radishes are all with lettuce and arugula in the bottom layer. Then cooked chicken (one reason I try to keep some on hand) and everything topped with some lovely ripe tomatoes. A basic oil and vinegar dressing finished it off, and I had rice cakes with just a bit of peanut butter on the side.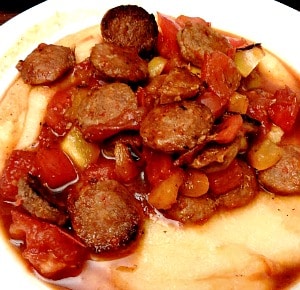 I have Italian sausage in the freezer. I can use a sharp knife to cut thin coins of the frozen sausage, and brown them, and then cook them quickly. I then chopped more tomatoes, added them and simmered until everything was cooked. Meanwhile I made – well, I guess it's really more grits than polenta, since I didn't give it as long a simmer as polenta gets…
There was supposed to be salad… I keep leaving it in the fridge.
But now, go take a look at Jenn's WIAW party, over at Sprint 2 the Table. Laura is in Italy! Way cool…  (Donkey racing. Who knew?)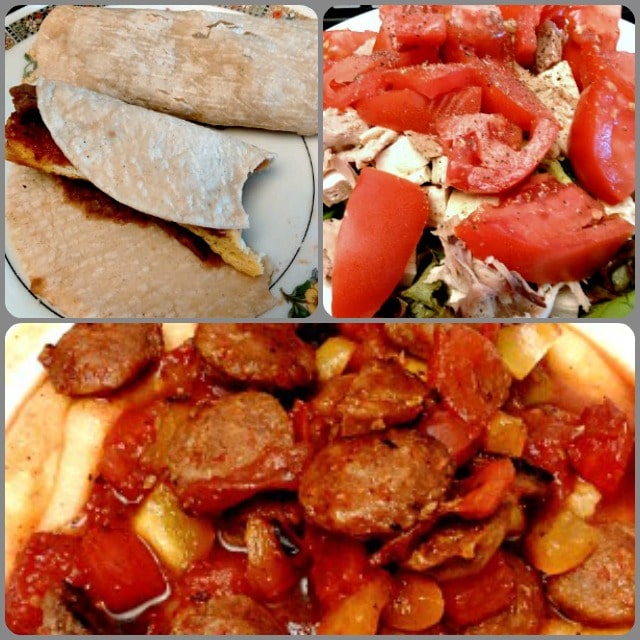 Save
Save
---
---