WIAW 137 – October Chill
A cool front came through, and while we have no frost yet (and aren't likely to for a while) it is colder than it has been in months. We've taken out coats and the comforter, put away lightweight clothing, and noticed that it's getting dark before we get home in the evening. And I finally yielded to pumpkin spice!
Unfortunately this front came together with several of my other migraine triggers and clobbered me – I had a very bad week. Not so much the frequency or the severity, though they did both increase, but that each migraine left me totally washed out afterwards… Migraine isn't just a headache, it's a full body experience. I've been semi-functional because mine, these days, are quite mild (as migraines go) but that does mean I'm vulnerable to attack, so to speak. My delicate and carefully maintained balance can be totally upset by any worsening of symptoms (or any increase in activity or stress.)
Things settled down, though, and I'm back to what passes for normal in my life. I got more done in the last two days than the previous week and a half! Luckily I'd done the development for my Pumpkin Spice Waffle recipe before I was hit, and having treats like that does help me feel better. (I'm wiped out, but there are delicious waffles in the fridge! Oooh, something nice!)
So, food from Sunday (when, as it turns out, I was starting to improve…)
What I Ate
The other delicious thing I had in the fridge was sausage. I love sausage of all kinds, but breakfast sausage especially. Back in the day when I started to eat a good solid breakfast, I ate sausage all the time, because then I'd "remember" to eat… Sometimes you need to game your own system, trick your own mind into doing what you know will help… and I needed that good breakfast. (Now I wouldn't miss it for anything!)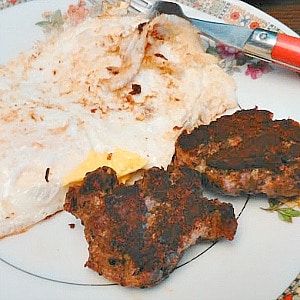 My local supermarket must be reading this 😉 because the week after I complained about the poor quality of the ground turkey, they suddenly carried a different brand. I decided to try it, and it is, indeed, better! So (assuming this is a long term change…) homemade breakfast sausage will return to my table – hooray! (Bulk sausage is easier to make than you might think, I can even do it in these circumstances…) And, well, not in the breakfast pictures, but I did eat waffles, first, while the sausage cooked, and drank coffee. Start the day on a high note!
I took a package of shredded pork out of the freezer, and we see that the rest of the day! It went into the salad for lunch, along with cheese – and lettuce, radishes, cucumbers, peppers, tomatoes… Then I ate tortilla chips on the side.
I realized that even though I use the teapot as my logo, I rarely mention drinking tea. I did try it for breakfast for a while, but I do prefer coffee, then. Sometimes in winter I serve it at dinner – and I'd like to remember that more often, but right now that feels like another moving part to keep track of and tends to fall by the wayside.
Mostly, though, I just sip it during the day, as I do water. I always have a glass of water beside me, and drink that as I go along. In cooler weather, though, I often add tea. And tea is the first thing I offer to a guest – the reason I thought of it to symbolize a welcoming kitchen. I have a nifty pot and tea light set (you did know that those candles are called tea lights because they were used to keep tea hot, before gadgets like electric coffee pots, right?) I make a nice big pot, keep it hot, and refill my teacup throughout the afternoon.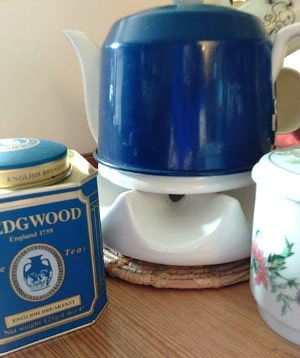 Part of the Cosset Anne (so she'll feel better) push last week was putting that pot back on the sideboard, and sipping tea the last few days. I have an amazing assortment of tea at the moment (a friend gave me a few tins of good tea from Britain – who knew Wedgwood sold tea?) I am of Irish heritage, so tea is the universal panacea – and of course, "tea" without modifiers always means strong black tea. (I'm assimilated enough, though, to drink it without milk and sugar.)
At dinner time, I had some of that pork, but not quite enough. On the other hand, there were odds and ends of squash – the rest of the can of pumpkin I'd used in the waffles, and the rest of the baked pureed squash that didn't fill a container. So I threw them into a blender with silk tofu, pumpkin spice, and enough water to thin it, blended until smooth, and heated it all as a first course soup. The basic idea of the Butternut Soup but stripped down…
Then I sauteed cabbage, bell pepper (it seems to have been a very good season for bell peppers – we've never had this many before!) and that pork – then added tomato at the last minute. Served it over brown rice. Easy, and ready in very little time. (And if you notice that the same ingredients turn up in lunch and dinner – well, it was that kind of day…)
But anyhow, I am feeling much better now… Onward and upward! Or something…
What are you eating? The last of Summer or the first of Fall produce? Does cooler weather change what you eat now? (Or warmer weather – I know some of you are in Australia.) Or for that matter – I just read a post from someone in Florida saying that her citrus is coloring, and she can't wait for the oranges! Imagine picking an orange from your own tree!
Save
---
---