WIAW 122
And now June is winding down! I got our first cherries this weekend, and have now heard rumors of peaches, and we got the first zucchini from the CSA – it really is summer.
This weekend is the Fourth of July. We don't really have any plans – maybe a picnic in the park during the day? We live right near the East River, but just – perfectly – not where we can see the fireworks display. Close enough to get the crowds coming to see it, though… My days of standing around for a few hours in a crowd to watch fireworks are over (not that it was ever my favorite activity) so we'll watch TV in comfort from our living room like the rest of the country, avoiding the crowded streets, even though we'll hear the explosions.
One year, long ago, my mother worked in an office that overlooked the river, and her employer gave a party for staff and their families. It was lovely – we all had the chance to meet each other casually, there were drinks and nibbles (nothing elaborate, but nice) and then we all looked directly out at the fireworks, which seemed close enough to touch. All these sophisticated executive types going "Ooooh! Lovely!" with faces lighting up like little children. Fireworks will do that…
Anyway, this week was rather less exciting… The noise isn't fireworks but a neighboring apartment being renovated (what are they doing? Tearing down walls??) so I've spent the week listening to music with earbuds, to mitigate the noise. I highly recommend classic rock to mask hammering…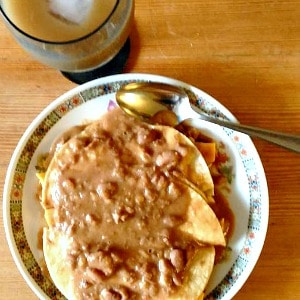 This pushes me to Quick and Easy options for meals. For breakfast Tuesday, I made a batch of refried beans from pintos that had cooked overnight. As I seasoned, heated, and mashed them, they were a bit wet, so I opted for the frijoladas, and used the tortillas to absorb some of the moisture. Then I added a little cheese. And I definitely like the iced cold brew coffee – the flavor is smooth, And it's nice and cool. Why have I started every hot summer morning drinking hot liquid for more than forty years? The habits we just never question…
On the other hand, yesterday was not hot. It was cloudy and overcast, and cool… I had broth in the fridge I needed to finish, and soup just felt right. So, chicken I'd cooked, and the broth from that, some black beans, and chopped leftover greens made a delicious but very easy soup (and cleared a few containers out of the fridge so we'd have room for our CSA pickup!)
I experimented with cracker recipes. This is Version One – and I didn't roll them out at all thin enough (among other issues…) But they were, you know, perfectly edible… and I know what I want to change, which is the idea of an experiment. I made whipped feta with the last of the dill (why yes, we had a lot of dill!) so I just put them both in a bowl and dipped the crackers in the cheese as a dip. Nice with the soup!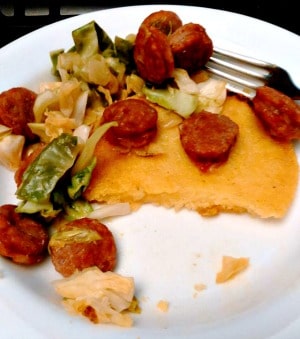 The thunderstorms held off long enough for Rich to go to the CSA – though I didn't feel up to the walk. While he was gone, I fixed dinner. I pulled some Italian sausage out of the freezer, cut it into penny rounds, and browned it, then added cabbage (we've had a small cabbage every week – compact, easy to cook, I'm happy) to saute. And I'd made polenta earlier in the week – another thing to get out of the fridge – so I sliced it and browned it in the cast iron pan while the sausage cooked. (Then I forgot to take a picture until I'd eaten half!)
The dill is done – now I have mint… I've been adding a strawberry to my glass of water at dinner, along with a slice of lime, so now I'll use mint leaves. Amazing how much flavor one little strawberry gives! More leafy greens, the first zucchini, beets…  And I start to plan my meals around my vegetables.
Do you have plans for the Fourth of July – or Canada Day, if you are in Canada? (And yes, a day relaxing at home is a Plan… sometimes that's what we need!) Maybe I should do something with the bright red beets… roasted, perhaps? They're nice in salad, later…
And put my feet up, and watch fireworks.
But now, I'm dancing over to Laura's for Jenn's What I Ate Wednesday Party. Come on over, see what people eat, get a few new ideas!
---
---