WIAW 121- Playing With My Food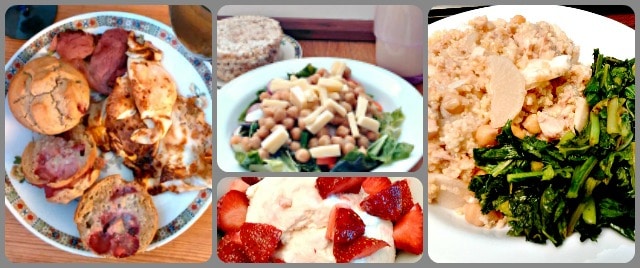 The new schedule, with one original recipe a week rather than two, is working well. I now do have the flexibility to experiment more, and try new ideas that I know won't give me something ready to post within the week. At the same time, I can share some very good recipes from a few years ago. And in fact, remember them myself…
The problem with experimenting with food is that, well, we do eat it. So I don't want to make, say, a loaf of bread every day – we won't be able to use it for another week. (We don't really eat much bread.) I don't want to serve several early stage experiments in one meal – a trial balloon should be surrounded by things I know will work! I'm not talking here about minor variations, of course, but I am pursuing a few totally new ideas. Those things I made yesterday are recognizably crackers, and we'll eat them, but I wouldn't serve them to someone else yet. (They worked as proof of concept, though – I'm on the right track!)
So the What I Ate Wednesday posts will show a few of these… some days more than others.
Sunday I decided to make a nice Sunday Breakfast. I wasn't even thinking about Father's Day. Rich is not a father, his father no longer lives in reasonable visiting distance, mine died years ago… I just felt like doing something Nice. So I made the no longer experimental strawberry muffins, since it's still strawberry season! And served them with ham and eggs, and iced cold brew coffee (which is still slightly experimental – but seems to be working.) Lovely combination!
And lunch itself was perfectly normal. Salad, lots of vegetables, chickpeas and cheese, rice cakes, and a nice glass of kefir. A very typical lunch for me these days. (Though I'm trying to get away a bit from the rice cakes… I don't like to eat anything all the time. And they're really kind of expensive for what they are. You'll see variations on that theme as we go along.)
But then – there was dessert! You may notice that I almost never eat any kind of dessert… some fruit, occasionally, though even that is more likely to be part of breakfast. But, well, we acquired an ice cream maker. Like the pressure cooker, I have dithered over buying one, but we really don't usually have enough room in the freezer for the bowl. But since I don't eat sugar or artificial sweeteners I haven't had ice cream for years, and it is a nice treat in summer! So when we were offered this one, we accepted. And that is my first batch of vanilla ice cream, served with strawberries.
Now, the reason that this is early stage experimenting is that I just made the sugar free recipe in the manual without the sweetener, as a baseline, to see how it worked. And while it was OK, as I'd guessed it really didn't work quite right. See, the sugar isn't just for sweetness, it lowers the freezing point of the dairy products, and it's that, together with the churning, that gives you the lovely smooth texture. This was OK eaten soon after making it (which is when the picture was taken) but everything returned to the freezer then froze rock solid. But I have old cookbooks with ice cream recipes, and I have a few ideas. I hope I'll have something ready to share soon. OK, I know most people have absolutely no interest in unsweetened ice cream – but those of us who are interested really are.
Then for dinner… see, I'm also working on an instant (or nearly) mushroom sauce. I've seen that one of the things people who have recently gone gluten free desperately look for is a replacement for that can of condensed soup, which has been the solution for so many quick and easy meals. I'm not quite there, but on the right track… So I mixed some of that up, and added roast chicken, and chickpeas, cooked millet, and some thinly sliced turnips. Then sauteed the turnip greens, and served them on the side.
So – I'm playing with gluten free baked goods and sauces, and sugar free desserts. That should keep me busy!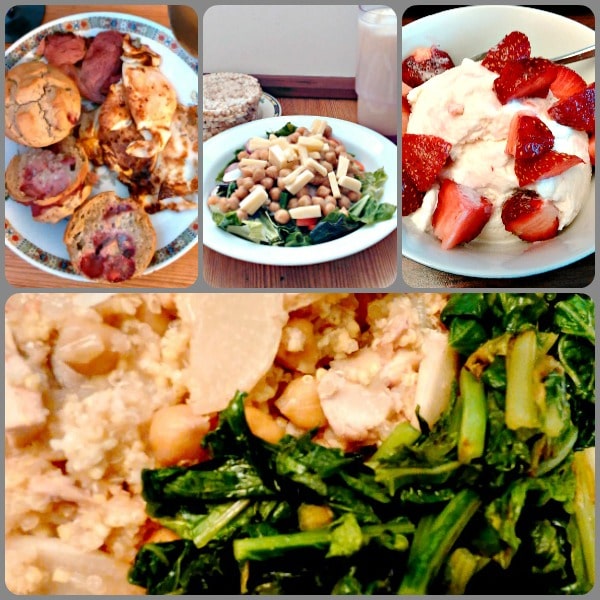 ---
---