WIAW 120 – Fast and Easy
So I've been busy. The newsletter is off the ground, I have some experiments going in the kitchen, I'm working on a new project…

Our first CSA pickup was this week! Armloads of leafy greens (both salad and cooking greens,) radishes, snap peas (we ate them right away!) herbs, and a few root vegetables from storage. We move into the season when I plan my meals more completely around the vegetables (they're always a factor) and they tend to dominate my posts.
I'm not really sure how the crazy weather this spring has affected the farmers in the long run. I know some crops came early, and some are late, because April was hot and May was cold… I do know what it has been doing to me – and that is a factor in this day of meals.
The day started out just fine. I'm back to the bean tacos – I liked the enfrijoladas, but they're more fuss… What I may do is make them when I actually cook the beans, and then reserve the rest for tacos – we'll see. But anyhow, I made tacos with refried beans and scrambled eggs (they were supposed to be pretty strips of omelet. Oh, well.) When I make the beans and eggs ahead, it's one of the fastest breakfasts I can throw together…
Then, one of my current experiments is cold brewed coffee. It seems to make sense to make up a large batch, put it in the fridge, and then drink a glass of iced coffee on a hot morning… (Or add boiling water to make hot coffee – I have a friend who does that.) The first time I tried to make it I had this – um – coffee explosion all over the kitchen, with grounds running into the stove (which is now immaculate, thank you, Richard…)  I seem to have learned how not to do that… the last two batches have been uneventful. (I strongly prefer uneventful mornings before breakfast!) When I feel that I have it down to a system, I'll share it…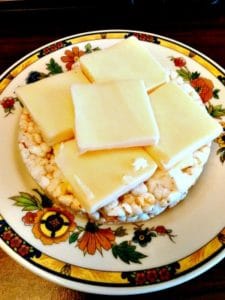 But by lunch – I wasn't feeling so great… And I was hungry! I'd gotten caught up in another task, and suddenly realized that I should be eating lunch Now. (I need to get better at this. I start writing, or researching, and – it's lunchtime!) So I went in the kitchen and simply put cheese on a rice cake to get me started…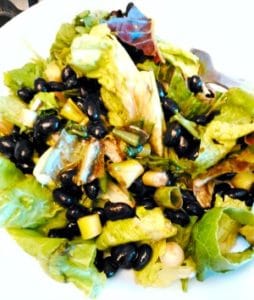 I had mixed greens for salad, and some cut up scallions, but didn't feel like dealing with radishes or anything else I was going to have to wash and cut. So I did wash the lettuce, and then just opened a can of black beans and added them, and oil and vinegar dressing. And took a pretty poor picture… I also had a couple more rice cakes, with a little cheese, to round out the meal.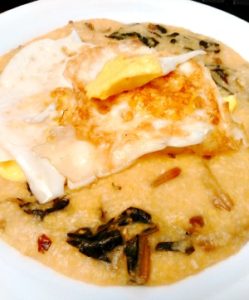 Well, then the migraine hit, and this one hit at just the wrong time for the dinner I'd planned. It was definitely over before dinner time – this was not a "wave weakly at Rich and eat chili" sort of night – but it also wasn't the time to tackle the roasting chicken in the fridge. I was still washed out, and needed to get dinner on the table soon. What is fast and easy? Well… I did have corn grits… Make grits, stir in cheddar cheese and leftover cooked greens (It's a while since I have had my frozen green "muffins" – I've missed them, they are so convenient!) Then I just fried a couple of eggs, popped them on top, and it was dinner.
And it is good to remember that this is always an option. It wasn't much work, it was faster than ordering in, and it was creamy and comforting…
Well – it's not a party at Laura's Sprint 2 the Table today – more a wake. But still, we gather, as Jenn first brought us all together, and bring food. Food is a way to demonstrate caring – and we need more of that, in this world.
From my kitchen to yours – let us care for each other, share our food, remember that love must conquer hate.
---
---