WIAW 115 – Merry Month of May
Well, it finally is – this week. After a week of 50°F and rain, the sun has come out, and this may turn into a pleasant month after all. However, I took all these pictures last Thursday – so my food choices are downright wintery…

I've tended to photograph my day on the Monday or Tuesday before posting, so I'm then in a mad scramble to remember, for one thing, and do all the editing and writing at the last minute. Last week, since I'd photographed the birthday a full week earlier, it was so much easier… and I'm going to try to remember that. But it does mean sometimes I may be out of sync.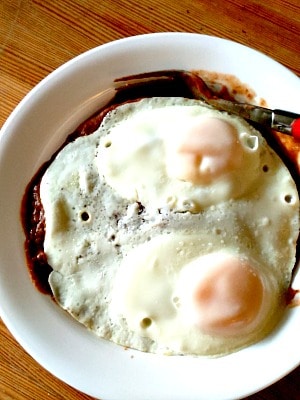 My breakfast was sort of my typical beans, tortillas, eggs – and sort of an experiment. When I was looking at information about enchiladas, I learned that the word simply means – well – chili'd I guess – dipped in a chili sauce. (And the many variations come as much from the different chili sauces as from different fillings.) But there is a closely related dish called enfrijoladas. Basically, they're made the same way, but the sauce used to dip the tortillas is a soupy pureed bean sauce! Kind of like my mashed sort of kind of like refritos, but wetter…
So, OK, just to make things clear – these are not enfrijoladas. But they are sort of inspired by the idea. (Remember – Authentic 21st Century New York Anne's Kitchen – only claim I make. If I want something else, I copy someone else's recipe – and I'm not posting that here.) But we  were at the end of the package of tortillas, and they'd dried out a little, and dipping them in a sauce to heat and soften them sounded interesting. So I took my mushed up and seasoned beans, added water, and heated it all in a frying pan, dipped my tortillas in it (a bit messy – clearly I need to Learn Technique) and then spooned some more of the beans on top. Then I topped the whole thing with some fried eggs – and it was good. Now, proper enfrijoladas would be stuffed, and are rather more complex, but this was good first thing in the morning… and I'll do it again.
Lunch was more simple, boring, and basic – lentil soup, as I've been making it all winter. Lentils, chicken, broth, vegetables… Nice on a cool, rainy day. No picture… hmmm… I'm not sure if I had rice cakes, or if that was the day I had some sweet potato crackers I'd bought… Pleasant, not exciting, I really need to get back to working on breads and crackers… I need more (and less expensive) options.
Dinner was another experiment. I told you I know have an electric pressure cooker. So far, I've mostly used it for beans (with less initial success than I would have expected, but I think I have the hang of it now – watch this space!) But I wanted to try making stew with the browned and frozen beef cubes I wrote about. With them all ready, and a pressure cooker, it is actually not insane to cook just enough stew for two people! OK, I still will normally cook larger amounts – it's useful to have extra on hand – but proof of concept, here… And this might be very useful for someone who is single, or has limited freezer space – the browned beef along takes much less room than a whole container of stew.
I thawed half a pound of the beef cubes. I did go a bit finicky here – I'll streamline this down the road. I partially cooked a batch of potatoes (used the rest later for home fries) then cooked the beef with potatoes and a can of tomatoes, released pressure, added carrots (so they wouldn't overcook.) I want to simplify that, and add more seasoning and other vegetables. It was still less fuss than doing it on the stove, and much less time (even including bringing the pot up to pressure, and then letting it come down. I find many discussions of pressure cookers blithely ignore that time, and it can be significant.) And the flavor was amazing – the pressure cooker really does meld the flavors, so I had this wonderful beefy sauce, and the meat was flavored by the vegetables,and – I'll be playing with this quite a bit more, and will share as soon as I feel moderately confident that I have good reproducible results.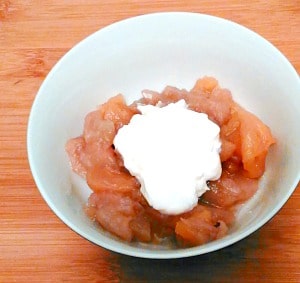 When I went to Greenmarket a month ago, and there was almost no spring produce yet, there were bags of apples and pears, and I brought them home. I cooked the last of them into a compote a week or so ago (did have to cut out a few mushy bits) and I've used it on cereal, and with strained kefir. I had a bowl of that as dessert… just the apple and pear, a touch of cinnamon, and thick creamy kefir (with the whey strained out – I drink it like lemonade!) I rarely want any kind of dessert, but once in a while, a bit of fruit just hits the spot… If I'd wanted to fancy it up, I could have heated it, or even made biscuits to go with it as shortcake – but I didn't want the fuss, this time, just a little treat.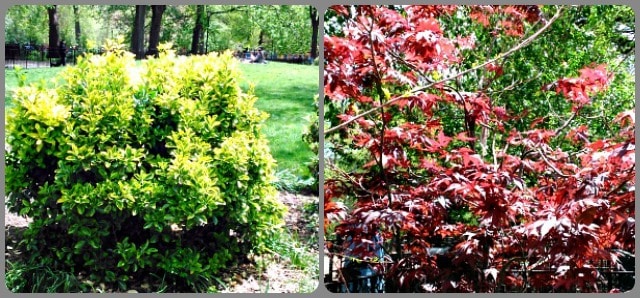 So – late Sunday morning the rain stopped, and the sun came out, and suddenly it was May… My walk in the park brought me these pictures (I'm practicing with the camera on this thing…) and there are flowers everywhere. I hear Greenmarket has asparagus (and I won't have to invent uses for woody stems – I'll be able to eat it all! Though I am pleased with that soup) and I still have a big bag of spinach in my fridge. And I am so ready for salad lunches…
So, a day's worth of food, and the What I Ate Wednesday party. I love doing these posts – seems such a great way to chat with you all, talk about what I'm doing on the blog (and sometimes otherwise…) and what it looks like to eat the food I write about. Right now, I'm juggling schedules, and ways I want to move the blog forward, and things I'd like to offer you all… and I'll use these posts to keep you in touch with what I'm doing!
And enjoy May!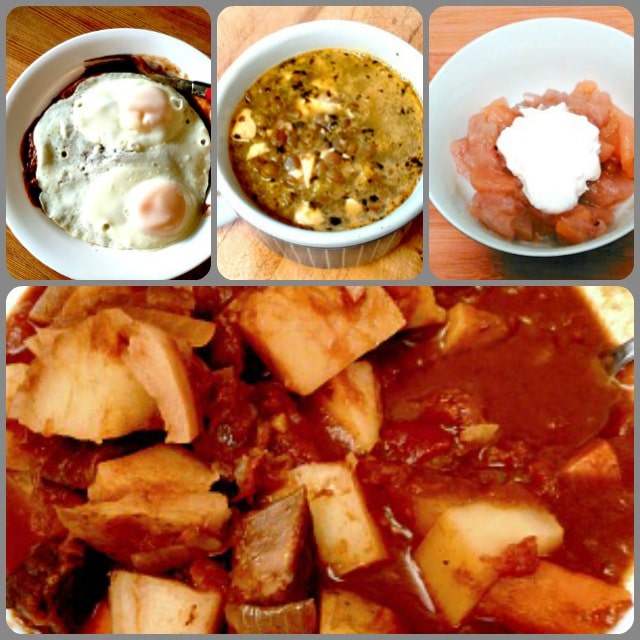 ---
---