Turkey in Cream Sauce with Waffles
So on Thursday this happened.
I had stripped the menu down to the minimum, but felt a bit better on the day, and was able to make cranberry sauce and gravy… And for the two of us, it was enough.
So on Friday – this happened.
OK, for many of us, Friday is the day we finally eat the drumsticks, or have slices of breast as sandwiches, or… whatever our own family tradition is. But eventually we all get down to the shredded bits of meat we've pulled off the carcass, and while that works well in soup, we also may want something else to do with it. Turkey in cream sauce is a simple, tasty solution.
When I wrote about waffles last Spring, I mentioned that they're not limited to the breakfast table. My vintage cookbooks discuss using them instead of patty shells or toast points – they're crisp, they hold sauce well, they're a treat themselves… (Not that I normally use patty shells or toast points, but – it's a change from rice.) And they can readily be made ahead and reheated, in toaster or oven. (And I was given waffle irons last week for my birthday… I wanted to use them!)  When I wrote last Spring, I had a little gadget that did the job, but didn't really heat well enough, took a long time and was rather a nuisance to use… so while I have made waffles a few times since, I tend to avoid them. You'll be seeing more of them, now!
You can, of course, use my gluten free recipe – or your own favorite recipe – or frozen waffles from the supermarket, for that matter… (I was surprised to find that in my neighborhood at least, they are, if anything, easier to get than gluten free bread!)  They're not bad, as such products go, and this weekend, making it easy for yourself (especially if you just did the Huge Family Meal) is a serious goal!
Directions for Turkey in Cream Sauce
So anyhow… take a cup of cut up or flaked turkey (or scraps, or odd bits, or…) As usual, I'm making a recipe for two – this scales up very easily, if you're cooking for the family. For each cup of meat,  it needs a cup of sauce of some sort. If by any chance you still have a cup of gravy, you can just use it. I make a cup of cream sauce – with half milk and half broth. Again, if you still have the giblet broth from making gravy, use it. If you already have broth from the carcass, use that. I just used a few cubes of frozen chicken stock, because under the circumstances, that's what I had… And a mix of this sauce and whatever gravy you have left is good. This is all about using what you have.
I put half a cup of milk, half a cup of chicken broth, and a roux cube into a small saucepan, brought it to a low boil, stirring frequently, and simmered until thick. Then I stirred in a quarter of a cup of – well, this is sort of two thirds of a mirepoix, as I froze just the celery and carrots, on the theory that I can easily add onions as I go along. If I were being fancier, I'd have sauteed a little onion, added the mirepoix mixture, simmered all that in the half cup of broth, for flavor, then added the milk and roux… And you can do that, if you want.
Me? Not the day after Thanksgiving… I'm looking for easy.
So I had this cream sauce with some vegetables – and if I didn't have the mirepoix mix, a quarter cup of any mixture of cooked vegetables chopped small would work. Indeed, the ubiquitous frozen peas are an option here…  we're looking for easy, remember? In fact, you can skip the vegetable – it mostly there for flavor and texture, there isn't a whole serving of it anyway, you want another one in the meal… Or you can use peppers and/or mushrooms and then it's Turkey a la King. I didn't add seasoning – you can add a pinch of salt or pepper, maybe a little sage. What you want will depend a lot on the seasoning already in any broth or gravy you use.
Now add the turkey and stir it in. Heat it, and then spoon it over the waffles. (Which you have just made – yeah, right – or reheated in an oven at 400°. Or you just toasted them…)
And there you are. Serve the rest of the cranberry sauce with them (or forget you have it – as I did – because cranberry sauce must be forgotten at least once this weekend, it's a tradition…) And you have a meal in ten minutes (not counting making the waffles, but you probably did that some other time…)
And relax. If you cooked the whole feast – or cleaned up after – or both… you deserve to put your feet up.
Oh, yeah – this is a good thing to do with leftover chicken all year. The waffles make the meal… but you can certainly use rice or mashed potatoes to vary it.
I hope that all of you who celebrate the American Thanksgiving had a wonderful holiday (and that those of you in Canada who did this a month ago did then, too…)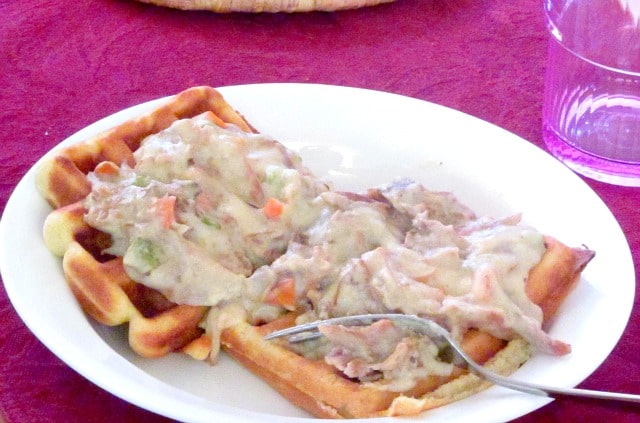 Turkey in Cream Sauce with Waffles
Make turkey in cream sauce from the Thanksgiving leftovers, and serve it over waffles (homemade or not) for a fast and easy meal.
Ingredients
1

c

chopped or shredded cooked turkey

1/2

c

milk

1/2

c

turkey broth

1

roux cube

1/4

c

finely chopped cooked vegetables - carrots

celery, peas, peppers...

4

waffles
Instructions
Chop the turkey, making sure you've removed all bones and tendons.

Heat milk, broth, and roux cube in a small saucepan, stirring frequently, until sauce thickens. Add the vegetables, and the turkey. Heat through, stirring regularly.

Toast or otherwise heat waffles. Serve the turkey mixture over waffles.
---
---