Cranberry Chickpea Stuffed Squash
Of course it's all Fall Flavors – we do Seasonal, here!
Actually, I've been partly amused, but partly disturbed by the general cultural approach to Seasonal… I do understand that a real problem for nationwide corporations in the US is that our country spans many, many climates. Last June, when we in New York were just (finally) seeing the "Spring" produce – asparagus, spinach, strawberries – I went South only as far as North Carolina and ate the peaches we would not get until August. This is the reason I keep writing "Here in the Northeast…"  I know that my seasonal cooking is not particularly helpful to readers in Southern California. (Let alone Australia! I know I have readers in Australia!) Now that I've been writing steadily for a few years, you'll just have to check out old posts…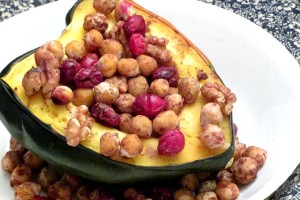 But the thing is – corporations have the same problem. So on the one hand, most of our culture is designed to pretend that there are no seasons – and I must say, I am thrilled to get something green other than cabbage in the dead of winter, or oranges ever… Let's not forget the benefits of this. At the same time, there seems to be a human need to acknowledge the turn of the year… and we get weird phenomena like Pumpkin Spice. Which is originally pumpkin pie spice, and is a blend that does taste particularly good with sweet, rich winter squash… which does come into season (here in the Northeast – and in our cultural mind) now. But Pumpkin Spice Latte? Really? If you like it so much, buy extra of the blend (or make your own) add some to your coffee grounds when you brew, and… But somehow, it wouldn't taste the same in April. I do understand.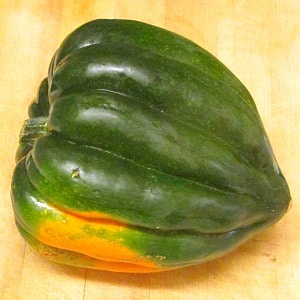 So, this dish is very seasonal, but – true confession – I did my own season stretching, here. We won't really see cranberries in the stores for another week or two – that's Thanksgiving food, here! (They're harvesting right now.) But they are incredibly easy to freeze – take the bag and pop it in the freezer. (Or maybe wash it first, and make sure the berries dry completely.) I like to use the sour cranberries with sweet winter squash, and I used to make a wonderful apple cranberry crisp (need to work out a gluten free version of that one!) so I always freeze a pound or two after Thanksgiving, to be sure I'll have them. This bag somehow migrated to the back of the freezer, and when I found it in April, well – no. But now, I want it out of the freezer, I want fresh berries for Thanksgiving, and – well – the CSA gave me my first acorn squash of the season.
I have two recipes for stuffed squash that I've made for years – one is a bread stuffing with cranberries and nuts, and the other is chickpeas with curry spices. It seemed to me that features of each would combine well… And I was pleased with the result.
First, split the squash. For years I cut it around the middle, and then fussed when it wouldn't sit evenly… cutting it this way works better. Scoop out the seeds. (This was a large squash with an unusually small seed cavity.) Put it cut side down in a pan with a little water, and bake at 350 for half an hour.
Then, take chick peas – I used a can, here, so used a cup and a half. Another time, for just us, and serving a little meat and a lot of salad on the side (as in fact I did, this time) I'd just use one cup. Another time, I might use two cups of chickpeas, maybe some more walnuts, skip the meat, and introduce the meal with, say, Creme of Broccoli Soup to round out both vegetables and protein – and serve a great vegan meal. I like the versatility…  (And I list this as a Main Dish – because even if I do serve meat or another protein-centered dish with it, this is really the Featured Dish of the meal.)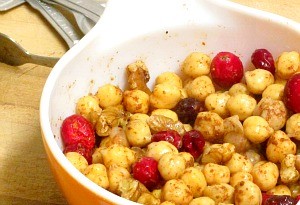 Take a cup and a half of chickpeas (rinsed of cooking or canning liquid,) half a cup of cranberries (straight from the freezer – or, of course, fresh!) and a quarter of a cup of walnuts. I'm starting to use nuts more in my cooking – a small amount adds a lot of both flavor and nutrition. Then I took half a teaspoon of that pumpkin Spice mix (because it really does do well with winter squash!) and tossed it well with the bean and berry mixture. If you don't have or want the blend, I'd suggest either ginger or cinnamon. (I nearly used ginger, actually, but mine is getting old and blah and needs to be replaced, and I'm out of fresh.)
When the squash had baked for half an hour, I removed it from the oven, and turned the pieces over (carefully!) Then I spooned the chickpea mixture into the cavities. Since I had plenty of extra, I put the rest right in the baking pan. (There was still a little water – that's fine, I left it there.) Then I returned the baking dish to the oven for another half hour. Or until Done – this was a large squash, and did need another five minutes until it was fork tender. The chickpeas were a bit crunchy/chewy in a good way… nice texture contrast with the squash.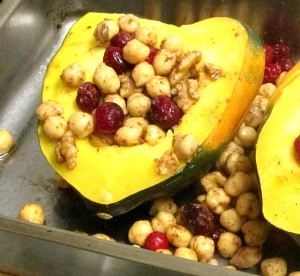 Oh – a note – you can also absolutely use two slightly smaller squash, use two cups of chickpeas, leave everything else the same, check for done after twenty five minutes… and serve four. Either way, it is really quite simple, but really feels elegant and special.
And it tastes of cool, crisp Autumn.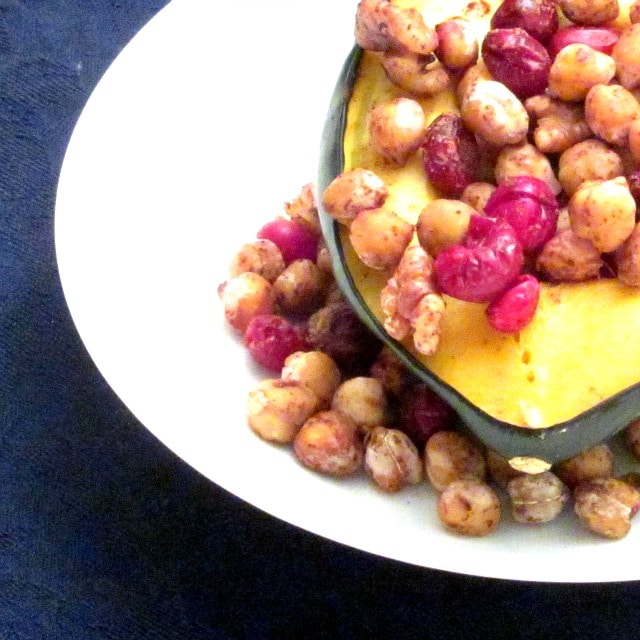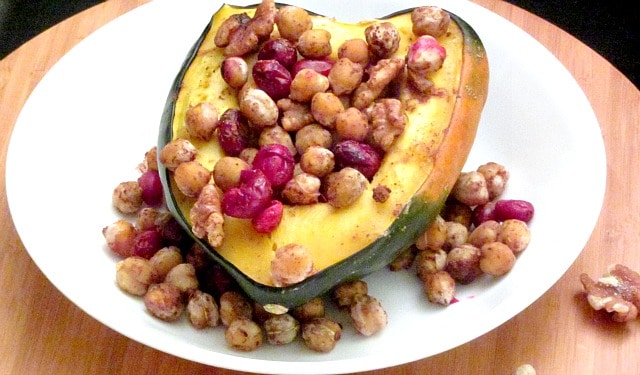 Cranberry Chickpea Stuffed Squash
Use cranberries and chickpeas for a stuffed squash that is both simple and elegant. Great as part of a vegan meal!
Ingredients
1

large acorn squash

or 2 small ones

1 1/2

c

cooked chickpeas

1 can

1/2

c

raw cranberries

1/4

c

broken walnuts

1/2

t

pumpkin pie spice blend

or substitute ginger
Instructions
Preheat oven to 350.

Split acorn squash in 2. Scoop out seeds. Place, cut side down, in baking pan with 1/2 c water.

Bake at 350 for 30 minutes.

While squash is baking, rinse chickpeas and place in bowl. Add cranberries and nuts, and mix. Add spice blend, and toss well to coat with the spice.

After the 30 minutes, remove squash from oven, and carefully turn it over to expose the hollowed center. Fill with the chickpea mixture. Spread whatever is left around the squash in the baking dish, and return to oven. Bake another 30 minutes, until cut side of squash can be easily pierced by a fork.
Save
Save
---
---