Confetti Ham Casserole
Confetti Ham Casserole: Use leftover ham to make a casserole with corn and spinach. Colorful, plenty of flavor, and a bit of a change.
Three days after Christmas, I see the plaintive questions – "What else can I do with leftover ham?"
My first answer, really, is freeze it… Ham keeps beautifully, and small amounts add so much flavor to other dishes, I'll use it all winter. I take advantage of the sales to get a ham even if I'm not serving one for Christmas Dinner!
Ham and eggs, ham hash, ham with potatoes and cabbage, split pea soup with ham, beans simmered with ham, it's all good. (And I've already written about several options.)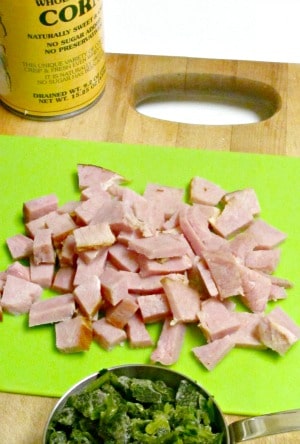 I saw a corn pudding somewhere else last week, and first, wondered why I haven't made one recently… and then I started mentally adding things, until I had a whole casserole. So we ate this the other night, and it was good…
I started with some of the leftover ham, of course, cutting it in bite sized pieces. And a can of corn, since that's what gave me the idea. We want a green vegetable, though… I could use a couple of green muffins, but in this case I decided to go with frozen chopped spinach. So now I just needed a way to hold it all together…
Last Spring I made a similar recipe with a cheese sauce, but I wanted something different, this time. Somehow I ended up with both a white sauce and eggs – usually I use either/or – but it worked… I used a roux cube to make a cup of white sauce, then stirred in the frozen spinach to cool it, before adding it to the eggs (so the hot sauce wouldn't cook the egg.) If you don't have a roux cube – well, first, they really do make life easier, you might want to try it – but you can make your roux from scratch, with one tablespoon of your flour of choice, and then make the sauce. I also stirred in a teaspoon of dry mustard.
Then I beat two eggs in a bowl, and stirred in the drained corn and the ham. Stirred it well to mix thoroughly. Then I added the spinach mixture, mixed well, and poured it all into a gratin dish. (You can use any baking dish you want.) I baked it at 400° for 35 minutes, until the center was set and a knife came out clean.
Let it rest a few minutes to set. (Easy for me, taking pictures!)
Serve as dinner for two, side dish or second course for more (this after soup, maybe) or double (and bake longer) for more people, bake potatoes in the same oven to eat with it, or serve good bread or crackers… Extremely versatile – as is the leftover ham I use in it.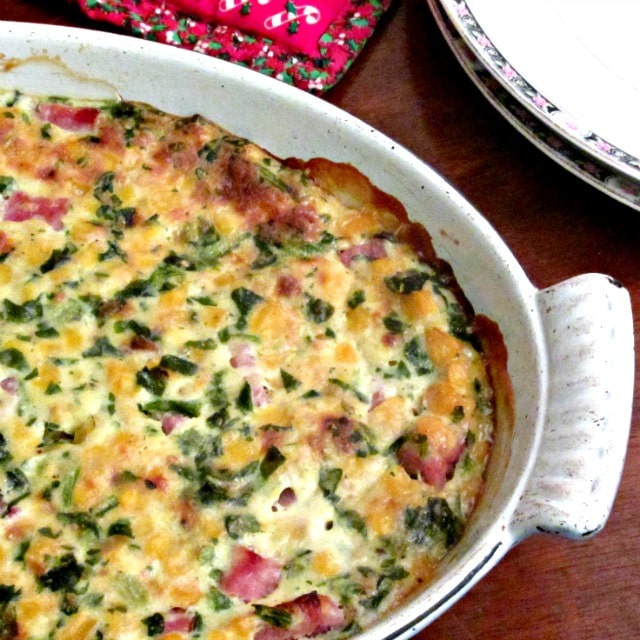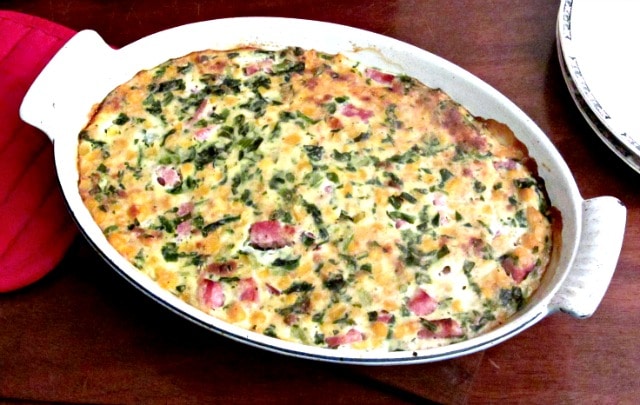 Confetti Ham Casserole
Use leftover ham to make a casserole with corn and spinach. Colorful, plenty of flavor, and a bit of a change.
Ingredients
6

oz.

cooked ham

1

c

milk

1

roux cube

1

t

dry mustard

1

c

frozen chopped spinach

or other greens

2

eggs

1

can corn

drained
Instructions
Preheat oven to 400.

Cut ham in bite sized pieces.

Make white sauce with milk and roux cube. When it has thickened, take it off the heat, stir in mustard and frozen spinach (to cool it.)

Beat eggs in a bowl. Add ham and corn, stir well.

Stir in spinach mixture. Turn into baking dish.

Bake at 400 for 30-35 minutes, until center is done. Remove from oven, let rest five minutes before serving.
Save
Save
---
---