Simple Casseroled Chicken
To start with, casseroled chicken isn't exactly what we think of as a chicken casserole… There may or may not be rice, there may or may not be vegetables, (there isn't a can of condensed soup or a potato chip in sight.) The key is the covered dish – the casserole, in fact, in which it is cooked. It is in many ways essentially the grandmother of the slow cooker – gentle cooking in a covered dish which holds in the moisture – and recipes can often be adapted from one to the other.
I haven't really been in the habit of using my oven much, over the years. I have often worked late hours, so once I got home, rested a few minutes, and started cooking, I wanted to get dinner right on the table. It is different, though, for a person home during the day, as I usually am now. Now it can make a lot of sense to put something together when I'm in the kitchen at lunch, and pop it in the oven later.
This is particularly true for parents – do the assembly before the kids come home from school, so you can then give them undivided attention. Even if you work out of the house, it starts to make sense… Do the prep work the night before, come home, light the oven and put the food on the table to take the chill off, change your clothes, pop everything into the oven, and have time to be fully with the family before dinner.
This is a very stripped down, simple, but delicious chicken dish that lends itself to that. Trying to trace back where I'd gotten it, I found a recipe in my mother's recipe binder labeled No Work Chicken. Well – I didn't like her marinade, and it has changed in my hands, but the basic concept has remained the same. You can assemble it and put it right in the oven, but letting it sit in the refrigerator a few hours is better, all day won't hurt it any, you can even put it together the night before… It's fast enough, though, that you probably really can throw it together in the morning – or while the oven preheats. Whatever works for you.
I have a nifty fridge to oven to table to microwave one and a half quart covered casserole. If you don't have a covered baking dish, that's fine – cover it with foil, before you put it in the oven. And you can use a shallow baking pan, instead of a deep casserole.
I simply mixed soy sauce, rice vinegar, and ginger together right in the dish. Now – notes about ingredients. First, I used a gluten free soy sauce because I do. I assume you are going to use the appropriate soy sauce for you – gluten free, or low sodium, or regular, or whatever… (Just, please, use the real stuff, not one of the brands that are just salted water with caramel coloring, if you possibly can! There's quite a difference in flavor.) I did use a jarred ginger paste here. Yes, fresh grated ginger would taste better. Yes, this is faster… and more convenient if you don't use ginger often. Use whichever makes more sense for you.
I didn't use garlic because I didn't have garlic. You can add it – crush a clove in. You can use it instead of the ginger. Right there you have three slightly different versions of this dish – good to remember…
I used chicken thighs for this. You can use assorted parts – do cut them into pieces. I took each piece and dipped it into the seasoning at the bottom of the casserole, covering each piece with the sauce. Then I covered the dish. At this point, you can refrigerate it for a few hours, or up to a day, or put it right into the oven. Whatever works for you…
I baked it at 350° for 45 minutes. Removed it from the oven and let it rest, with the lid on, for five minutes – mostly to let it stop boiling so I wouldn't get a blast of steam when I opened it! (Even so, be careful to open it away from your face.) The meat was tender, moist,  and very flavorful. And the liquid from the chicken collects with the seasoning to make a sauce – good over rice or potatoes.
I cooked enough for several meals – I'll bone some and reheat the meat right in the sauce. The meat is good cold, too – adds a wonderful taste to a salad!
And it would be hard for it to be much easier. There is one more step than just baking it – but the added flavor makes that five minutes of preparation worthwhile.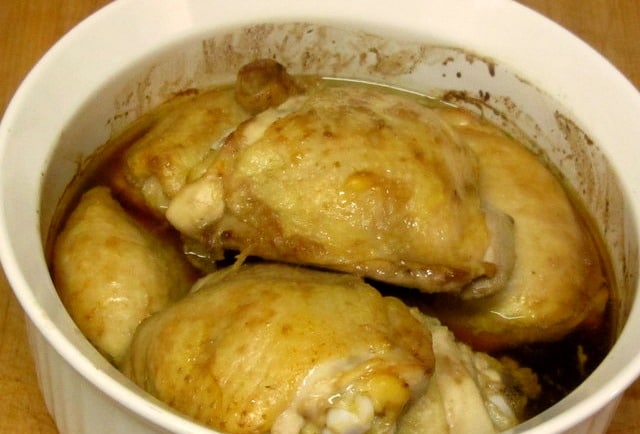 Simple Casseroled Chicken
Five minutes of preparation, and this chicken can go in the oven - or, refrigerate it (and let it marinate) until you want to cook it. Ready when you are!
Ingredients
2

T

gluten free soy sauce

1

T

rice vinegar

1

t

grated ginger

1 1/2 - 2

lbs.

chicken thighs

bone-in
Instructions
Preheat the oven to 350.

Take a 1-1/2 - 2 quart covered casserole dish. Mix the soy sauce, vinegar, and ginger until smooth in the casserole.

Dip the chicken pieces into the seasoning mix, coat them well. Arrange them in the dish, and cover. (If it does not have a lid, use foil.)

Bake at 350 for 45 minutes. Let stand 5 minutes before removing the lid and serving.
Save
---
---