Cornbread Pot pie
Cook extra meat, I blithely say. Brown ground meat, fill a slow cooker with chicken, cook a whole pork shoulder (with seasoning!) and then freeze the meat to use later. Fill your freezer with zip bags and little plastic containers of cooked meat, so you can put a dinner together easily!
But – how? Well… sometimes I just heat it up and eat it as is…  usually I use some combination of seasoning, beans, and vegetables to change it a little. And I have discussed a few of those options. But sometimes I use it as an ingredient in a completely new dish.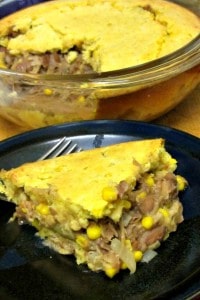 Pot pie, cottage pie – classic ways to use cooked meat. We forget that, before refrigeration, it was typical to roast or braise a large piece of meat on Sunday, and then use the cooked leftovers (which kept better than raw meat) in other recipes through the week. There are many, many traditional recipes calling for cooked meat.
I've always loved pot pie – I've always made lousy pastry. I'm working on that… when I have something good, I'll share it. Right now, though…  I'll make a cottage pie, covered with mashed potatoes (with beef or pork – with mutton or lamb it's a shepherd's pie) one of these days, too. Another way to make a pot pie, though, is to use biscuit dough, or even muffin batter. Well… I can make muffin batter…   and I've often cooked  seasoned beans topped with cornbread. Now, we're talking.
I have plenty of seasoned shredded pork. I had a quart container of Roman beans – cooked in the broth from the pork bone, as it happens – though usually you'd have plain unseasoned beans. That's a combination that would go very well with corn bread.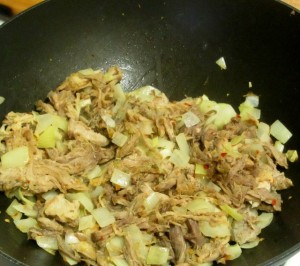 I took a large pan and sauteed a medium onion until soft. I then left the pan over low heat, stirred in half a pound of pork and let it heat  up a little and meld with the onion. If my meat had not already been seasoned, at this point I would have added a little – something… Chili powder is a good fallback, or you can play with other seasoning to your own taste. The meat doesn't have to be pork, either… This could be a good place to use up a little leftover pot roast, or browned beef, or, for that matter, brown some ground beef with the onion and go from there, if you don't have anything already cooked. And if you prefer a vegetarian version, or just don't have meat on hand, you can use 6 cups of seasoned beans.
With the pan still over low heat, I added the beans. Cold cooked beans can sort of congeal… I warmed them up enough to mix up well with the other ingredients. If you don't have a quart of cooked beans, use 3 cans of beans – the amount isn't precisely the same, but close enough for this recipe… (Drain and rinse canned beans)  I thought corn would be a nice touch, and added roughly half a can, reserving the rest for later. (The precise proportions don't matter – a rough estimate is fine.) When everything was mixed well, I turned off the heat.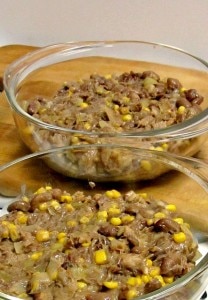 Now, if you're making it for a family, you probably want to cook it in a 9″ x 13″ baking pan. I used two 1-1/2 quart baking pans, instead,  for several reasons… Primarily, this is enough for 2 meals, for us, so I wanted to be able to easily wrap and put away the half we weren't going to eat at once. But also, I could bake these one at a time in the countertop oven (and not heat up the kitchen) and I didn't have to climb up and get the big pan down – I don't use it often, so it is stored out of the way (so I don't use it unless I really, really need to…) Storage is at a premium, in this kitchen.
Then I mixed up corn bread (or muffin) batter. I have the original recipe here, if you just want one batch, I used my own homemade mix (because I make muffins a lot and this is easier) and if you have a recipe you prefer, (or even a little blue box, in a pinch) you can use it – as long as you are making enough for 6 – not 12 – muffins. (I used the full cup of milk in the original recipe, instead of the scant cup I suggest later – I want this to run into hills and valleys, not sit on top of the filling.) While mixing it, I stirred in the rest of the can of corn. Then, I poured the batter carefully and evenly over the filing, being sure that the meat and bean mixture was fully covered. Then I popped it into a preheated 425° oven for half an hour. (All in one pan, I'd bake it for 45 minutes.) Check the center of the cornbread, to make sure it is done, as ovens vary.
When I took it out, I let it rest about five minutes – this helps the bread come together and not fall into crumbs when you cut it. In fact, this cornbread pot pie turned out to cut very neatly in slices! (Though that may vary, depending on how wet your beans are…) We ate and enjoyed it – and the second is in the fridge, to be heated later this week, on an evening when we both expect to get home late.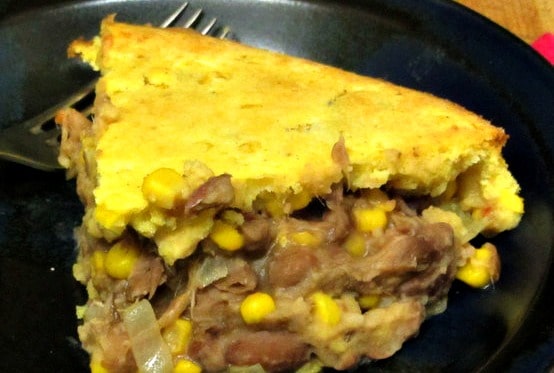 Cornbread Pot pie
Use leftover meat, cooked beans, and a muffin recipe to create this hearty, savory cornbread pot pie.
Ingredients
1

medium onion

chopped

oil for pan

8

oz.

seasoned cooked meat

shredded pork, leftover pot roast, cooked ground beef

1

qt.

cooked beans

Roman, kidney, pinto, a mixture

1 15

oz.

can corn

drained

I batch corn muffin batter - enough for 6 muffins - prepared

including the egg and milk your recipe calls for
Instructions
Preheat oven to 425.

Saute onion until golden.

Add meat, stir until warmed and mixed well with the onion.

Add beans, also stir until warm and mixed well. Stir in half the can of corn.

Put meat mixture in a 8" x 13" baking dish (or divide between two 2-1/2 quart baking dishes.)

Bake at 425 for 45 minutes (or 30 minutes, if using two smaller dishes.)

Let rest five minutes - serve.
Save
---
---