Tandoori Style Chicken Paprikash
Fusion Food! 21st Century New York City (or at least – Anne's Kitchen!) A mind that says "If it's a good idea in one cuisine, why wouldn't it work in another?" Which is sometimes a dangerous question…
All right, back up… I had chicken drumsticks. I had bought whole legs and cut them up (remember, I used the thighs last week?) and popped the drumsticks into the freezer for later. It was now later… I think drumsticks are a minor nuisance with a knife and fork, and I'm working on finger food ideas for something else anyhow, so I decided to bake them. Marinating them first seemed a good idea, but what in? Now, I have a kitchen full of options for that, don't ask me why I thought of yogurt and tandoori chicken, but… I've been doing a lot of Indian cooking lately. But I  wasn't really in the mood for the spices involved. What else would work in yogurt?
Hungarian paprika. Now, chicken paprikash is made by cooking the meat with paprika, and then stirring sour cream into the liquid to make a sauce – but I've used yogurt in my day and it works. So I know the flavors combine well. And… why not? There are a number of similarities in Hungarian and Indian cooking, I realized – notably the use of cultured dairy products and the passionate embrace of capsicum peppers when they appeared on the scene – but all that is rationalization, I had the idea first… it's not about logic, just flavor.
I used half a cup of Greek yogurt, and a tablespoon of sweet Hungarian paprika, and mixed it together in a bowl. Remember, this paprika is not hot – it's practically ladled into paprikash and goulash – and this is a marinade anyway, so it needs to be strongly seasoned if we were going to actually taste the spice.
Then I took a sharp knife and slashed the meat, so the marinade would penetrate it – that's a tandoor technique. Once each piece was slashed, I sloshed it around in the yogurt mixture, and made sure the marinade covered everything thickly, and was worked into the cuts. Then I put them in a container and placed it in the fridge. It needs at least an hour to marinate – I gave it nearly four. Don't leave it more than a day – but again, this is a great dish to prep at night, after dinner, for the next evening.
Now, a real tandoor is a clay oven that gets super hot. Obviously I don't have one… but I heated my oven to 400°. (And presumably could have gone hotter, but…)  I removed the chicken drumsticks from the container, but did not scrape off the yogurt – that coating, baked on, is part of the appeal. Then I place them with a lot of space around them, for air circulation, which helps dry and bake the coating.
Then I baked them at 400° for half an hour. Towards the end I could smell the sauce baking – an Almost but Not Quite burning odor… but it was, in fact, browning and crisping, not burning. I removed it at the half hour and let it rest a few minutes – didn't want to burn my fingers! The chicken was crisp – not crunchy like fried chicken, of course, but some texture – and very tender and flavorful in the meat. The seasoning was definite but not overwhelming, and again, not hot… It might work for someone who doesn't like hot food. (Not for anyone with an actual pepper allergy – remember, paprika is also a pepper! If you want to serve it to someone who avoids Indian food, double check the reason… it is not an unusual allergen.)
And it is definitely joining my Interesting Buffet Food list… it wasn't (very) messy to eat with my fingers, it can (and must) be prepared in advance, with just last minute cooking if you want.  It also was good cold, and reheated well. And awfully easy for an interesting and different dish.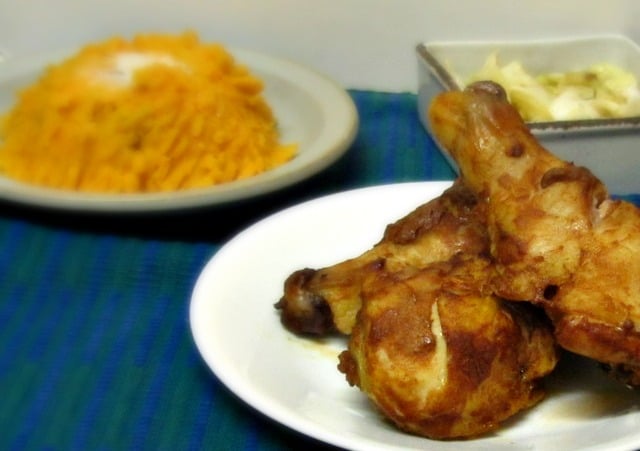 Tandoori Style Chicken Paprikash
Use sweet Hungarian paprika, instead of Indian spices, in a yogurt marinade for drumsticks, then cook the meat as if you were making tandoori chicken.
Ingredients
1 1/4 - 1 1/2

pounds

chicken drumsticks

1/2

c

Greek yogurt

1

T

sweet Hungarian paprika
Instructions
Use a sharp knife to slash the meat on the drumsticks.

Mix the yogurt and paprika together in a bowl. Put each drumstick in the bowl of yogurt mixture, and stir it around to cover it well. Then place in a storage container.

When the meat is completely covered with seasoned yogurt, add any marinade left to the container, cover, and refrigerate for anything from 1 - 24 hours.

When ready to cook, preheat the oven to 400.

Arrange the drumsticks on a baking pan, still well covered with the seasoned yogurt, with plenty of room between them for air circulation.

Bake at 400 for 30 minutes.
Notes
Remember to allow time to marinate!
Save
---
---