Simmered Pork and Eggplant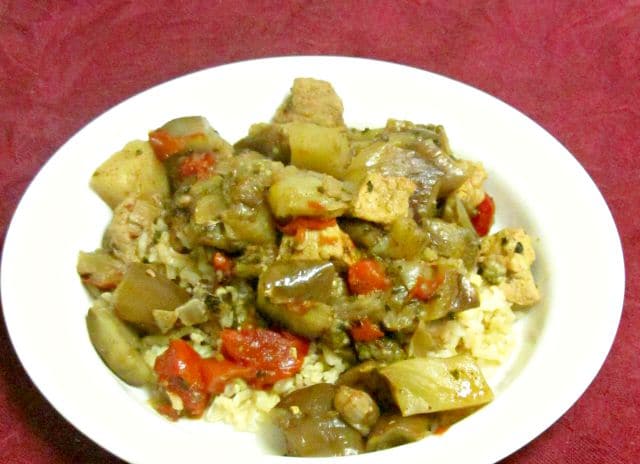 I may have mentioned, at some point, that our CSA farm specializes in growing many varieties of eggplant.
I should explain a few things about a CSA in this area, to people from the rest of the country. In many places, you set up a CSA with a small farmer who delivers all her produce to the farm shares – or perhaps sells a little at her own farmstand on the side… but little or even nothing else. Here in the area around New York City, though, the land itself is so expensive that very few farmers are able to manage on such a small scale. It is very typical to contract with one or more sponsoring organizations to provide a certain percentage or amount for the farm share, and sell at several farmer's markets, and sell to a few co-ops or other food stores… The farmer we work with has been able to keep a nearly 200 year old family farm  in operation – and under organic cultivation for 30 years! – by selling to co-ops and specialty stores as well as a couple of CSAs.
Which in turn means that we get a much wider assortment of produce than is typical. One reason this farmer has chosen to go this route, rather than sell to the giant organic outlets (which do buy some produce) is that the large stores want them to mono-crop – "A whole farm full of chard!" she said to me once, with disgust. Variety is better for the land, for the business, it makes the farm less vulnerable to crop failure – and, really, it's more interesting…
So, anyway, they grow a couple of dozen kinds of eggplant. They box them up as an assortment (cases for us, clamshells for stores) – customers like them, there is a Coolness Factor, but it also means that there is a steady flow as the different cultivars ripen, and if one does poorly, another will do well. This gives everyone interest – and makes the crop as a whole more reliable. And I've learned to cook eggplant!
Eggplant is one of the very few vegetables where undercooking is more a problem than overcooking. Instead of getting mushy and blah, they become succulent and sweet. Now, the kind of eggplant does make a difference – I like the smaller ones I get now more than the large, often seedy, ones I most commonly see in stores – but variety is becoming more common, and most of these methods will work with those, too.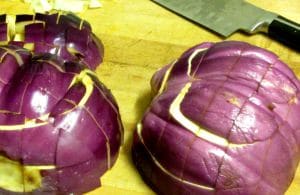 And this recipe definitely does. I forgot to get a pretty picture before the eggplant was cut – Rich kindly cut it for me – but you can see it was a rounder, fuller one, not  one of the long thin Asian eggplants, nor yet the cute tiny ones. I asked him to cut it in bite sized cubes – I had already cut pork loin in bite sized pieces, and thought pork and eggplant would go well together. He also chopped half a large onion (for the recipe I'll call it a medium onion, but… The whole one would have been much too large.)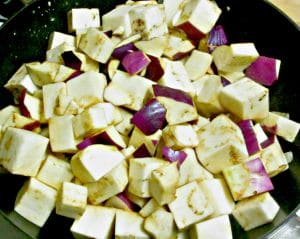 I heated a little oil in a saute pan, added the onion, and put a large clove of garlic through a garlic press into the oil. When the onion softened, I added the pork, and stirred it around to brown lightly. Then I added the eggplant, and stirred. I was following a vaguely Greek inspiration – they eat eggplant in many recipes – so I also added cinnamon and oregano, and a pinch of salt. (The oregano was one of my small frozen cubes of the herb pureed in oil. You can use minced fresh, or crushed dried, if that's what you have.) Then I diced 2 plum tomatoes and added them. It still needed liquid, and I would have used broth if I had it, but I haven't been simmering broth much in the heat – I added water (and it was fine – there was enough flavor in everything else.)
I covered the pan, lowered the light, and simmered the whole thing over low heat for about half an hour. Served it over brown rice, and it was lovely. We're not as used to using cinnamon in savory dishes, but it really complemented the flavors well – I need to remember it more often.
One reason I chose a simmered dish was that I needed leftovers to send with Rich for dinner away from home a few evenings later – and the slow simmered recipes reheat beautifully. I made enough to give myself a night off, too… I do enjoy cooking, but I do enjoy taking an occasional break, too!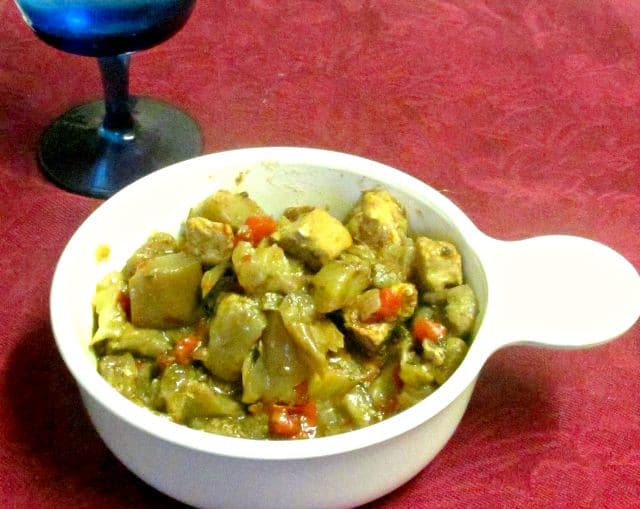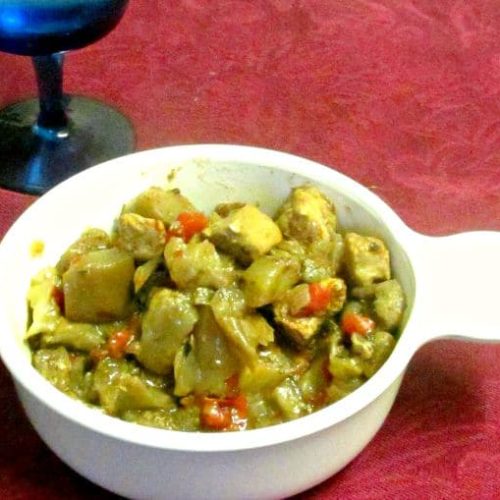 Simmered Pork and Eggplant
Simmered pork and eggplant, with Greek inspired seasoning - www.inhabitedkitchen.com
Ingredients
Olive Oil for pan

1

med onion

chopped

1

large clove garlic

minced or put through a press

1

lb

pork loin

cubed

1

eggplant

cubed

2

plum tomatoes

1

T

fresh oregano

minced (or 1 t dried oregano, crushed)

1/2

t

cinnamon

salt

1/2

c

water
Instructions
Heat oil in large saute pan. Add the onion and garlic, and cook until softened. Add the pork and stir - saute until the pork begins to brown lightly.

Add eggplant, and stir. Add the rest of the ingredients, stir, and cover the pan. Bring to a simmer, then set the heat on low, and simmer for half an hour.
---
---