Creamy Chicken Corn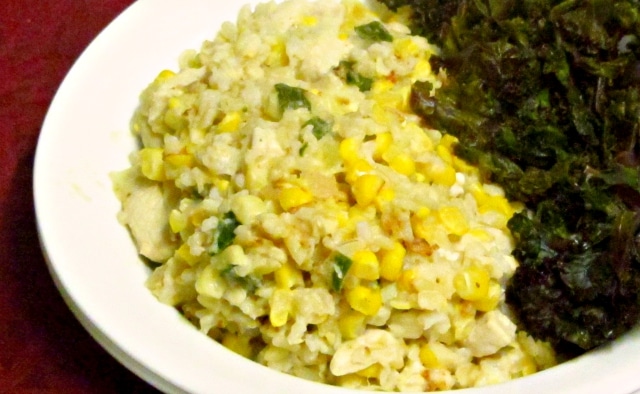 "I'm as corny as Kansas in August…"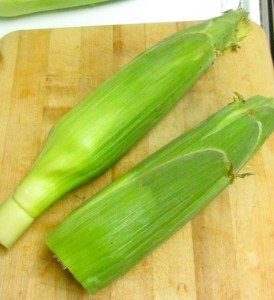 Nellie was singing about field corn in South Pacific, of course, not sweet corn – but still – it's August, so we feast on fresh sweet corn. Even though I've never set foot in Kansas – we have plenty of corn in the Northeast! But it's a short season…enjoy it while you can.
This was a What's for Dinner moment, rather than a carefully planned out recipe… but when I got the idea, it sounded good, and I took the pictures on spec – so here we are.
I'd reviewed some old posts, and when I saw the Chicken Corn Chowder  from a year ago I remembered how good it was. A bit more fuss than I wanted at the moment, though,  and it was too hot for soup, and… why couldn't I just cook the same ingredients together, but less… soupy? Well, why not?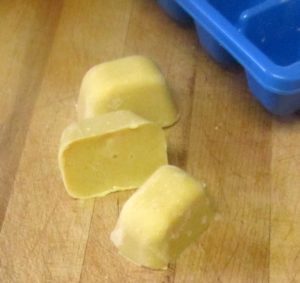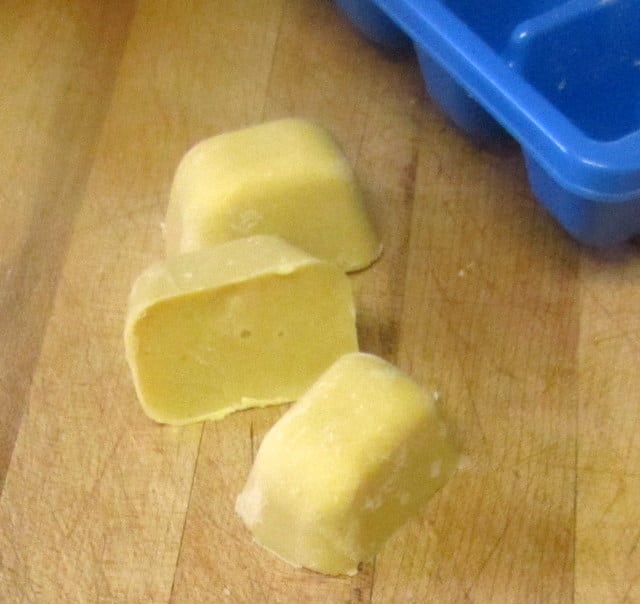 I like the creaminess in chowder, so I used a Roux Cube again. I haven't talked as much about them lately, but I still use one every week or two, probably… They are my answer to condensed canned soup and packaged dry mixes. I put in half an hour of work at most, and have almost instant gravy and sauce and cream soup for a couple of months. My original version was whole wheat – my current one is gluten free (and still whole grain. I have been happiest with millet flour as a default – very mild flavor, does not have the grittiness that rice flour sometimes does.)  I use butter, but you can certainly use only olive oil to make it dairy free. (Just make sure your oil solidifies in the freezer – I did try canola oil and it did not work at all.) That zip bag in the freezer lets me elevate many a boring meal to something special.
I took two ears of corn, trimmed them, and microwaved them for two minutes, to soften the husks, then set them aside to cool. And I chopped a small onion, a jalapeno (the peppers have just started!) and half a pound of boneless chicken breast. (Dark meat would be as good – in fact, I often prefer it – but we had this, and it does go well with a mild creamy flavor.) And I cut the corn off the cob.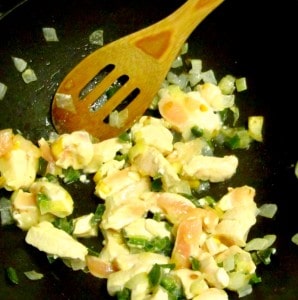 I heated a little olive oil in a pan, added the onion and pepper (and a few stray corn kernels!) and sauteed until softened. Then I added the chicken, and continued to brown it slightly. Now for the sauce – I poured in a cup of milk, and one roux cube. I stirred the pan as the milk came to a simmer, which both cooked the chicken and thickened the sauce.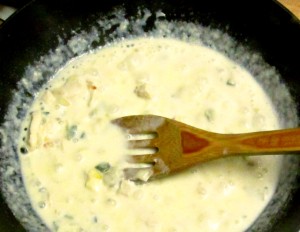 Once it was thick, I added the corn, heated it (remember it is already just lightly cooked from the microwave and steaming, I just wanted to barely cook it a little more.) I could have then served this over rice or potatoes, but in fact I had a pint of precooked brown rice, and decided that stirring that in would emphasize the creaminess. Once the rice was in, I heated everything through – and served it, with a side of cooked kale (which complemented the sweetness of the corn beautifully!)
Since all ingredients either cooked quickly or were precooked (the roux cube and the rice) the whole meal came together very quickly – and my, it was good. The flavor of the corn just shone through the rich creamy background.
Another time I might add bell pepper, or summer squash, instead of a side vegetable. I could use tofu or pork loin instead of the chicken. I could serve it over potatoes or biscuits instead of stirring in rice. The background players provide variety, as long as the corn still stars. (And you may see some of these variations, in Augusts to come…) And if you don't have roux cubes (why don't you? They make so many things easy…) either make a separate cream sauce with the milk and add it, or skip the thickening all together – it will still taste good, you just will get a soupy, rather than creamy effect. (Do stir the rice into that version or it will be just sloppy.)
But yeah – however you do it – do this. It was that good, and a quick weekday dinner… and we all need those.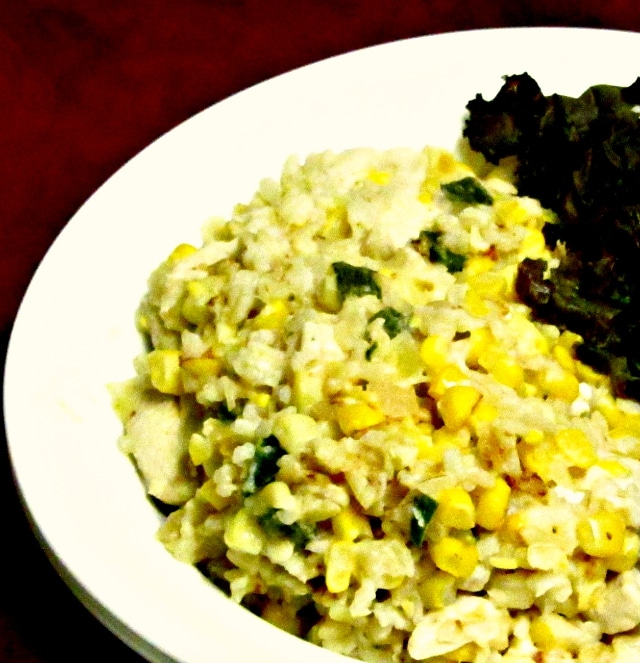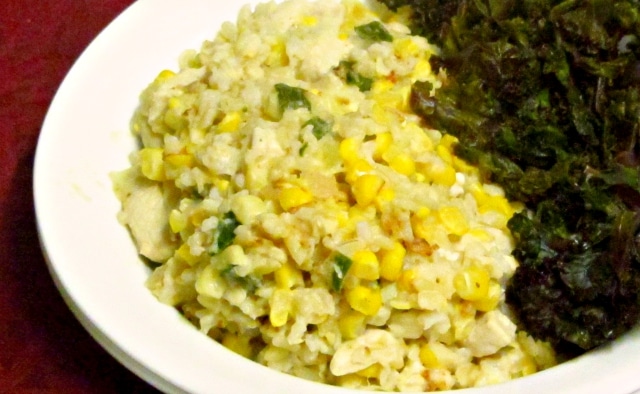 Creamy Chicken Corn
Celebrate August by featuring sweet corn with chicken in a creamy sauce!
Ingredients
2

ears fresh corn

1

jalapeno

1

small onion

8

oz

chicken breast

olive oil for pan

1

c

milk

1

roux cube

2

c

cooked brown rice
Instructions
Trim ears of corn, leaving husks on. Microwave 2 minutes. Let cool enough to handle, then shuck, and cut partially cooked kernels from cobs. Reserve.

Chop jalapeno and onion. Cut chicken into bite sized pieces.

Heat oil in pan. Saute jalapeno and onion until soft, add chicken. Brown chicken lightly.

Add milk, and frozen roux cube. Stir while milk comes to a simmer, so the roux dissolves gradually into the sauce, and the chicken cooks, and the sauce eventually thickens.

Add corn, return to a simmer. Add cooked rice and heat through, stirring to distribute creamy sauce.
---
---