Sauteed Asparagus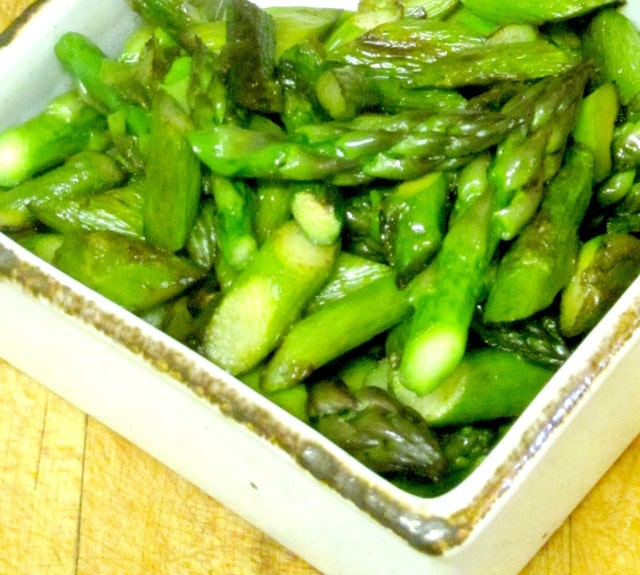 It is finally Spring! (I say on June 1st, which is the first day of Meteorological Summer in these parts…) But the fruits and vegetables that the rest of the nation eats all Spring are June bearing, here – and it was a late Spring, as well.
Greens which I sometimes buy in April and usually in May are finally crowding the market. The first strawberries are here. And asparagus… It makes me think of my mother, who used to talk about visiting her grandparents' dairy farm, down the Jersey Shore. The other farmers in the area were truck farmers – that is, farmers who grow garden truck, aka vegetables, for sale in the city. She said everyone had a field of asparagus – or "grass" – which is a perennial, so all summer she'd watch fields of lacy asparagus fern waving in the breeze. Beautiful…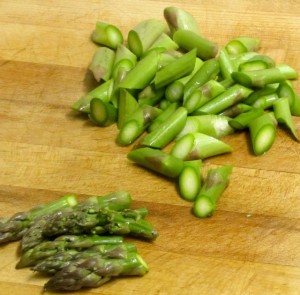 Last year I wrote a Basic Cooking Method post about preparing and steaming asparagus – and making lemon butter to serve with it. If you want a refresher on storing and trimming asparagus, hop on over. But I also like a less typical preparation – I saute it. The sauteed vegetable has a wonderfully concentrated, surprisingly sweet, flavor – it is amazing with beautifully fresh asparagus like this. (I first made it with some that had been cut from the trench 2 hours earlier, specifically for me, by a farm woman I'd known since I was a child…) But it also turns out to be a great way to improve supermarket asparagus that's been sitting around too long. It's also very fast, and a bit different…
Wash the spears, and trim the woody ends. Then cut the spears with a roll cut, setting the tips aside.
Heat a fry pan, and add a little olive oil, and a little butter. The oil works better to prevent sticking, and doesn't burn as easily – the butter adds flavor, of course, but also helps brown the vegetables. A very small amount of each –  which is a French cooking technique – gives you the best features of both.
Then, over medium to moderately high heat, add the roll cut spears. Stir them well, to coat with the butter, then give them a stir each minute. Watch as they brown, and even shrink slightly (as the water is driven out) – this step should only take about 4-5 minutes. Then add the tips, saute another minute, until tender.
And that's it. Serve at once, steaming hot, and enjoy! (Then get more asparagus, while it's still in season!)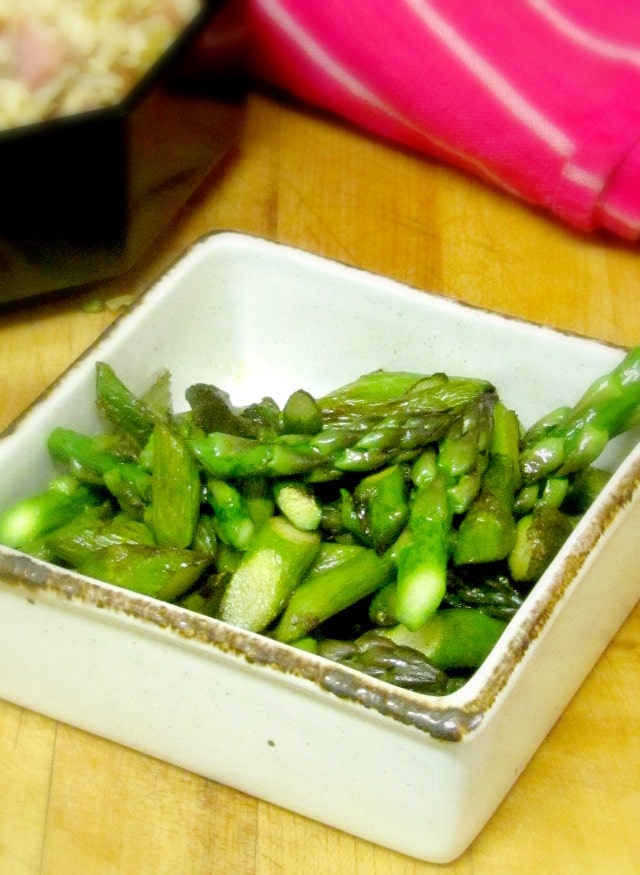 Sauteed Asparagus
Saute fresh asparagus for a delightfully different, amazingly sweet and flavorful, presentation.
Ingredients
1

bunch asparagus

1

t

olive oil

1

t

butter
Instructions
Wash asparagus spears, and trim off woody ends. Cut the spears with a roll cut, setting the tips aside.

Heat oil and butter in a fry pan, over medium high heat. Add the cut spears (not the tips) and stir. Continue to stir once each minute or so, for 4-5 minutes, until the pieces start to shrink and brown slightly.

Add the tips, and saute another minute.

Serve at once.
---
---