Nature's Bounty – Dandelion Greens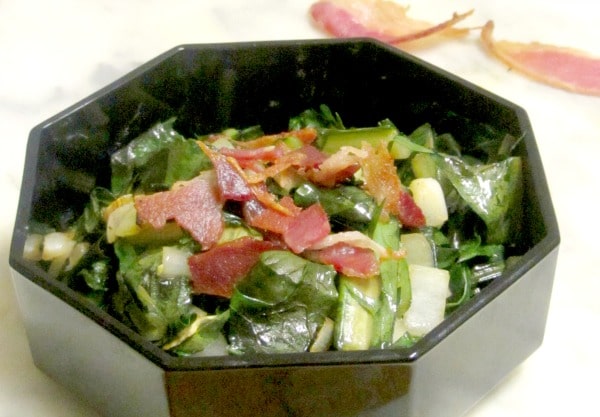 When I worked in daycare, our playground was surrounded by grass and flower beds – one of those ideas that looked better in the renderings than it did after 100 children had run through the flower bed dividing two sections of the playground… It was good, though, to have a grassy section that the children could play and sit on, and to have the beauty of the flowers around us. (That section in between was quickly replanted in ground cover…)
It was also good that, since it was a playground, they did not use herbicides – so the grass was covered in dandelions. I told the children that they could not pick the flowers the men had planted, because they were there for people to admire – but dandelions were put there by Nature for children to enjoy, and they could pick them. And I was carefully presented with many a dandelion over the years… They are such cheerful and determined little flowers!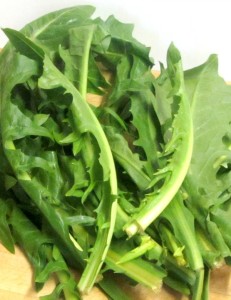 And yes, these greens are from those same dandelions. One could, in theory, gather them from the lawn – though if you want to try, make sure they have not been exposed to herbicides, pesticides, or fertilizers (such as are spread on most lawns – sometimes right in the grass seed, so you might forget about them!) Lawn products are not cleared for human consumption, so even if you are fine with conventional farming, these are not a good idea. If your yard is blissfully free from such interventions, though…
I did not gather these from the lawns in my apartment complex – which I'm pretty sure would not be a wise idea. (Even if I could find some – they clearly are using weed killers…) These, like the sorrel, are from the CSA. In the last years, wildcrafted plants such as ramps, fiddleheads, lambs quarters, and yes, dandelion greens have become very popular in urban farmer's markets, letting those of us in cities have a taste of the wilderness – or at least, undeveloped areas. (To the point where now we have to be careful not to over-harvest the more popular ones, such as ramps…) They add to the wide variety of greens I wrote about in the last post – each with its own distinctive flavor.
Dandelion greens have a slight, and to my mind, pleasant, bitterness. Bitter greens used to be favored in spring, as they were considered a good tonic – to improve health after the long winter. And many are, in fact, high in vitamin C, which used to be in short supply in winter… so in fact, I'm sure they often did improve health! Now that we can get fresh fruit and vegetables all winter, though, we eat them because we enjoy the flavor.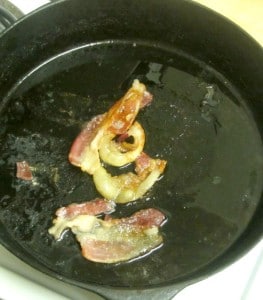 The salty savory taste of bacon sets the bitterness off beautifully. Now, I often use small amounts of bacon when cooking greens – I keep it in the freezer and cut off just what I need – but I decided to do it a little differently this time. Usually I chop a little bacon, render it out, add onion if I want it, then add the greens and cook. That gives me the rich flavor, but because of the moisture in the greens, the bacon pieces are not very crisp. This time, I wanted the crisp, crumbly bacon pieces, and was willing to spend a little more time getting that effect. So I took two slices of bacon (cut them  in half to fit my pan better – optional step…) and places them in my cast iron pan over low heat. I kept the heat very low, and gave it nearly 15 minutes to render the fat out, and get the meat very crisp. (You could easily raise the heat very slightly, and do it in less time – though the meat won't be quite as crisp.)
Meanwhile, I chopped and washed my greens. (See the post about radish greens for basic instructions – I won't repeat all the detail here.) I discarded the stems, as they were stringy – that varies from one kind of green to another. And I chopped a small onion.
Once the bacon was fully cooked – even a bit hard – I removed the slices to a paper towel to drain, and added the onion. In other circumstances I might have poured off some of the drippings, but I wanted the richness for these – do as seems best to you (which may depend on how much you were able to render out.) Once the onion had started to soften, I added the greens, and used tongs to toss them and coat them with bacon fat. I cooked them, stirring often, for about five minutes, until fully cooked. They did not cook down as much as many greens do, but it was easy to see the softening.
Then I put them in a bowl, and crumbled the reserved bacon over them to serve. The texture and the flavor of the bacon complemented the soft bitter greens beautifully.
Now, the bacon is, of course, optional. If you don't want to use it, for whatever reason, you can just use olive oil to cook them, and either skip the umami factor all together, or use another smoked meat, or some smoked tofu or tempeh strips. Or try a smoked Gouda or other cheese, melted in at the last minute – I think that would add the richness, as well. I do like something to contrast with and set off the flavor, but that could perfectly well be the rest of the meal, too – we ate these with a dish of cannelloni beans, which was a lovely combination.
Nature's Bounty – Dandelion Greens
Slightly bitter dandelion leaves, softened and set off by crisp savory bacon. Traditionally considered a Spring Tonic, and refreshing after the winter.
Ingredients
1

bunch dandelion leaves

2

slices

bacon

1

small onion
Instructions
Cut stems off dandelion leaves. Shred the leaves, then wash and dry them.

Cook the bacon over low heat until fat is rendered out, and the meat is crisp. Remove bacon to a paper towel lined plate to drain.

Put the dandelion leaves in the pan, and toss well in the bacon fat. Cook for about 5 minutes, until softened.

To serve, crumble the reserved bacon over the greens.
Save
---
---