Rhubarb Fruit Sauce
Sometimes I wonder how anyone ever came to eat rhubarb in the first place.
It looks much like celery, but the outside is green to pink to red. (When you cut it, the inside is still green.) You can't eat the leaves, which are toxic. You have to stew the stalks until tender, as they can be stringy. And it is very sour.
Well – maybe the last was considered a feature, not a bug. My father told me that, when he was a boy in Central New York, rhubarb was considered tonic – a good, healthy thing to eat after a long winter. And when you look around at traditional "tonics" they tend to be either sour or bitter… It must be Good For You! But in fact, rhubarb has a decent Vitamin C content, and may have been beneficial, when fresh vegetables had been scarce for a while. Traditionally in the US it was sweetened and served either as sauce or in a pie – in fact, it was often called Pie Plant. My grandmother made a Lemon Rhubarb pie – essentially lemon curd with rhubarb, and fantastic!
When you get past the whole sour/sweet thing, though, it really does have good flavor. It's one of the foods I wondered about when I stopped adding sugar to food – so I was delighted to find savory uses of it, in Indian cooking, and experimented with that, in Savory Rhubarb Chickpeas. I decided, though, that I'd like to make a sweet/sour condiment – sauce I can add to something bland, or sweet. (All those waffles are crying for fruit sauce!)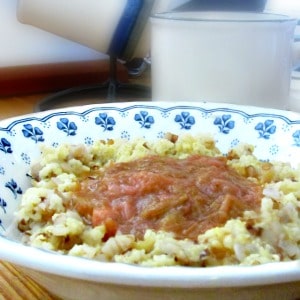 Strawberries are a common addition, for good reason. Their sweet/sour comes down on the side of sweet, they boost the red color, and they're available at the same time – or at least, that's the theory… In fact, right now I find myself in an odd in-between phase – the supermarket no longer has Florida strawberries, the farmer's market does not yet have even New Jersey berries (let alone New York!) I'll probably be able to get both in a week or two, but I wanted to go ahead with writing this – and oh, look, there were still a few strawberries in the freezer that I want to finish up before local ones come in. Local ones will be much better in this recipe – they'll be sweeter, for one thing, because they're fully ripe and these were not (though neither were the ones in the supermarket) – but I want to get this written in time for more of you to use it!
So – what else would go well with it, and add a bit of sweetness? How about orange juice? It's also a little tart, but mostly sweet, the color will pull to orange (but not mud) and – well, I had some on hand… always a point.
First, trim, wash, and chop the rhubarb. When you buy it, there shouldn't really be any leaves – if you get some, be sure to discard them. I got a scant 2 cups from my four stalks. Put them in a small heavy pot with a cup of orange juice, bring it to a boil, and keep it at a rolling simmer (low boil?) for 20 minutes, to reduce the orange juice as well as cook the rhubarb.
Meanwhile, I pulled out the frozen strawberries, cut them in big chunks, and measured out a cup. After 20 minutes, I added them, and gave the sauce another 15 minutes. (If you have fresh berries, you may want to add them later, and cook them less.) Then let it cool a little before adding half a teaspoon of vanilla.
It certainly did cook down – from 3 cups of fruit and one of juice, I had a yield of one and a half cups of concentrated sauce. There's still definitely texture, from the berries and rhubarb, but on the whole it is soft and runny – too wet to be a spread, but lovely on – say – waffles… Or my porridge. The sweet is there, but so is, definitely, the sour. Even I think it's a bit too tart to serve with plain yogurt, but if you normally use sweetened vanilla, I think it would be lovely… or for that matter with vanilla ice cream, or  pound cake. (Channeling Elaine Stritch – Does anyone still eat…  poundcake?)
I also use it as a condiment with savory dishes – it adds a lovely sparkle to pork and beans. The spring equivalent of cranberry sauce, really! Drizzle a little over a plain chicken thigh… add a dollop to bean soup… pour some into the slow cooker or pressure cooker with your pot roast… The vanilla is not obvious, and didn't bother me at all in this use – but you could skip it, if you want. I do think it rounds the flavors out, though.
Anne Murphy
Yields 1
Rhubarb Fruit Sauce
Rhubarb Fruit Sauce is a sour/sweet, brightly flavored condiment. Use with either sweet or savory foods, to add sparkle and interest.
5 minPrep Time
35 minCook Time
40 minTotal Time
Ingredients
4 stalks rhubarb
1 c orange juice
1 c strawberries, quartered
1/2 t vanilla extract
Instructions
Trim, wash, and chop rhubarb.
Place rhubarb and juice in a small heavy pan. Bring to a boil, and keep at a rolling simmer for 20 minutes, to reduce the juice as well as cook the rhubarb.
Add strawberries, continue cooking another 15 minutes.
Let cool 15 minutes (or longer) then stir in vanilla.
Chill, and let flavors meld, before using.
Notes
Use the sour/sweet sauce over waffles or hot cereal, with ice cream or other sweets, or with bland savory dishes that could use a punch of flavor.
7.8.1.2
188
https://www.inhabitedkitchen.com/rhubarb-fruit/
Save
---
---