Savory Rhubarb Chickpeas
Our CSA gave us rhubarb this year! I've bought it from Greenmarket  before, but this is the first year I've had it in the CSA – I'm delighted.
Rhubarb is a perennial, like asparagus. Because the plant itself is already established (they both grow for several years before you can harvest them) and, in both cases we eat the shoots or stalks, rather than the fruit, they are some of the first plants we can harvest in the spring (or early summer, around here.) Therefore, I don't know if this means the farmer just recently started growing rhubarb, or if this cool season is just the first time the harvest has been late enough for us to get any!
We eat the stalks, which look rather like a red celery, and not the leaves, which are quite toxic. Rhubarb is very sour, and my father told me that, when he was a boy, it was considered a good Spring tonic. (All good tonics seemed to be sour or bitter…) In this country, people have tended to deal with the sour flavor by sweetening it – serving it with strawberries, stewing it with sugar, baking it into a pie like fruit. (It was sometimes even called pieplant.) And the sweet/tart combination is delicious.
I had read, though, that it is sometimes used in Indian cooking as a savory. Indian cooks often feature sour flavors – tamarind, for example, and green mango powder are used specifically for the sour taste, so rhubarb fit that pattern perfectly. I thought it would be interesting to experiment with a savory rhubarb recipe.
I chose not to copy any actual recipe, but to go with a generally Indian flavorway. I saw a number of recipes that used one or another bean, and I was cooking chickpeas, so that was a start. Then I decided I would cook them with coriander and cardamom, and just a little heat.
At the same time, as I've mentioned, Rich isn't as fond of the sour taste as I am – so I decided to only use about half the rhubarb I had (and cook the rest, more traditionally, with strawberries. I then served that, a day later, with cream – very nice. But I digress.)
I washed and trimmed the stalks, and cut them in small pieces, until I had a cup full. I set that aside, and chopped a small onion. Then I chose my spices. I have whole coriander and cardamom, because they stay fresher. While I do use them whole in some dishes, I wanted them ground for this. I broke the cardamom pods open, took out the little black seeds, and discarded the pod. Then I put them, the coriander, and a pinch of salt in a mortar (which you may have noticed in many pictures on the back of my stove, where it sits.)  
The salt acts as an abrasive, and helps the grinding. Now, I used to think that you used a mortar and pestle by sort of hammering away at the spices (and they'd bounce up all over my kitchen!)  – but no. You really crush and grind, with a circular pressure, rather than pounding. Cardamom and coriander really grind up easily into a powder – no coarse bits to annoy you. You can also use a clean coffee grinder (and may well want to, especially if you are grinding more than I do.) And, of course, both spices are readily available already ground, if you prefer.
I heated a little oil in my pan. First I put in the crushed spice, and stirred it around to heat it and release the flavor. Then I added the chopped onion, and cooked it until soft. Once the onion was just starting to turn golden, I added the rhubarb, and stirred it around to coat it with the aromatics. When everything was well blended, I added a cup of liquid. I had just cooked the chickpeas, and the pot was still sitting there with the cooking liquid, so I used a cup of it. If I hadn't had that, I would have used broth, or even just water. Last, I added a sprinkle of hot pepper flakes – not enough for real heat, but just to add a little perk.
I simmered the rhubarb for about 10 minutes, until it was soft. Unfortunately, as it cooks, it loses the pretty red color! I stirred in the chickpeas and simmered everything together for a while, to blend the flavor – and the rhubarb lost the last of its color…  It doesn't look promising, but it certainly tasted good.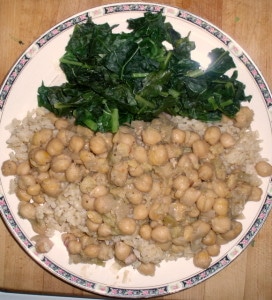 I found that the sour taste was quite mild, though definite – almost a grace note, like lemon juice added to a dish just before serving. I liked it, but more would have been fine. Rich also liked it, but said he thought some more rhubarb would be nice – so next time, I'll try a cup and a half.
Now – this is one of the issues for food bloggers – and particularly a problem in my situation, writing about fresh local food as it comes from the CSA. A professional recipe developer has an idea, cooks it, tries a few variations, and once she settles on a recipe, cooks it a few more times to be sure it can be reproduced. And it is a legitimate complaint that many bloggers do not do this (though some do.)
Many of my recipes are, in fact, ones that I have cooked for years, so I did the testing rather unofficially, long ago. I often, though not always, cook them a few more times to be sure of the directions before I write them down for you. And some recipes I have developed and tested very carefully – you saw how many muffins I baked before I shared that one!
Sometimes, though, I can't really do that – and this was a great example. Ideally, I would now cook the same recipe again with a cup and a half of rhubarb, and see if we liked it better. However, I didn't have a cup and a half more rhubarb… I'd used more than half of what I had. I could wait and see if we get more this week, or I might be able to get more at Greenmarket. But we're nearing the end of the season – many of you are already past it, in fact. If I wait until I perfect the recipe, it may be too late for anyone to use it! And this week I will get other vegetables to find uses for. And, honestly, sometimes with a CSA, you just have to work with the amount you have – and that itself is a skill to develop.
So, I label this as an experiment. It was good, mind you – I won't write about anything that wasn't. The next time, if I have more rhubarb, I'll use more rhubarb. If I don't, this was fine. If I have less, I'll make a smaller batch – or just something else. If you have more rhubarb, and like a pronounced sour flavor, you might want to use it all – but the recipe as I wrote it was good.
However you choose to make it – enjoy it! We did.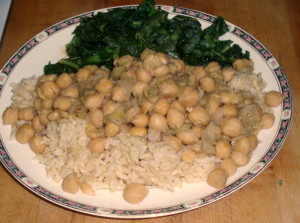 Savory Rhubarb Chickpeas
Ingredients
5

whole cardamom pods

1/2

tsp

whole coriander

pinch

salt

oil for pan

1

small onion

chopped

1 - 1 1

`/2 c chopped rhubarb

amount to taste

1

c

broth or bean cooking liquid

1/2

t

red pepper flakes

3

c

cooked chick peas
Instructions
Remove black seeds from cardamom pods. Grind the seeds with the coriander and the salt, in a mortar and pestle or a clean coffee grinder.

Heat oil in a pan. Add the spice mix, and heat for a moment. Add the onions, and cook until soft and just starting to turn golden.

Add the rhubarb to the pan, and mix thoroughly. Pour in the broth, add the pepper flakes, bring to a boil, and then let simmer for 10 minutes.

Add the chick peas, and let simmer another 5 minutes.

Serve.
---
---